▼ WPの本文 ▼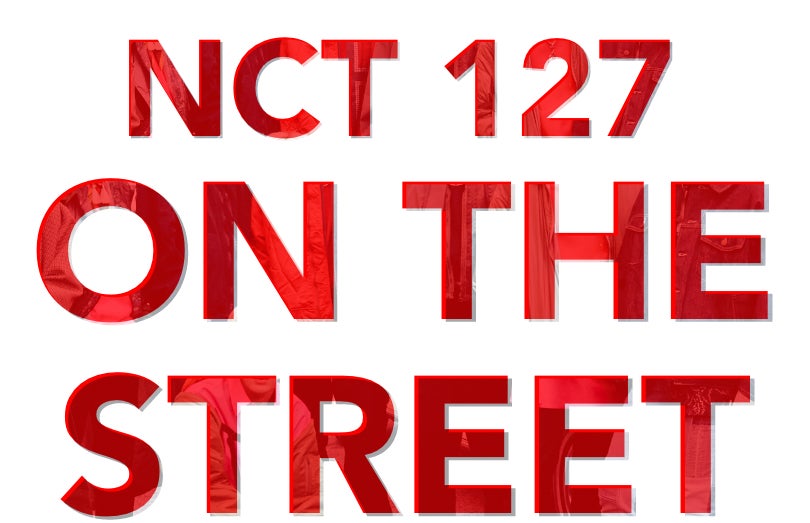 ---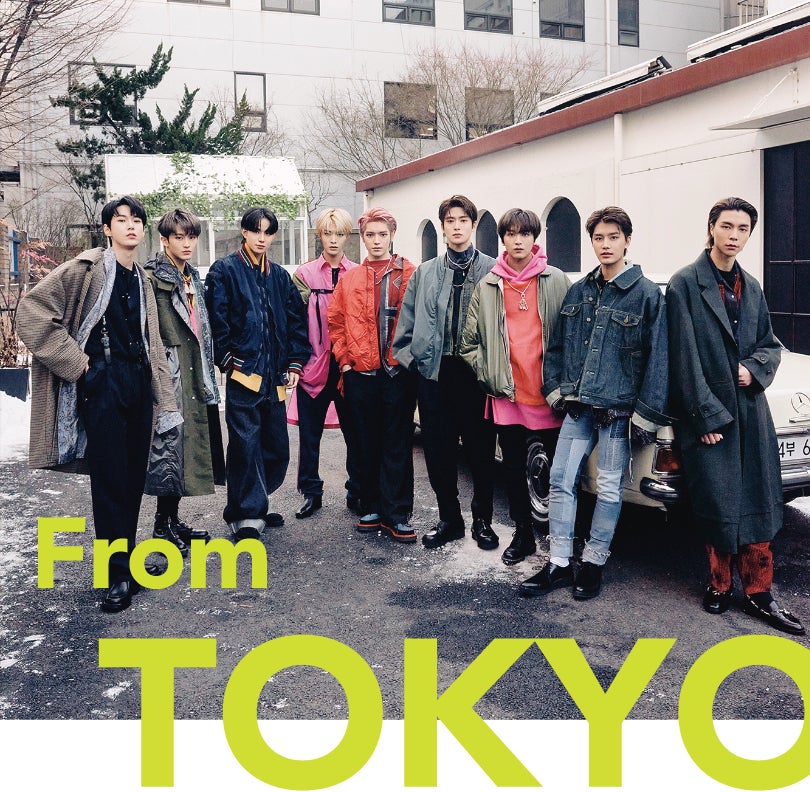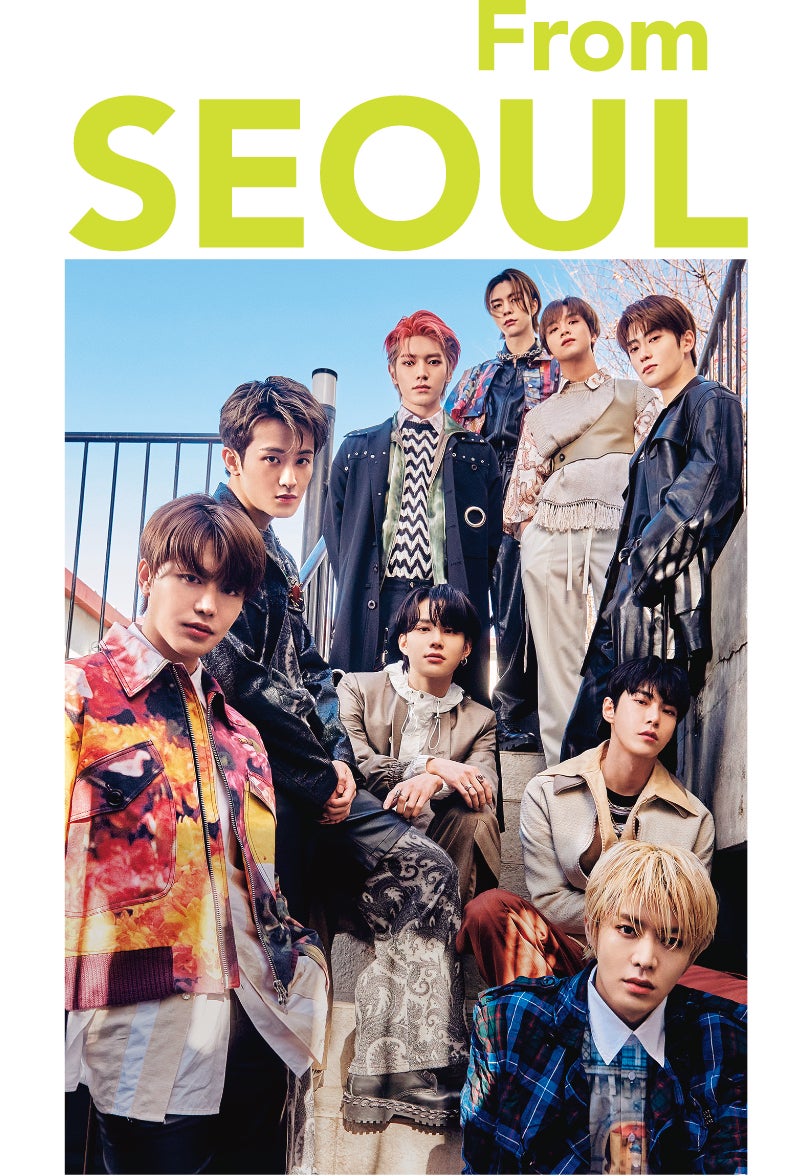 A unique sense of fashion thrives on the streets around the world. From Seoul at 127 degrees east longitude, NCT 127 constantly delivers fashion to us in exciting ways. When it was decided that they would appear in MEN'S NON-NO, they graciously agreed to the request from our editorial department that they wear not only the Seoul coordinates full of their sense of color, but also the current fashion from Tokyo. Nine outfits prepared by MEN'S NON-NO were packed up and sent across the ocean to the members of NCT 127. What a fitting way to conclude the journey into pursuing NCT 127's "My Own Style", which has been the theme of our WEB series since last summer.

Stemming from the request of MEN'S NON-NO, from top Japanese and Korean fashion stylists, Taichi Sumura and Youngjin Kim, who rose to the occasion with eye-catching outfits, to all the staff members and creators from Tokyo and Seoul full of passion and effort resonating throughout this project, this special collaboration of leading-edge Japanese and Korean men's fashion has been realized. In this article of the short series, along with never-before-released cuts, we will introduce styling secrets and commentaries on each and every member's fashion style.
*For this interview, YUTA spoke to us in Japanese and all other members in Korean.
*"From SEOUL" outfits were leased in Korea and we are unable to accept inquiries from within Japan. Thank you for your understanding.
---

---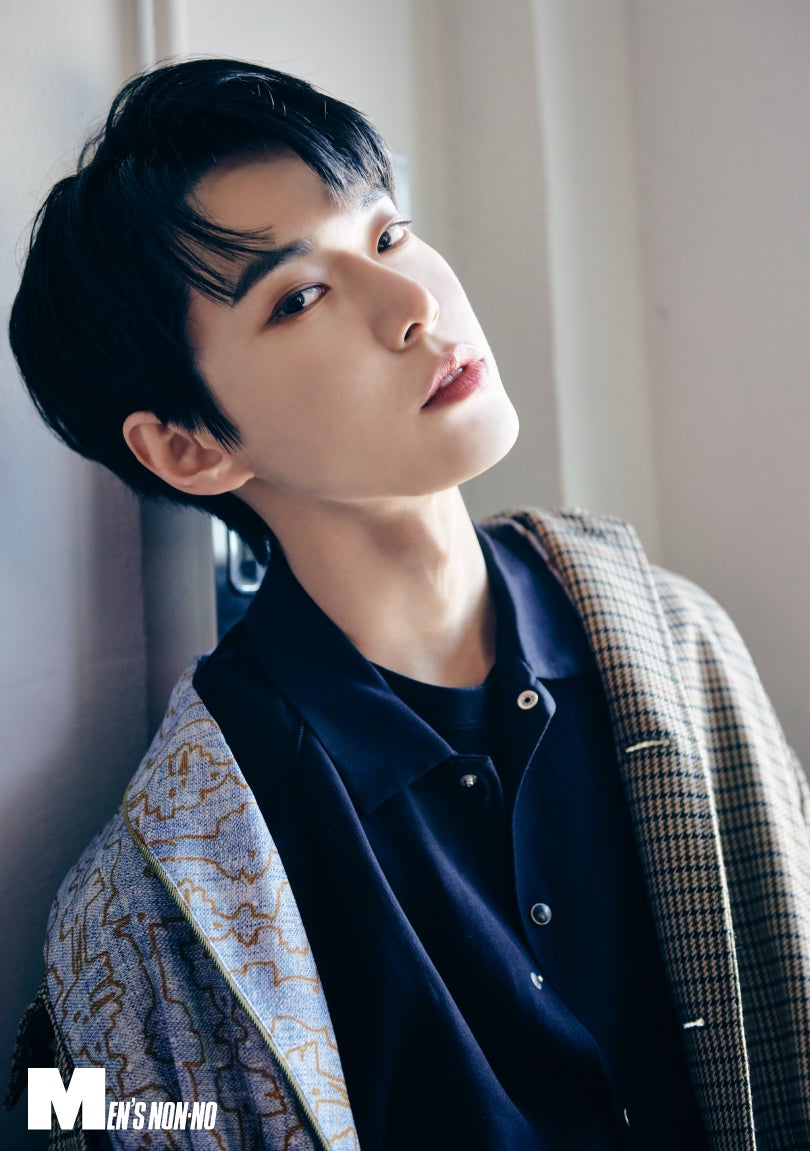 In the previous series of articles, DOYOUNG talked about the importance of maintaining his own pace and being considerate of those around him. Perhaps it's because he lives by this policy, he spoke about how important it is for him to be able to relax in his fashion and to coordinate his outfits according to the plans for that day, including color and fit. For the cuts with all the members, the staff talked about his excellent instincts as a model, such as giving variation to his poses, paying attention to the overall balance, and wearing the outfit in a way that the innerwear could be seen even without having to request him to do so. Though clean and simple, note of the strong core of "style" hidden within.
---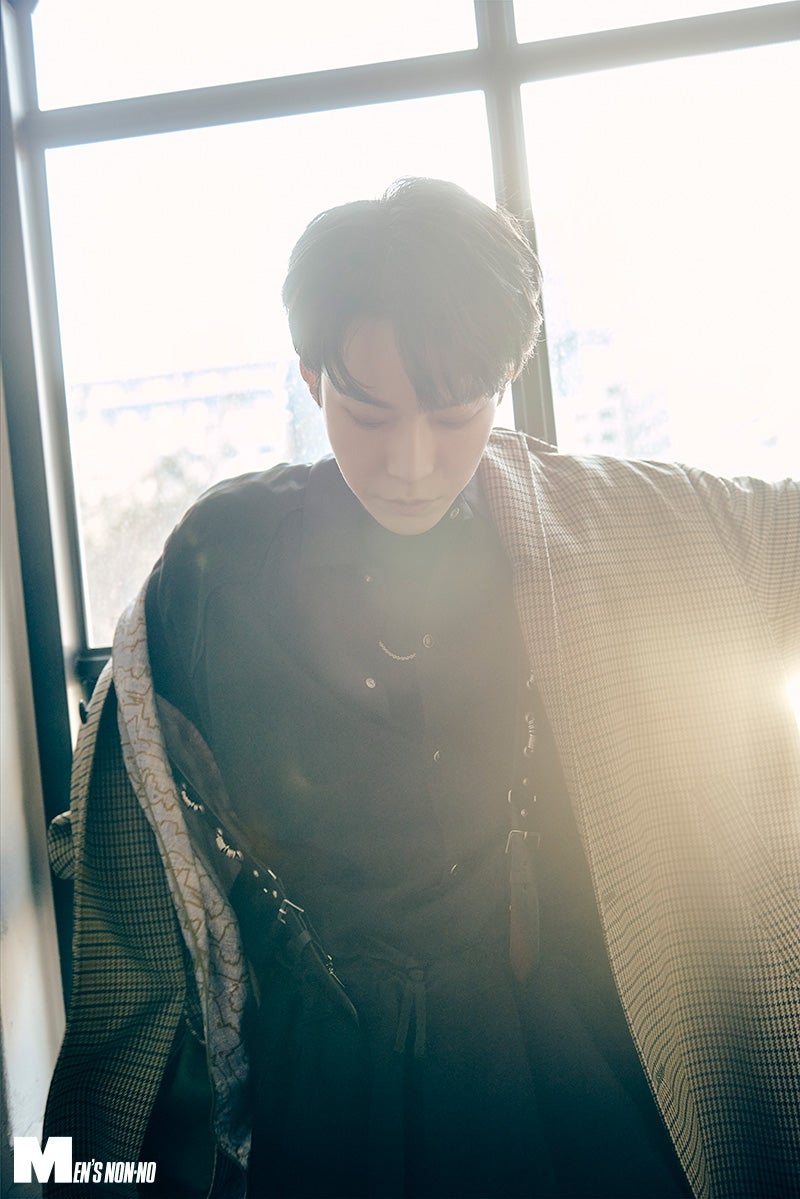 ---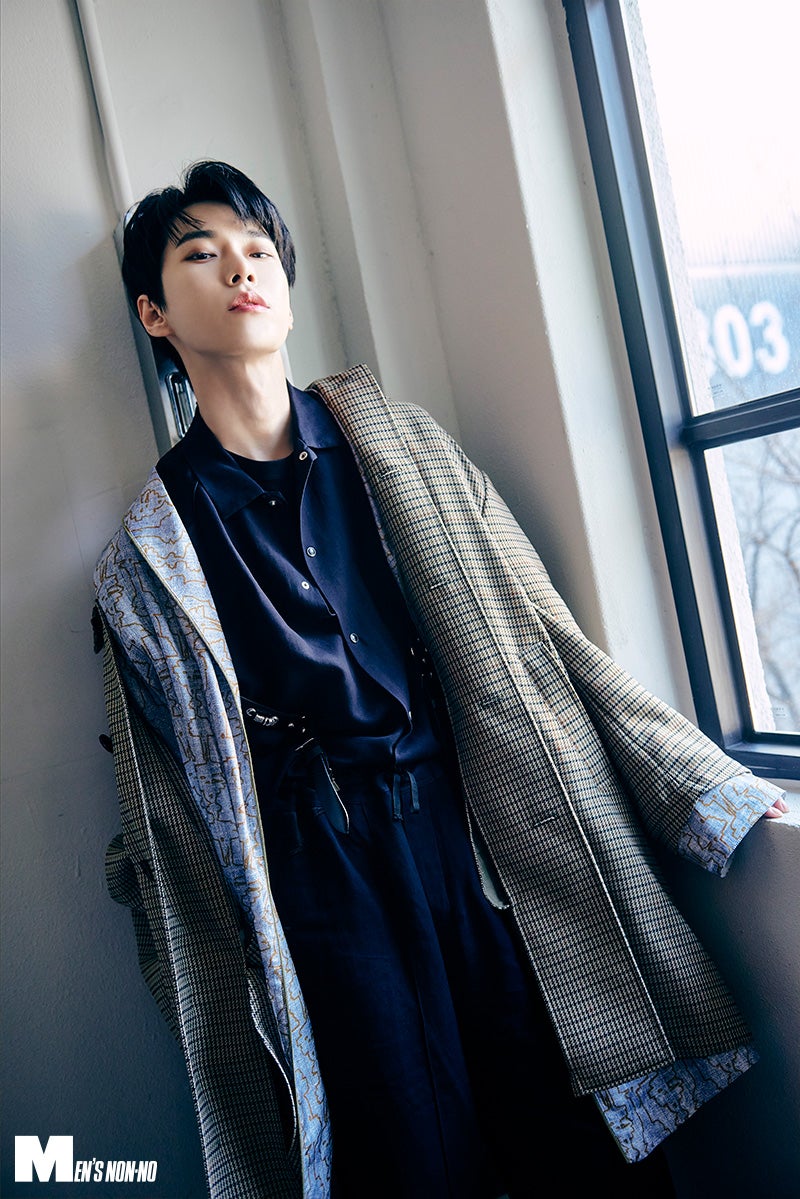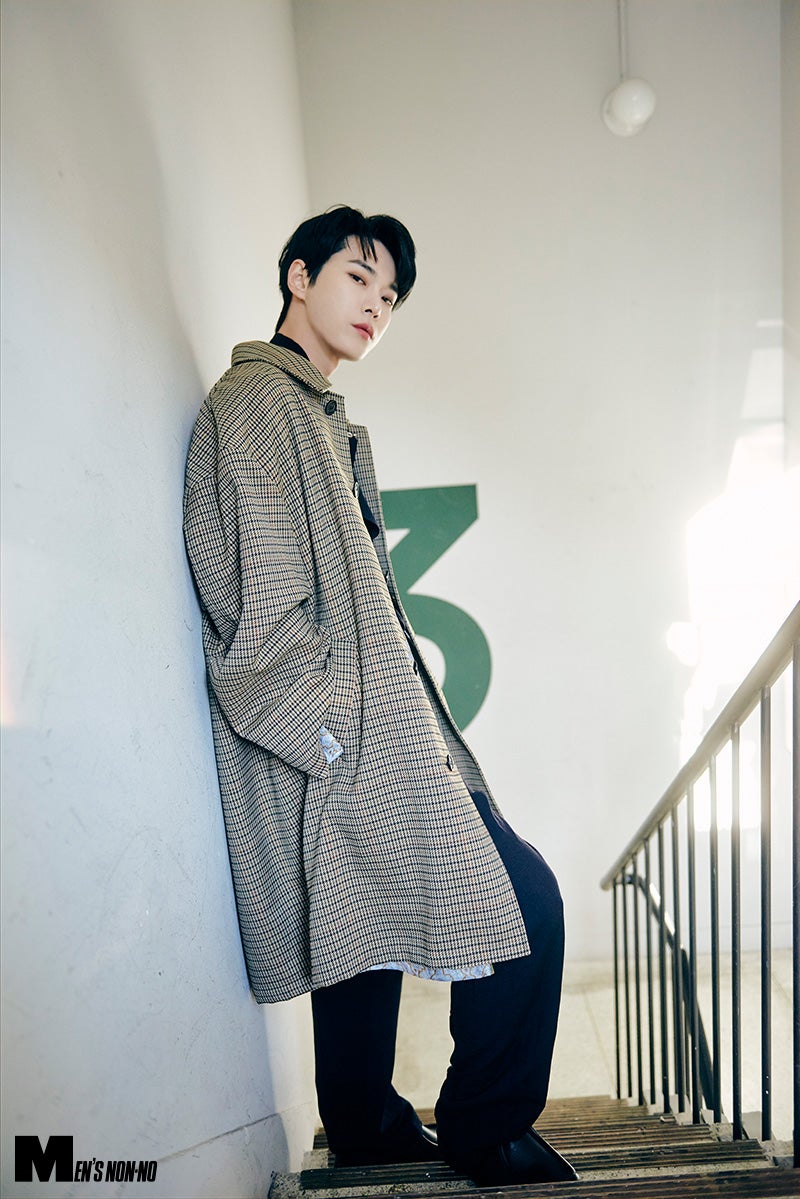 ---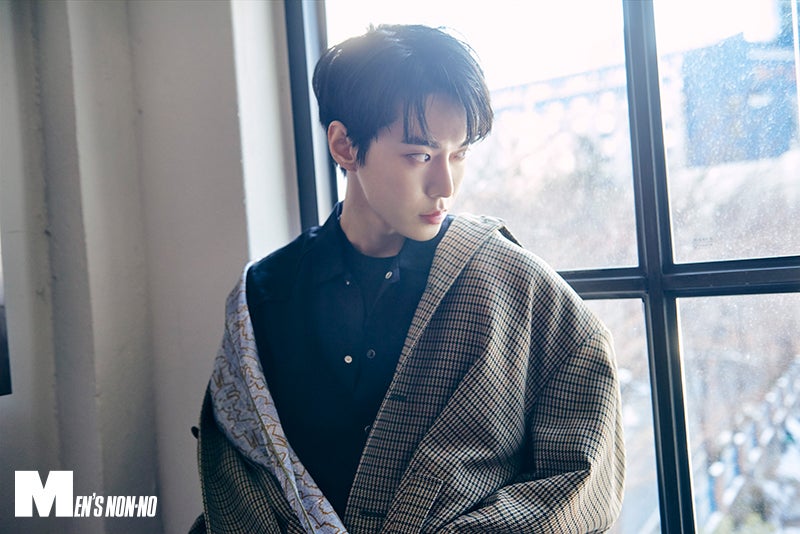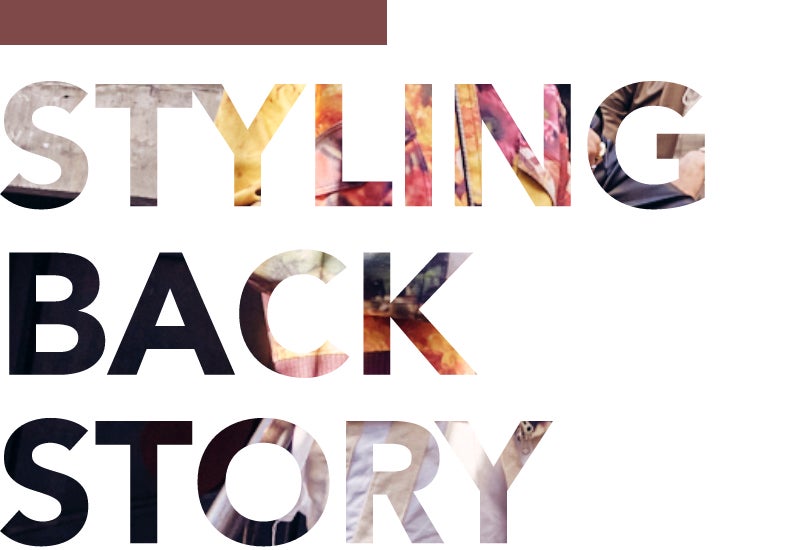 ---

The all monotone aspect of the shirt, pants, and shoes with a sharp silhouette creates a stoic flare. Layered over that is a soft and elegant light blue gown and a coat with an oversized silhouette. In contrast to the structured styling of the innerwear, the key is to wear the outerwear layered on top in a completely loose and casual way. The combination of a strong inner layer and a loose outer layer creates an interesting balance between seriousness and flexibility. Suspenders with the iconic silver design of "TOGA VIRILIS" glittering in the background adds spice to the look.
Coat 52,800 yen / MISTERGENTLEMAN Gown 59,400 yen – Shirt 41,800 yen – Pants・39,600 yen – Suspenders 31,900 yen (all TOGA VIRILIS) / TOGA Harajuku Store Shoes (JieDa) 49,500 yen / KIKUNOBU Tokyo T-shirt – Necklace / Stylist's personal items

---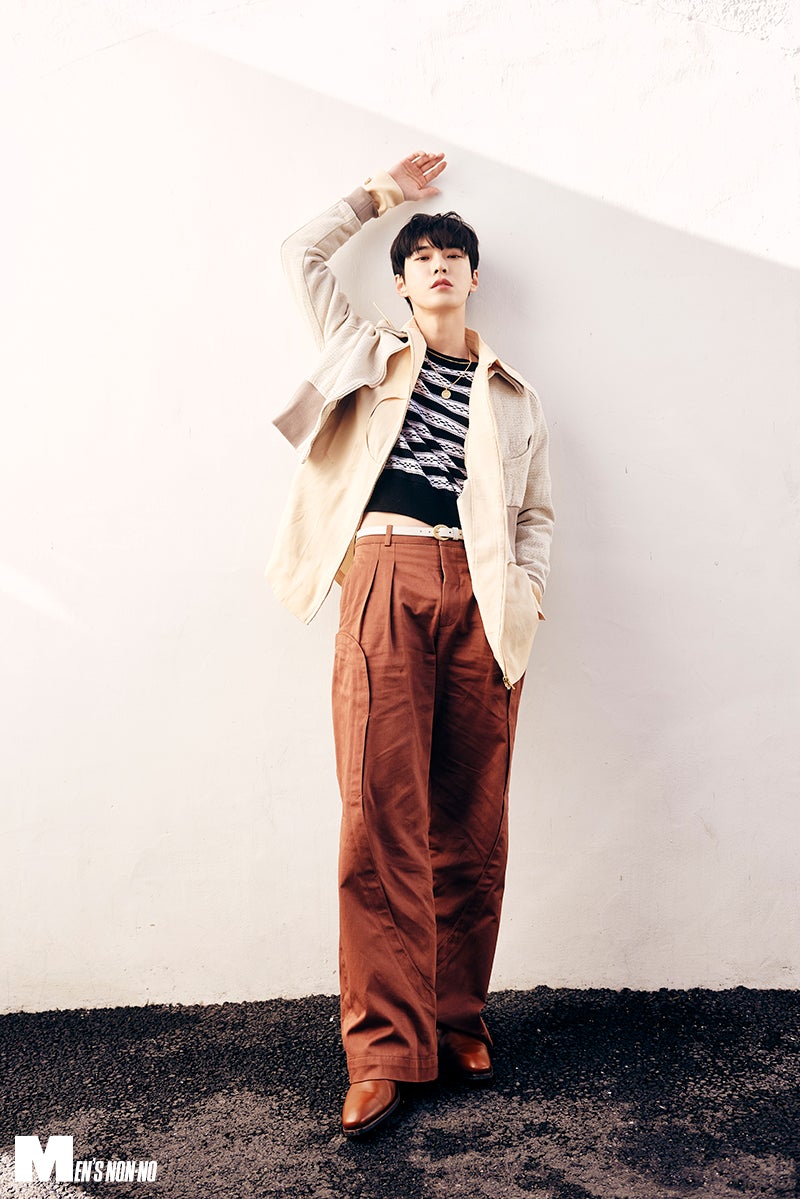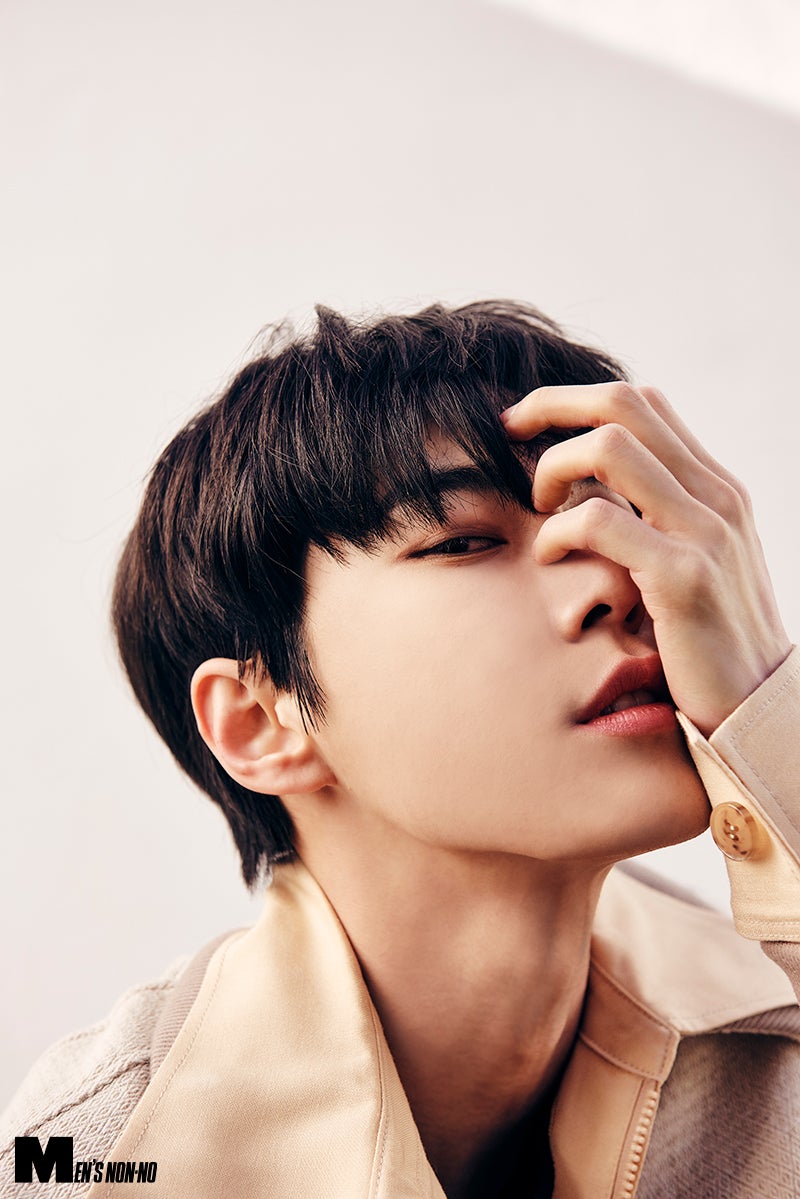 ---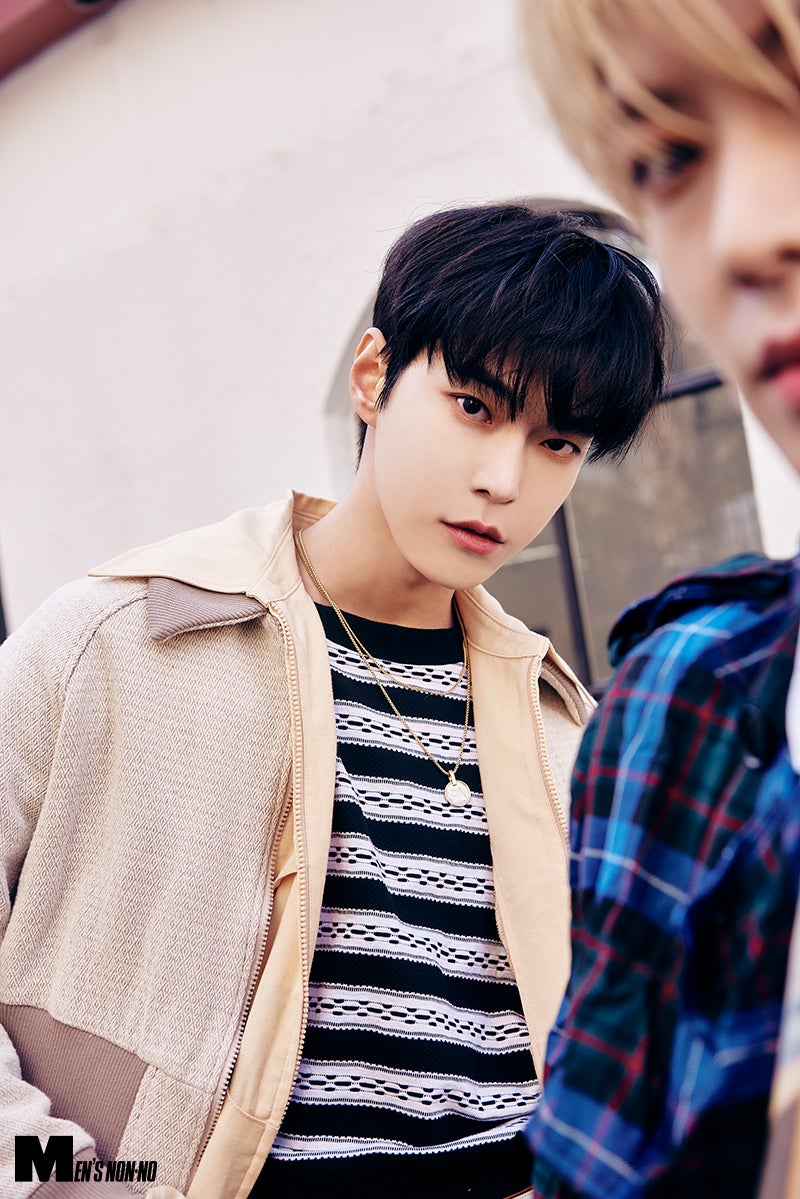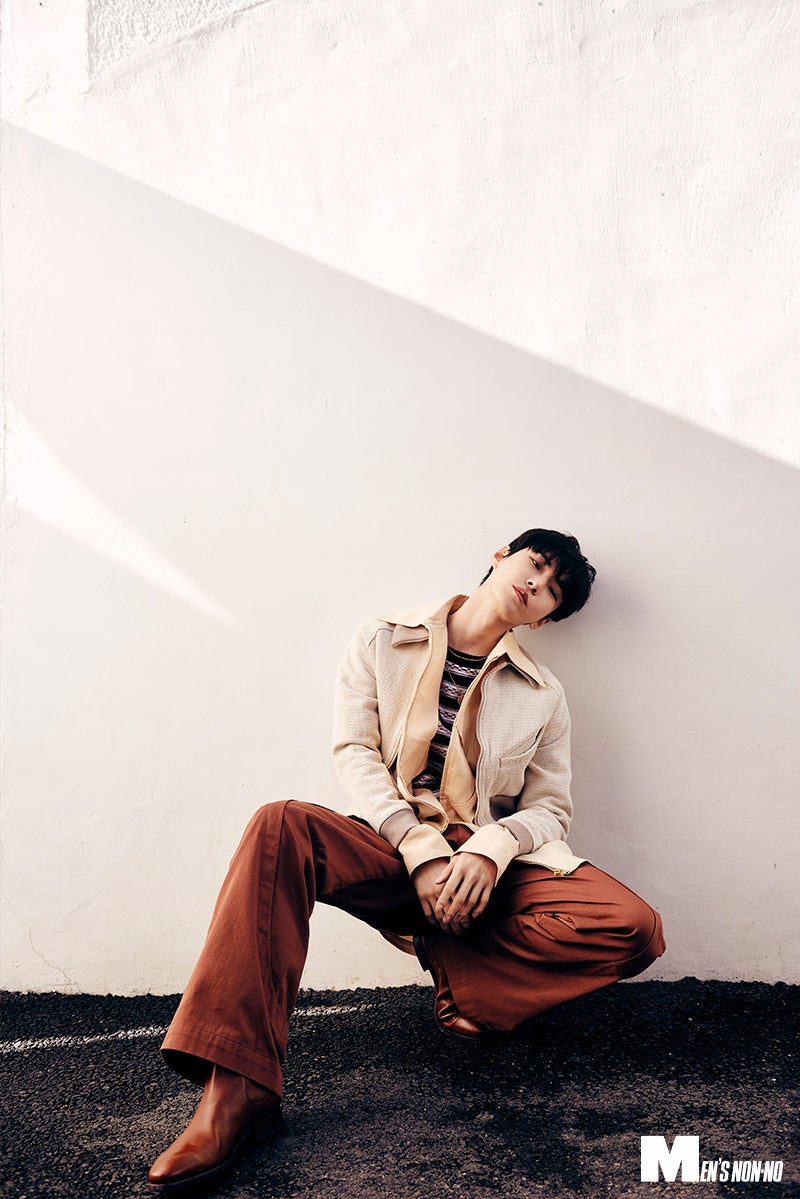 ---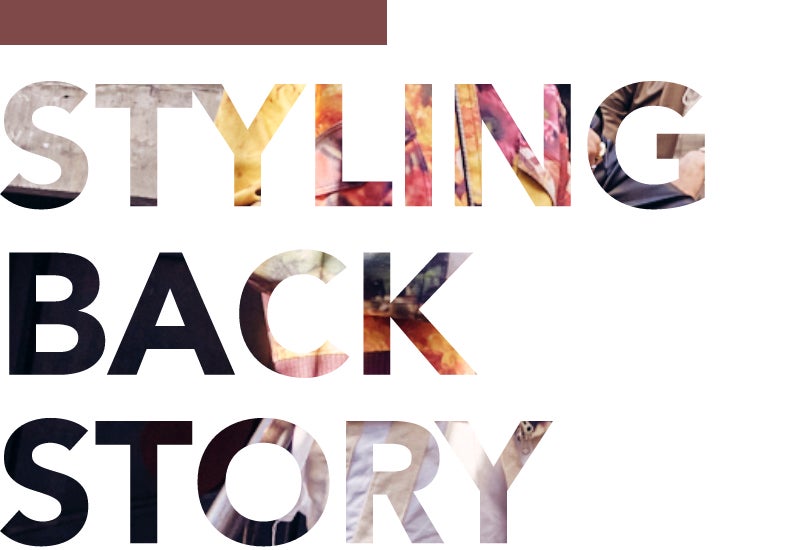 Composed mainly of items from the Korean brand "Iguill," the approach achieves cleanliness with sex appeal, which is quite impressive. The bohemian silhouette of the flared pants and the A-line shape of the upper body styled in a close-fitting way are striking. The outerwear, top, and items with three different lengths create a rhythm as they move, and it is very interesting to see how both the Japanese stylist and the Korean stylist came up with delicate layers for DOYOUNG, despite their different approaches. Another interesting aspect about this project is the discovery of a united interpretation of styling that keeps it classy without becoming overly dressed down.
Jacket – Knitwear – Shirt – Pants / Iguill  Miscellaneous / Stylist's personal items
---

Special release of mini interview questions that did not quite make our magazine or separate volumes!
MEN'S NON-NO: What kind of image do you have when it comes to Tokyo fashion?
DOYOUNG: My impression is that it is trendy with colors that stand out.
MN: What did you think of "TOKYO STYLE" as styled by MEN'S NON-NO?
D: Of the outfits I wore today, I love this style. Especially this gown. If I ever become rich, I'd like to wear it to bed… Haha (LOL). It's also very soft to the touch and comfortable. Very lovely.
MN: In your private life, is there something you often wear when spring comes around?
D: I love denim, like denim jackets and denim shirts.
MN: Of all the outfits you wore for "LOVEHOLIC" activities this time around, what was your favorite?
D: I remember the newsboy hat I wore in the music video for "gimme gimme", it was the first time for me to create that atmosphere in a music video.
MN: The lead song, "gimme gimme," has a dope mood, some darkness, and slightly morbid lyrics that are more unexpected than the romantic nuance you might imagine when you hear "love song". What did you aim for personally?
D: Intensity! Afterall, that is what NCT 127 is all about (LOL). I think the theme of the song and the actual world we were able to create makes the performance even more impressive. It's been a while since the music of NCT 127 has come to light, so I hope the fans will see how much effort we put into our performance.
MN: What parts of love do you feel have been fulfilled?
D: I feel fulfilled with the love from our fans.
MN: What do you personally pour your love into right now?
D: Finding my own "color".
Models: NCT 127 Photos: HEEHYUN OH Hair: Songhee Han Make-up: Seongeun An Stylist: Taichi Sumura(From TOKYO) Youngjin Kim(From SEOUL) Coordination: DongHun Jung[LIKE STUDIO CO.,Ltd.] Translation: Rie Nemoto Keiko Tsuyama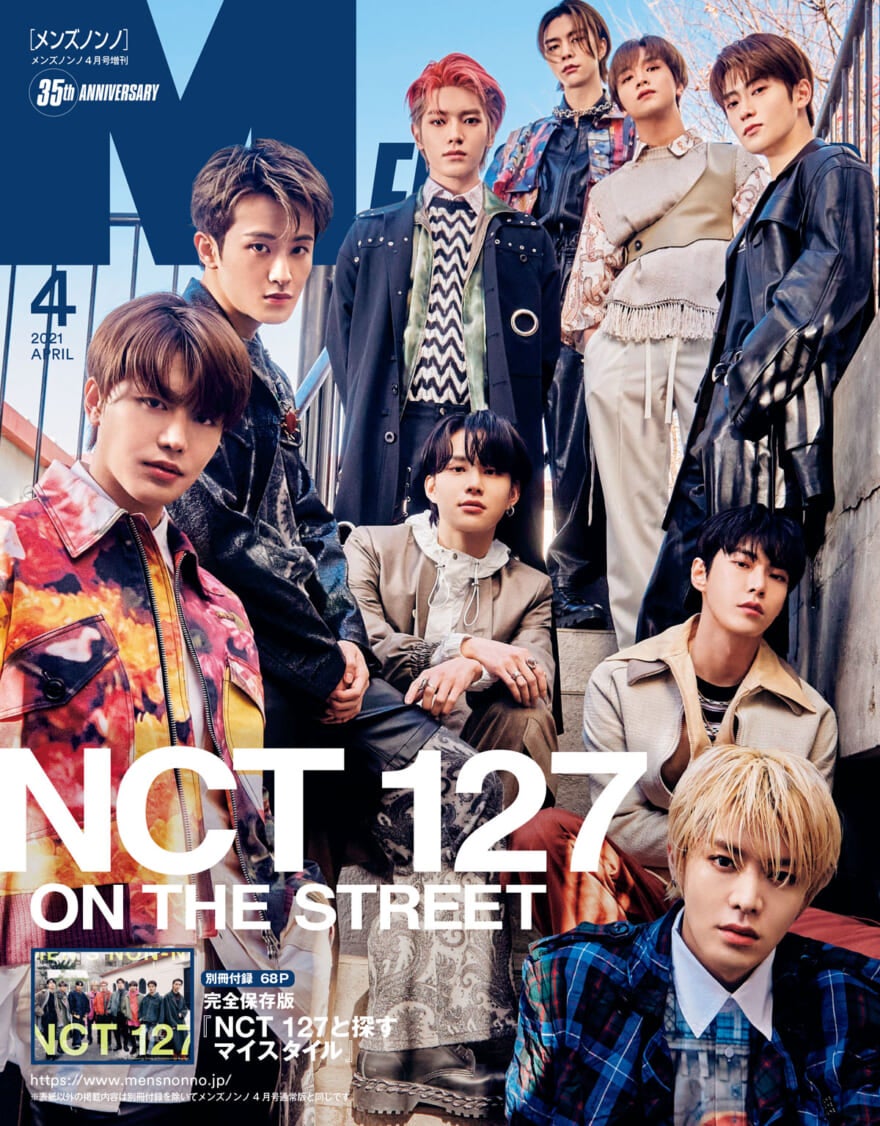 NCT 127

NCT 127 is a boy band with global reach, consisting of multi-national members and based in Seoul of South Korea. Their latest hit "Neo Zone" has sold over 1.5 million copies and still rising. Japan's highly-anticipated 2nd Mini Album "LOVEHOLIC" released in February 2021 reached No. 1 in the Oricon Weekly Album Ranking, and continues its rapid progress forward! 

For the latest on NCT 127: nct-jp.net
---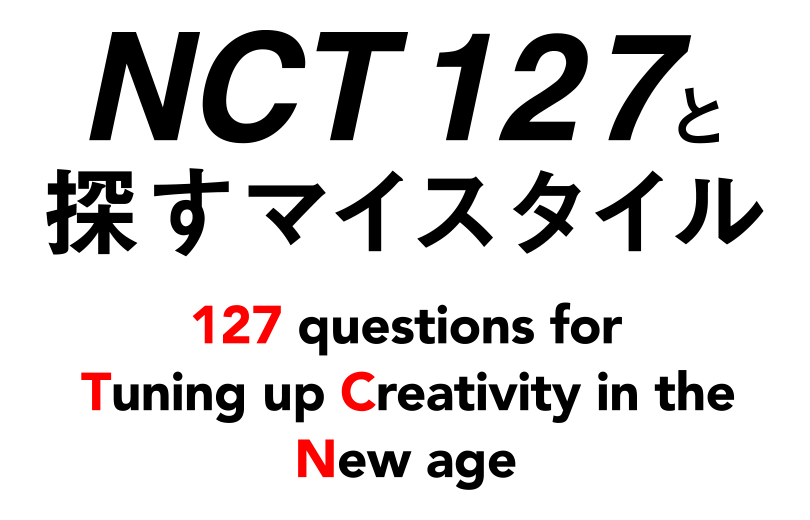 ---


---


---


---


---


▲ WPの本文 ▲