▼ WPの本文 ▼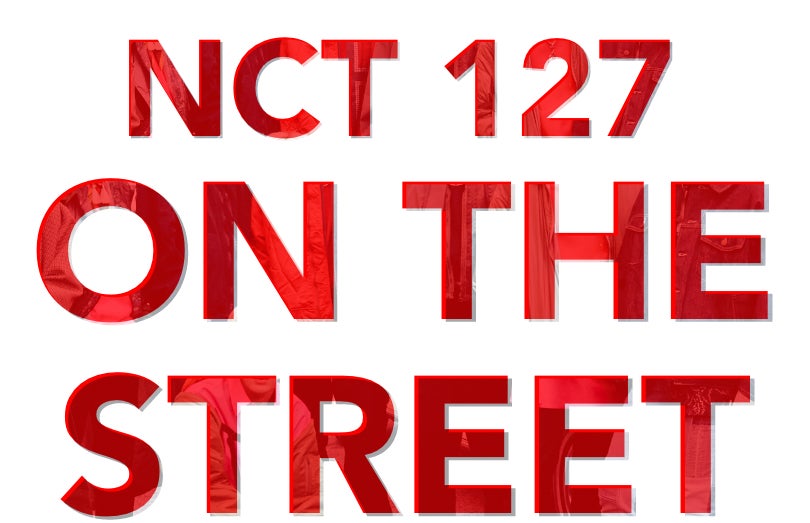 ---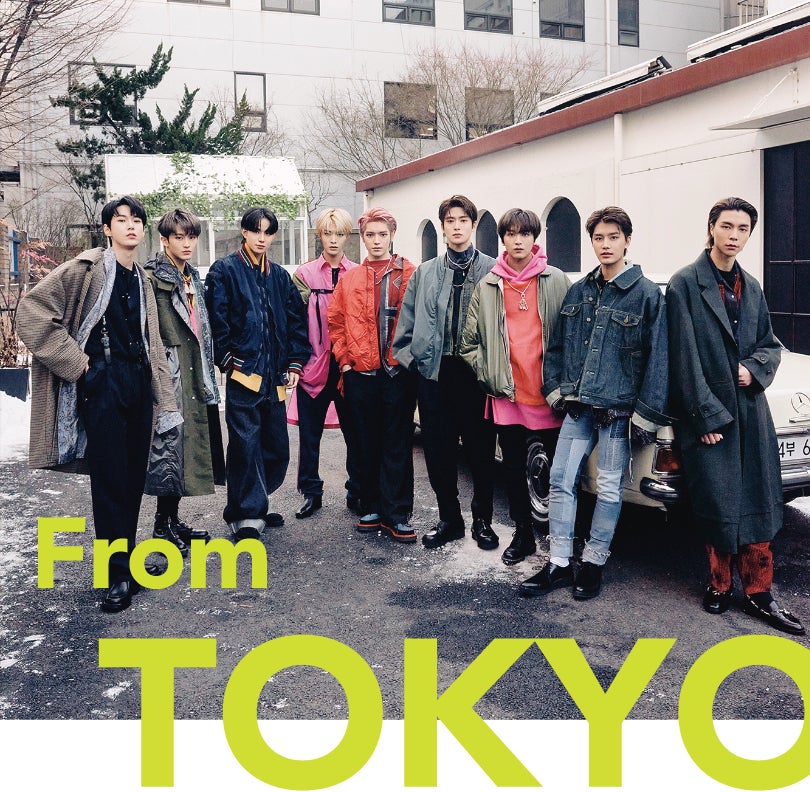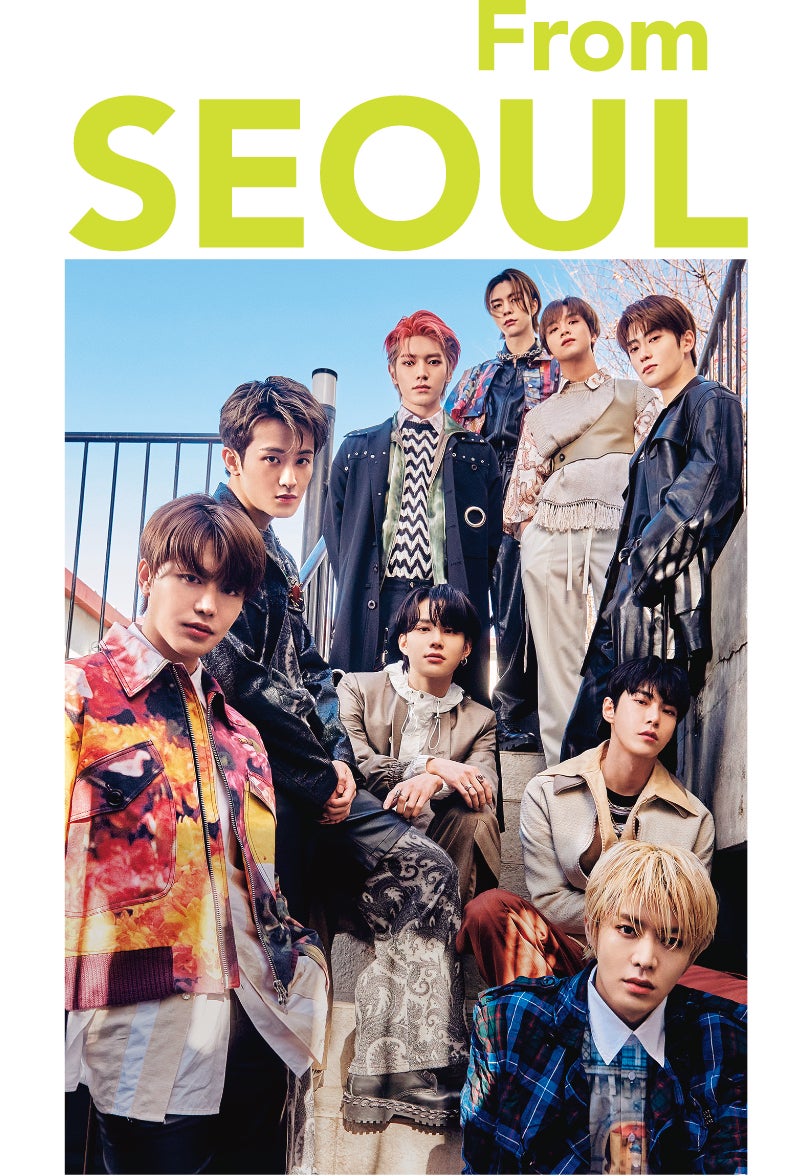 A unique sense of fashion thrives on the streets around the world. From Seoul at 127 degrees east longitude, NCT 127 constantly delivers fashion to us in exciting ways. When it was decided that they would appear in MEN'S NON-NO, they graciously agreed to the request from our editorial department that they wear not only the Seoul coordinates full of their sense of color, but also the current fashion from Tokyo. Nine outfits prepared by MEN'S NON-NO were packed up and sent across the ocean to the members of NCT 127. What a fitting way to conclude the journey into pursuing NCT 127's "My Own Style", which has been the theme of our WEB series since last summer.

Stemming from the request of MEN'S NON-NO, from top Japanese and Korean fashion stylists, Taichi Sumura and Youngjin Kim, who rose to the occasion with eye-catching outfits, to all the staff members and creators from Tokyo and Seoul full of passion and effort resonating throughout this project, this special collaboration of leading-edge Japanese and Korean men's fashion has been realized. In this article of the short series, along with never-before-released cuts, we will introduce styling secrets and commentaries on each and every member's fashion style.
*For this interview, YUTA spoke to us in Japanese and all other members in Korean.
*"From SEOUL" outfits were leased in Korea and we are unable to accept inquiries from within Japan. Thank you for your understanding.
---

---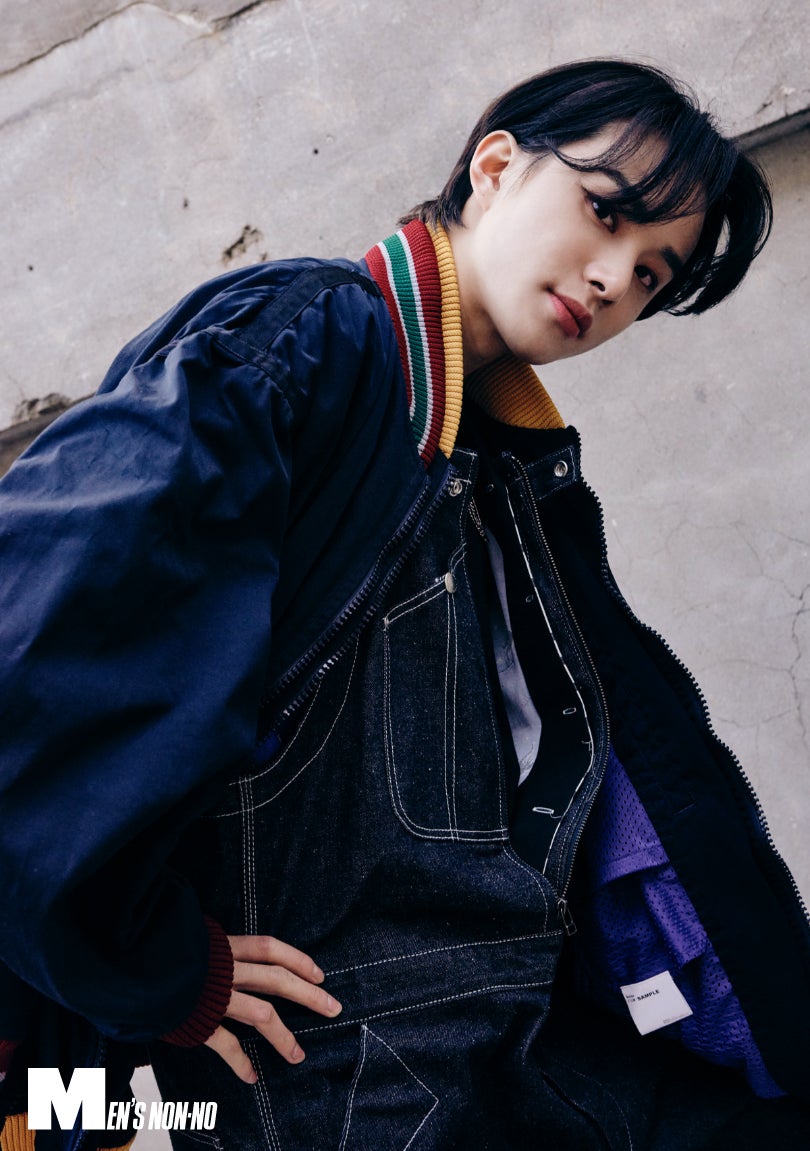 "I feel that a natural yet subtle expression of individuality is the best way to do it." In this series of articles, JUNGWOO told us about his own fashion style and how the Korean trend "꾸안꾸" is similar to his own. For him, we prepared a look that was simple at first glance, but in fact packed full of uncompromising items. Pay attention to the potential to expand on the allure regardless of being menswear or womenswear.
---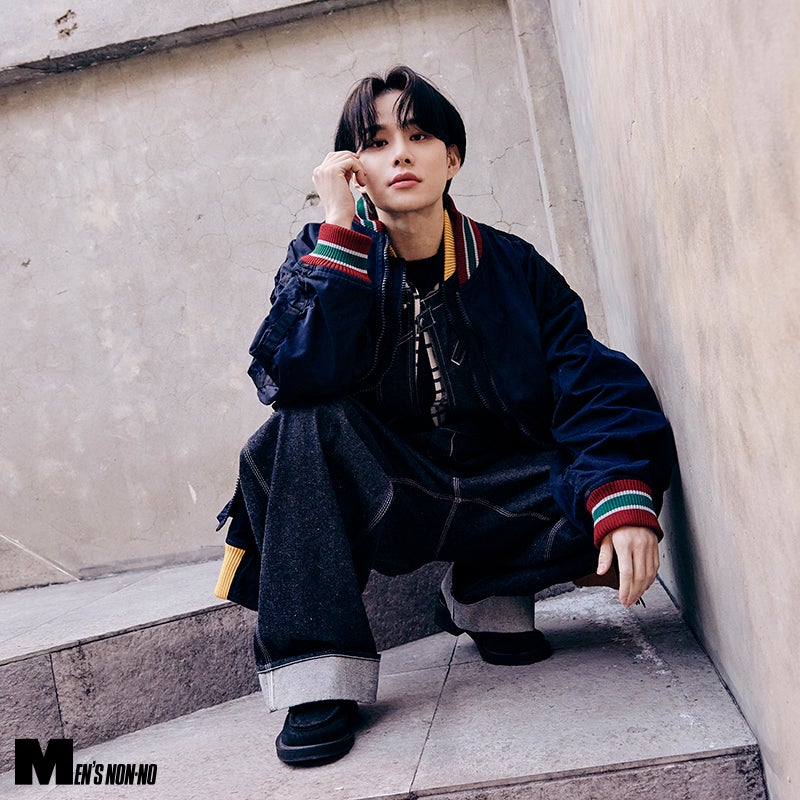 ---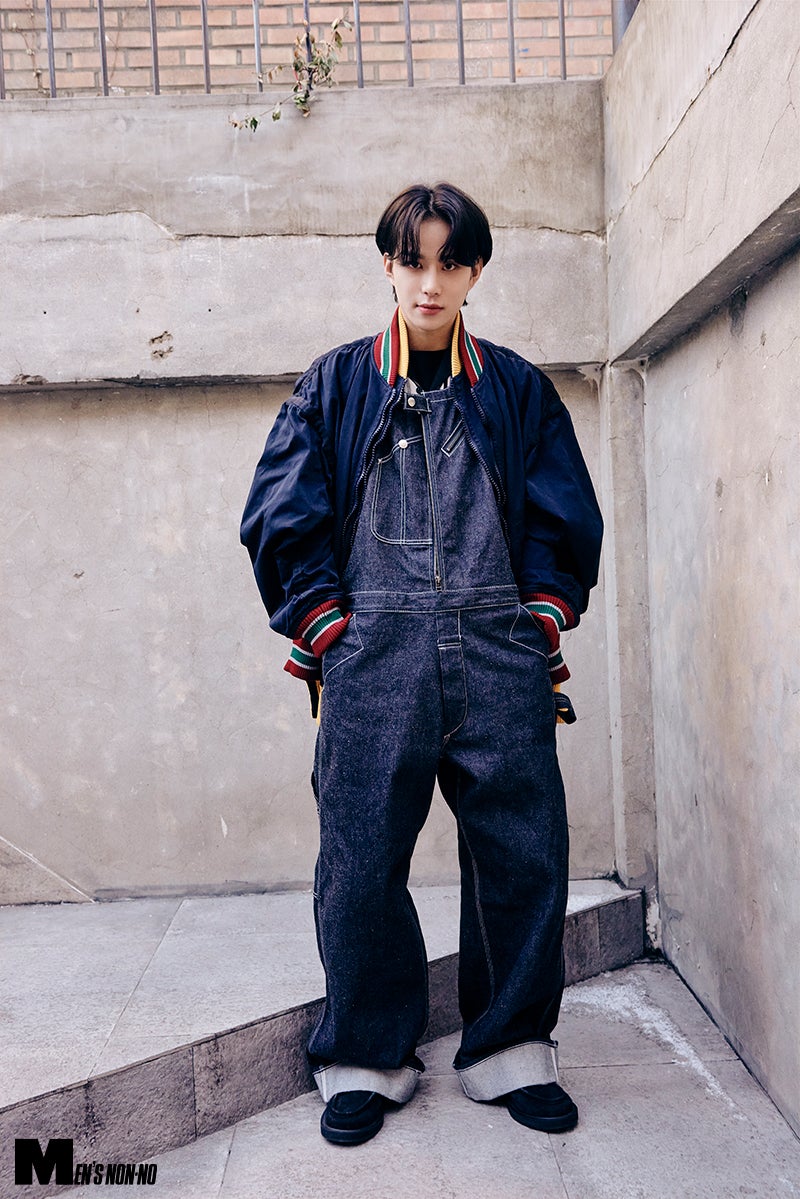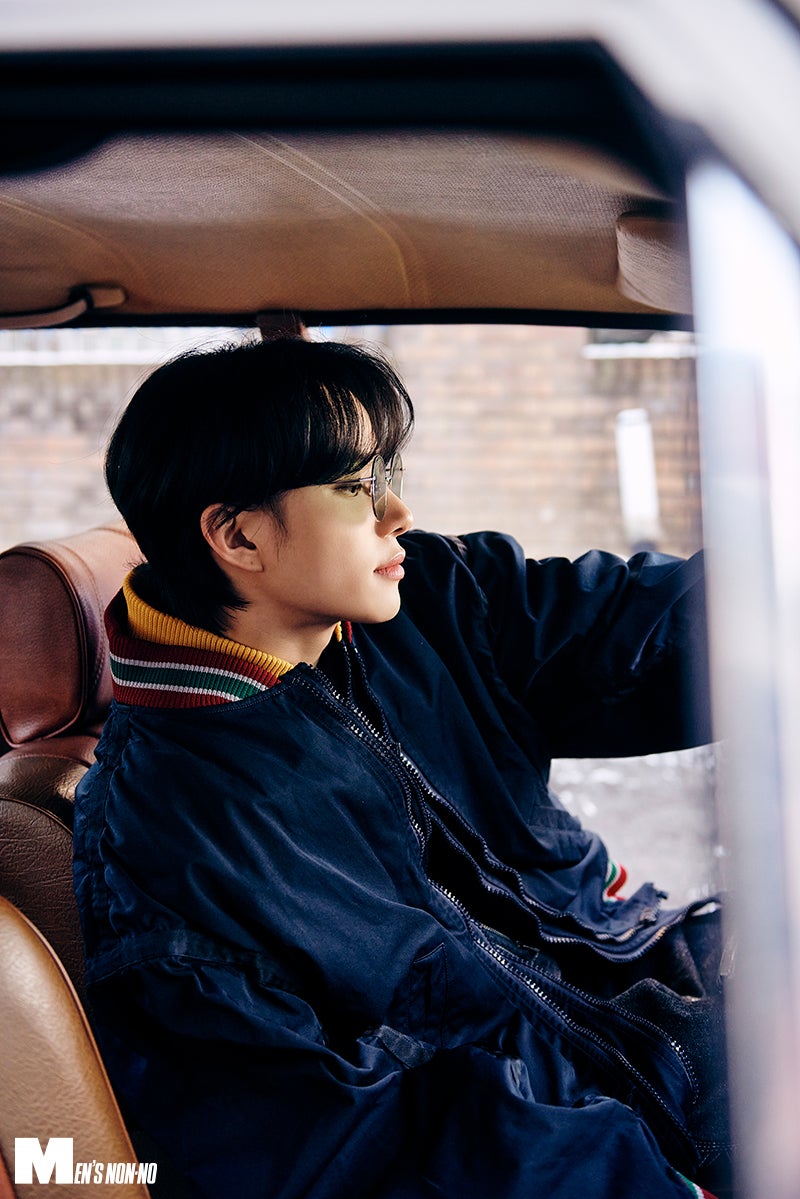 ---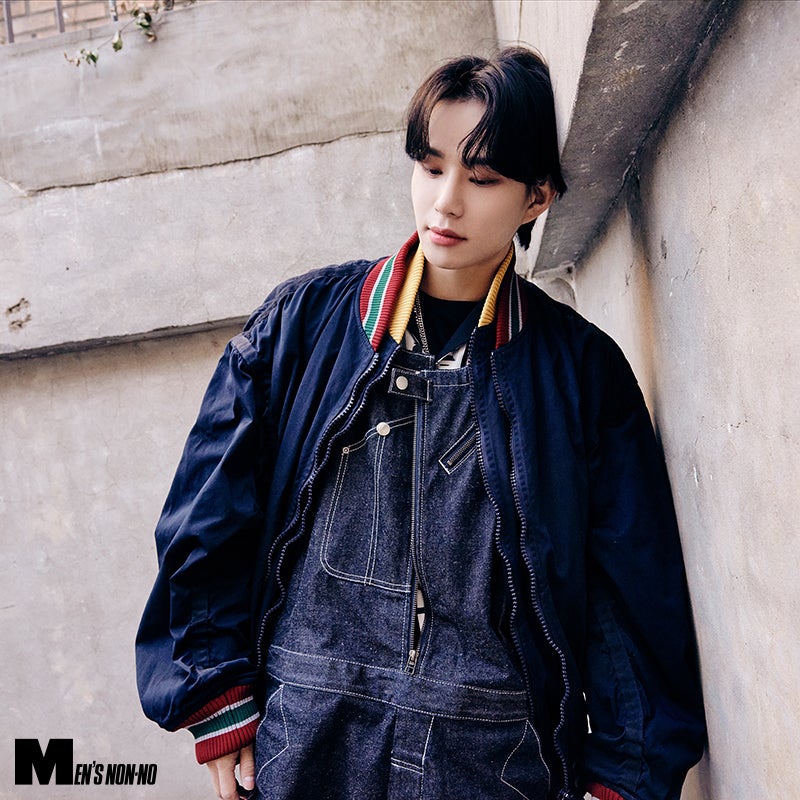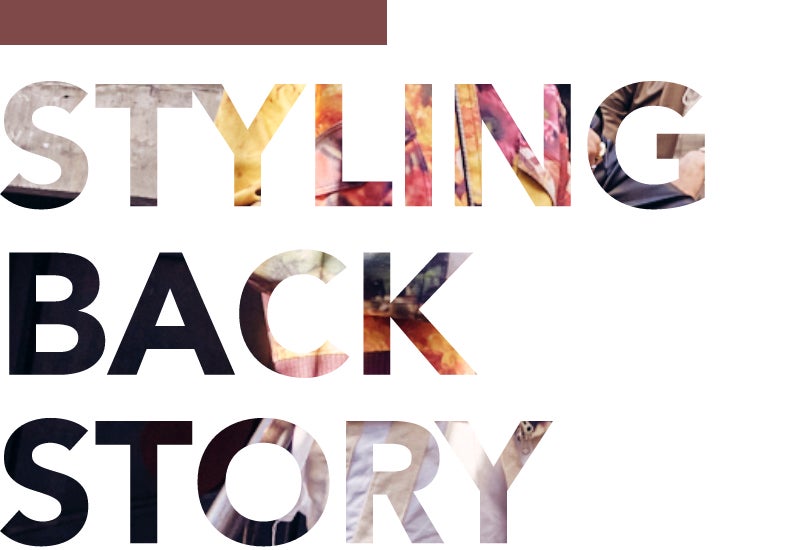 ---

Both the men's and women's collection by Tokyo-based brand "Kolor" has fans the world over, and the elaborately designed nylon jacket with two layers is certainly one piece known for its sense of color and approach with materials. The overalls boast high quality fabrics and is a collaboration between "FACETASM", which has been in the limelight of Paris Fashion Week, and the special denim brand "BEYONDEXX". All of the items are well-designed and full of things to talk about, but it's JUNGWOO's free-spirited attitude that makes him look so cool as he quickly jumps out on the streets without hesitation. And of course, he never forgets to soften the scene with a few adorable poses here and there.
Jacket 148,500 yen / Kolor Overalls 63,800 yen / FACETASM Shirt (TOGA VIRILIS) 40,700 yen / TOGA Harajuku Store Shoes (JieDa) 48,400 yen / KIKUNOBU Tokyo Necklace 19,800 yen / MISTERGENTLEMAN T-shirt – Sunglass / Stylist's personal items

---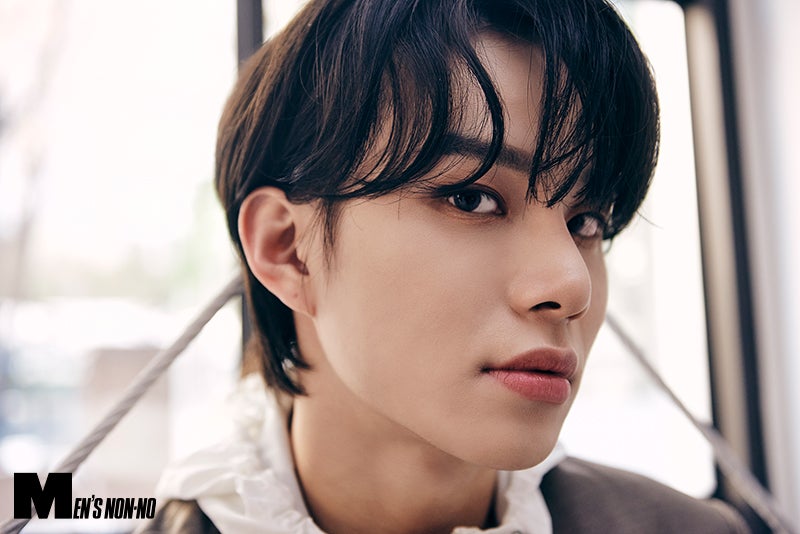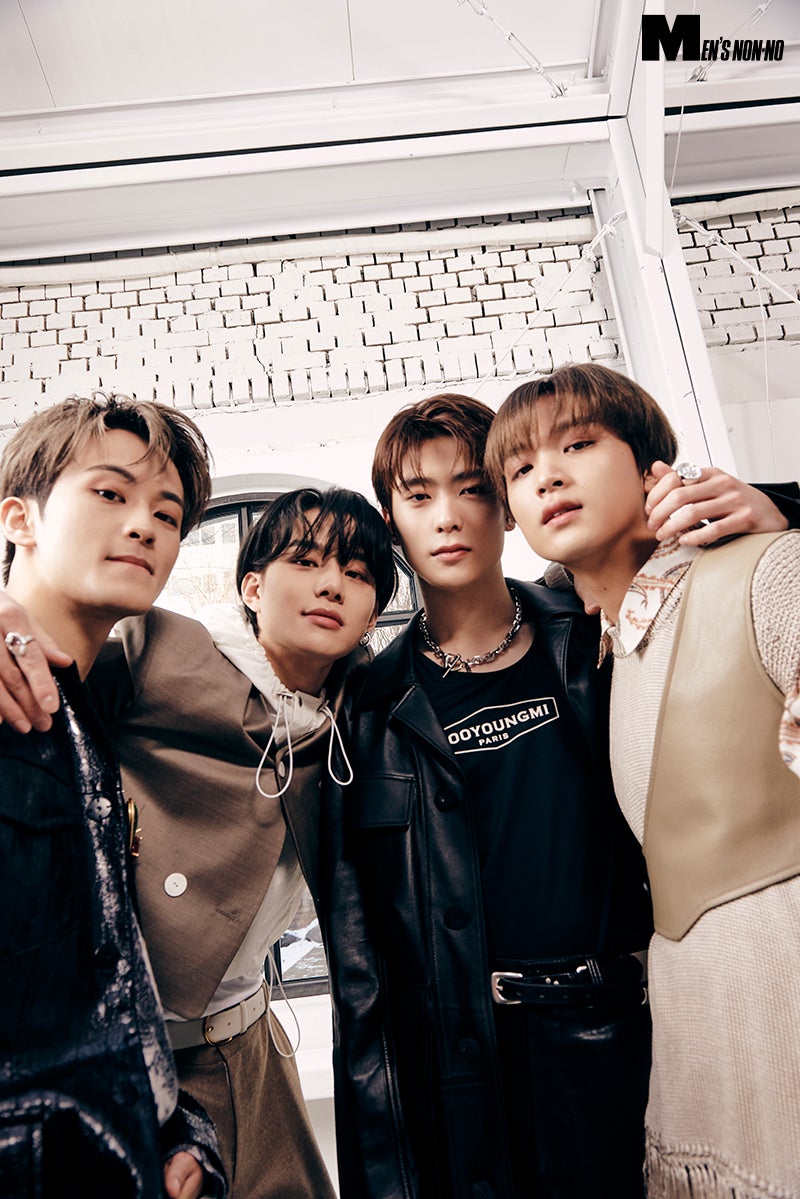 ---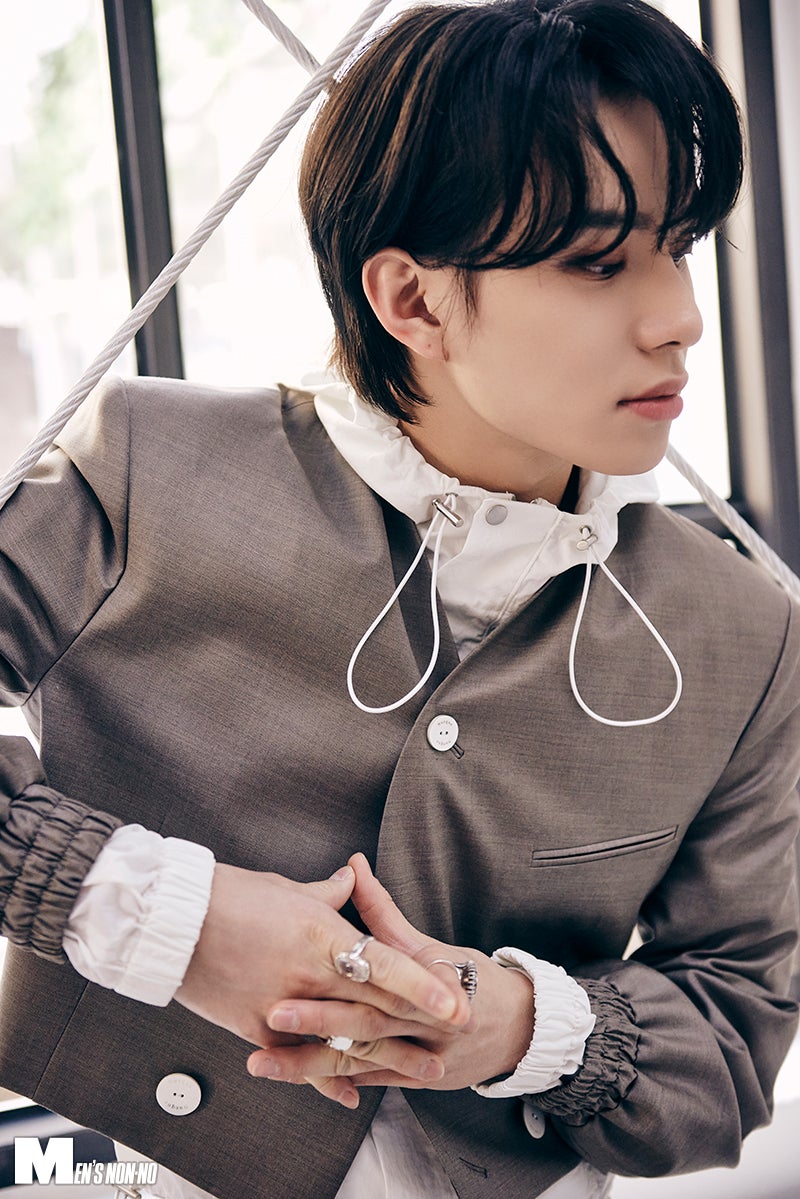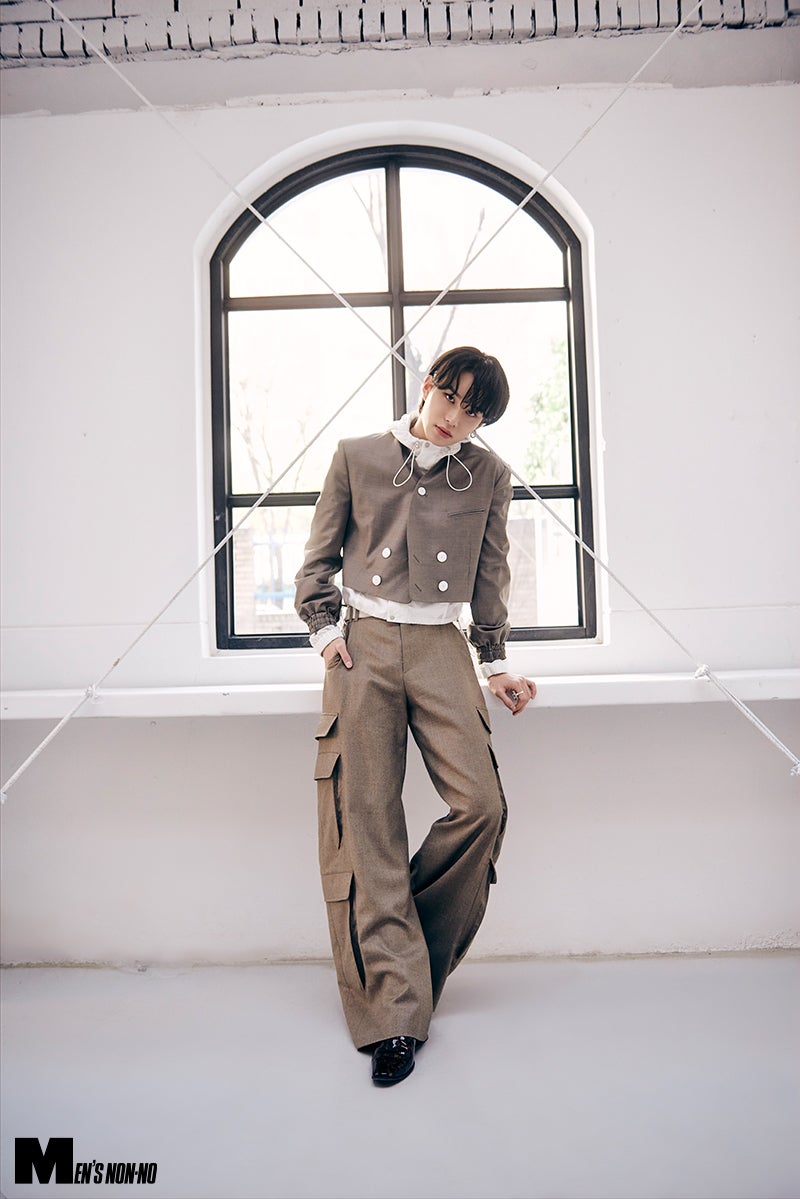 ---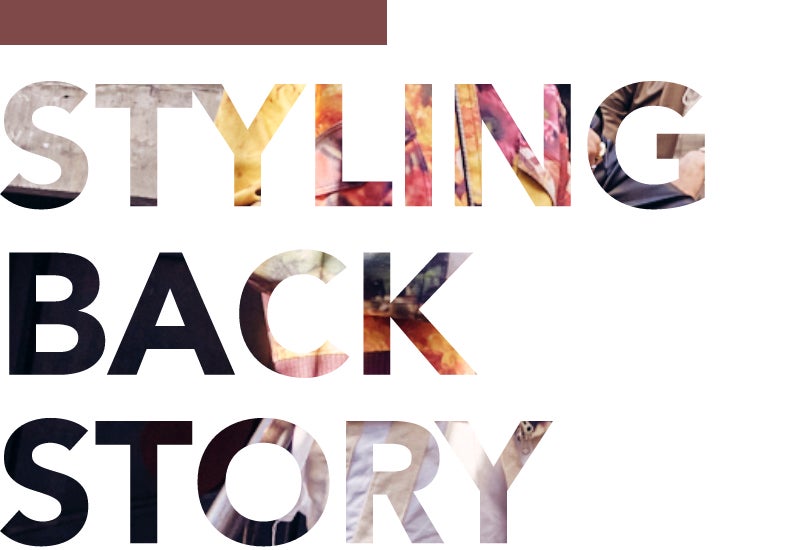 The collection consists mainly of items from the brand "Nueque," which was launched in Seoul in 2018 and based on the main concept of "unisex". In the seasonal looks, male and female models wear the same items, which is full of a neutral appeal. The coordination for JUNGWOO has a unique silhouette, but the tone in beige makes it harmonious. Enjoy the difference in expression the SEOUL STYLE presents vs the predominately navy TOKYO STYLE.
Jacket – Hoodie – Pants / Nueque Earrings / Portrait-report ring/ JIYE SHIN Miscellaneous / Stylist's personal items
---

Special release of mini interview questions that did not quite make our magazine or separate volumes!
MEN'S NON-NO: What did you think of the "TOKYO STYLE" outfit?
JUNGWOO: It's styling I've never worn before. I have tried a lot of styles up to now, but I haven't had many opportunities to wear coordinated outfits in street style like today's outfit. But when I tried it on for the photo shoot, I came to know such a style is out there and that there is an appealing side like that within me. I have only worn overalls a handful of times, but the members complimented me and even TAEYONG-san said I looked nice. The members and I all think the styling is very cool and we like it. If I'm ever given other opportunities, I think I would love to try various items.
MN: What kind of image do you have when it comes to Tokyo fashion?
J: It is strong and has an impact, and it's the kind of fashion that suits us.
MN: Of all the outfits you wore for "LOVEHOLIC" activities this time around, what was your favorite?
J: I personally liked the suits we wore for the CD jacket. Super cool.
MN: In your private life, is there something you often wear when spring comes around?
J: Shorts and short sleeve shirts in various colors.
MN: Please tell us about any new fashion items you may have purchased lately.
J: I bought some pants!
MN: What kind of album do you think "LOVEHOLIC" turned out to be in its entirety?
J: It's been a while since we've presented an album to our fans in Japan, so we worked really hard on it. Each song has its own personality and atmosphere, so I think everyone will be able to feel the appeal of this album even more if they listen to it according to their own moods and emotions at the time. "gimme gimme" is especially unique. For the theme "love," we tend to imagine lovely and cuddly emotions and atmosphere, but I think it turned out to be very special because we were able to integrate the atmosphere of NCT 127 into the song in a very accommodating way. We really wanted to show how we feel about our fans through songs with the theme of "love".
MN: What phrase were you particularly satisfied with when recording?
J: The part of the song "gimme gimme" where the lyrics say, "When I whisper, Magic spells". It belongs to the bridge, and I personally think it is remarkable. I'm also very pleased about how the recording came out. For "gimme gimme", I think that overall I was able to match the mood of the song to the way I wanted to sing it. I'm really satisfied!
MN: Was there anything in particular that you paid attention to for the "gimme gimme" music video?
J: I connected on how to express a vibe that is unique to us and that can be felt in the cold atmosphere.
MN: In reference to the album concept of "love", what do you love the most about yourself?
J: I try very hard to love everything about myself. I believe that by loving yourself, it also gives you confidence and self-esteem.
MN: What parts of love do you feel have been fulfilled?
J: I think I am full of love. I'm overflowing with love. I don't think I've ever really felt a lack of love.
Models: NCT 127 Photos: HEEHYUN OH Hair: Songhee Han Make-up: Seongeun An Stylist: Taichi Sumura(From TOKYO) Youngjin Kim(From SEOUL) Coordination: DongHun Jung[LIKE STUDIO CO.,Ltd.] Translation: Rie Nemoto Keiko Tsuyama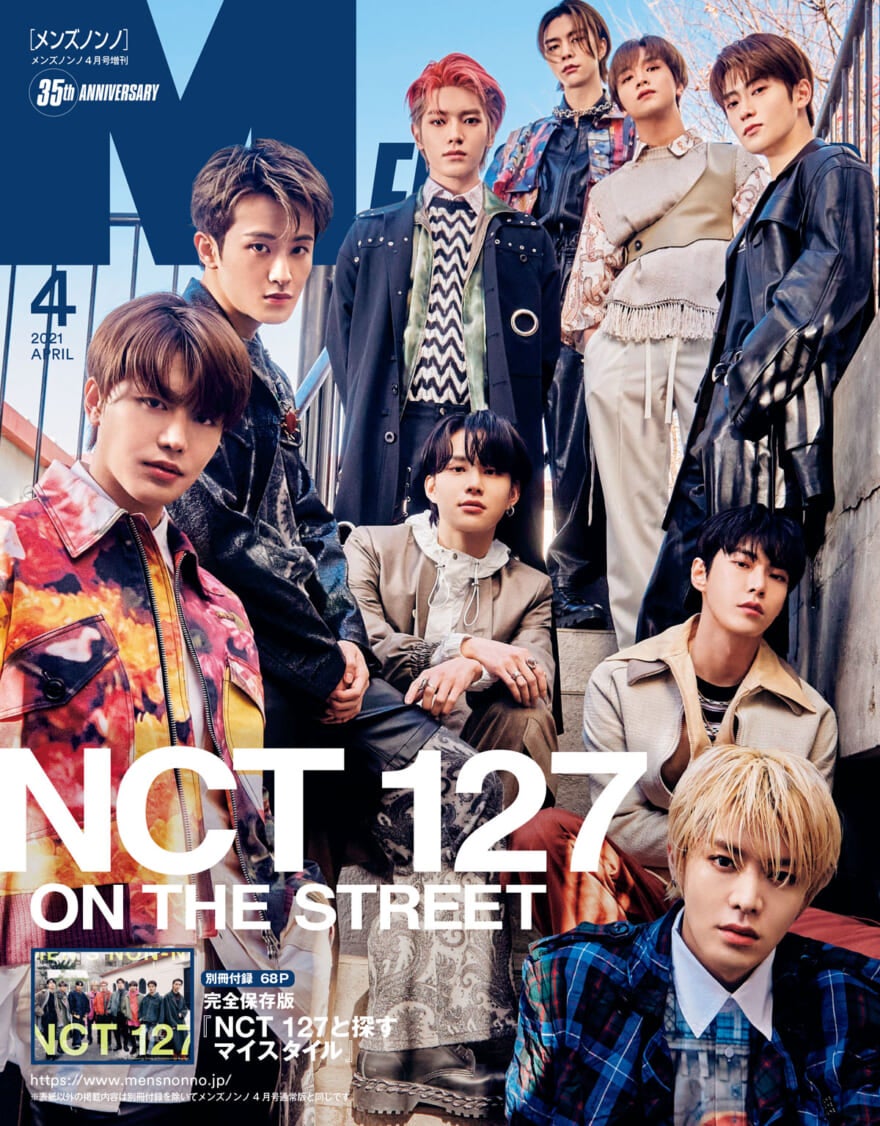 NCT 127

NCT 127 is a boy band with global reach, consisting of multi-national members and based in Seoul of South Korea. Their latest hit "Neo Zone" has sold over 1.5 million copies and still rising. Japan's highly-anticipated 2nd Mini Album "LOVEHOLIC" released in February 2021 reached No. 1 in the Oricon Weekly Album Ranking, and continues its rapid progress forward! 

For the latest on NCT 127: nct-jp.net
---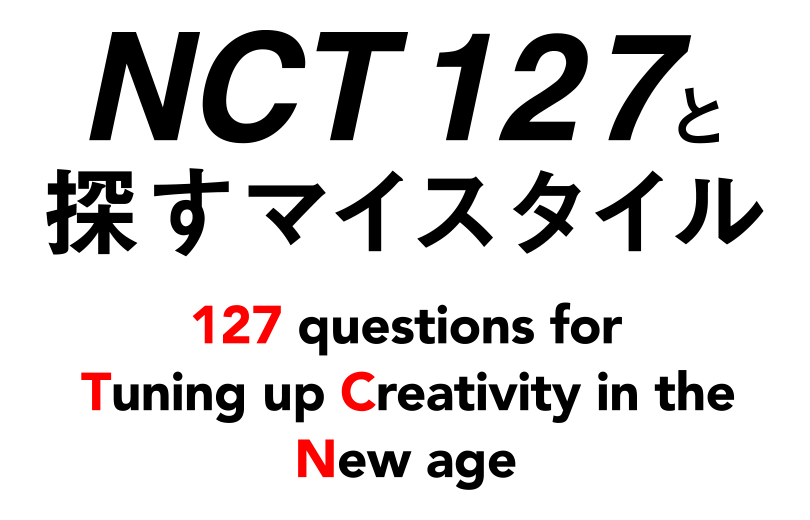 ---


---


---


---


---


▲ WPの本文 ▲