▼ WPの本文 ▼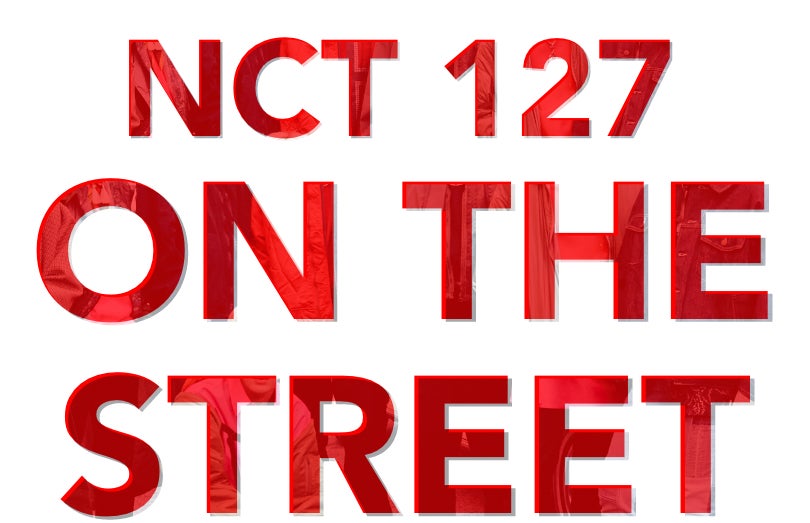 ---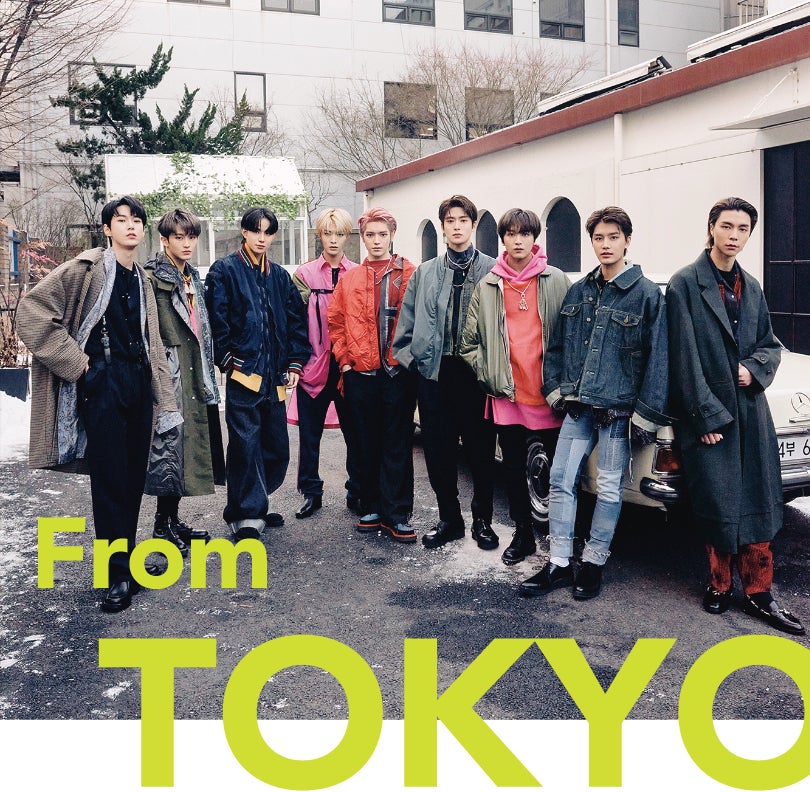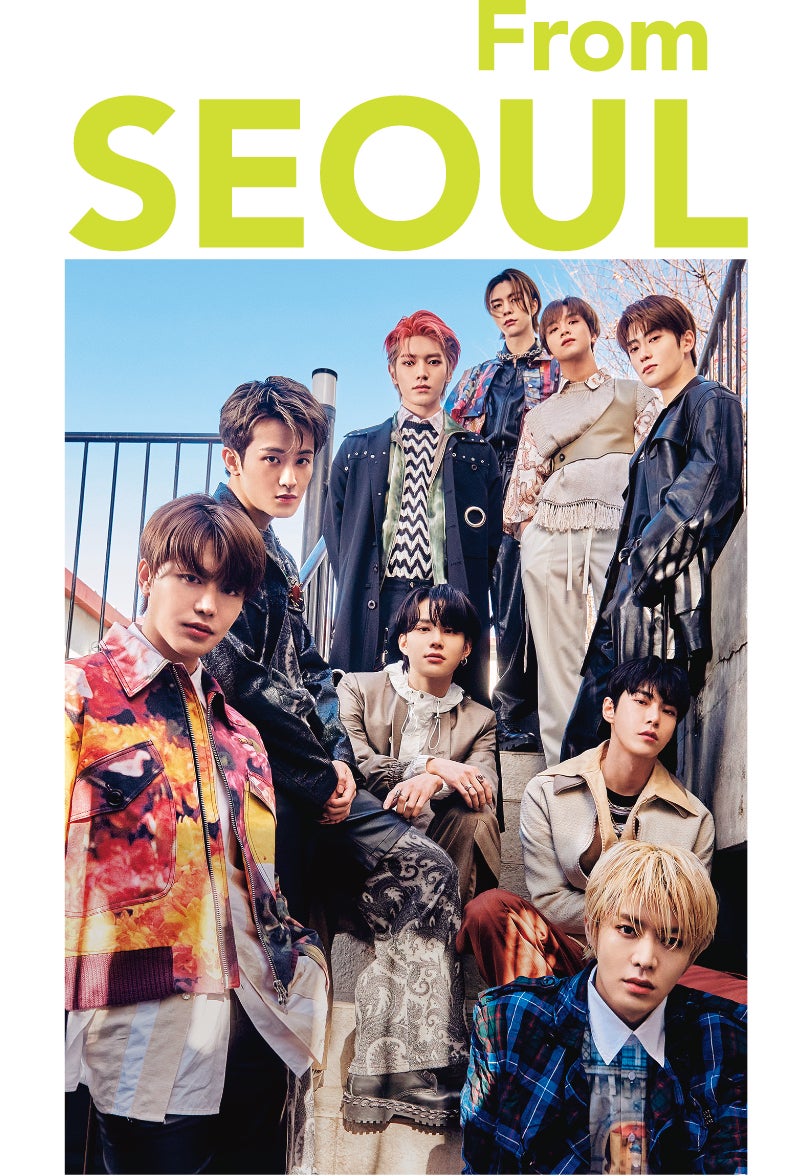 A unique sense of fashion thrives on the streets around the world. From Seoul at 127 degrees east longitude, NCT 127 constantly delivers fashion to us in exciting ways. When it was decided that they would appear in MEN'S NON-NO, they graciously agreed to the request from our editorial department that they wear not only the Seoul coordinates full of their sense of color, but also the current fashion from Tokyo. Nine outfits prepared by MEN'S NON-NO were packed up and sent across the ocean to the members of NCT 127. What a fitting way to conclude the journey into pursuing NCT 127's "My Own Style", which has been the theme of our WEB series since last summer.

Stemming from the request of MEN'S NON-NO, from top Japanese and Korean fashion stylists, Taichi Sumura and Youngjin Kim, who rose to the occasion with eye-catching outfits, to all the staff members and creators from Tokyo and Seoul full of passion and effort resonating throughout this project, this special collaboration of leading-edge Japanese and Korean men's fashion has been realized. In this article of the short series, along with never-before-released cuts, we will introduce styling secrets and commentaries on each and every member's fashion style.
*For this interview, YUTA spoke to us in Japanese and all other members in Korean.
*"From SEOUL" outfits were leased in Korea and we are unable to accept inquiries from within Japan. Thank you for your understanding.
---

---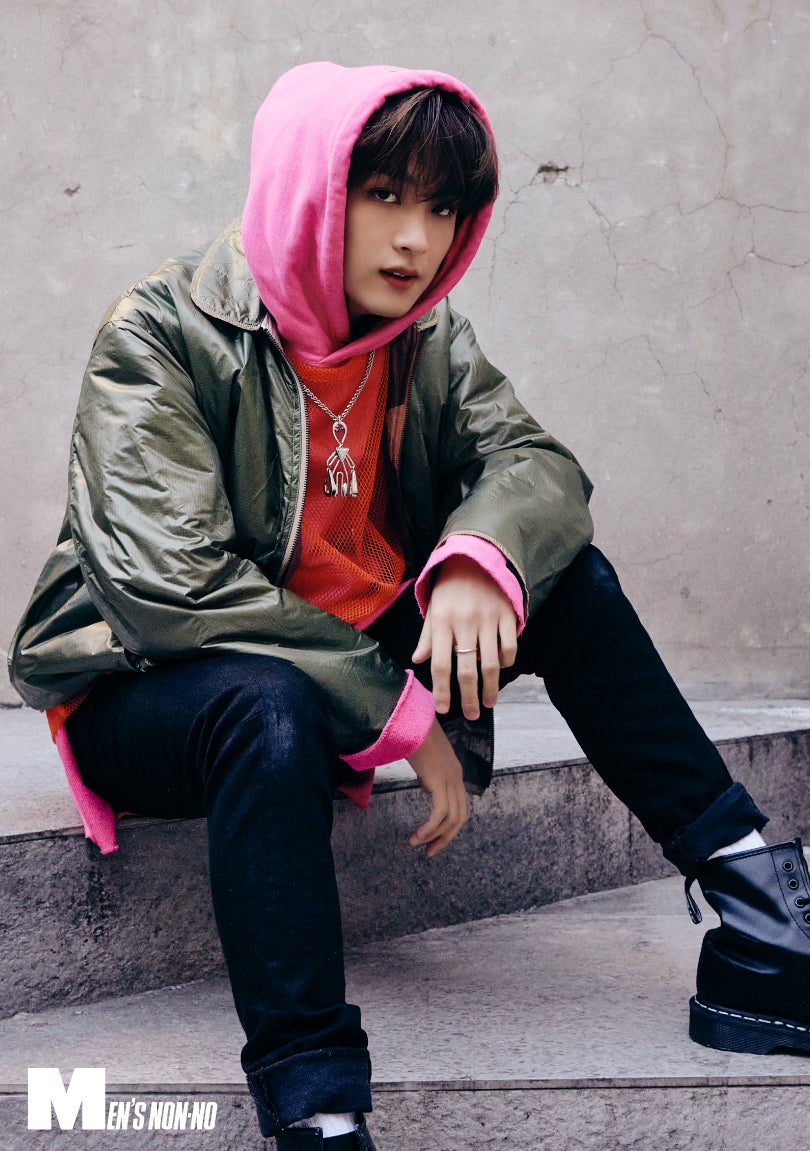 In the previous interview, HAECHAN, the youngest member of NCT 127, energetically talked about his positive mindset, such as his cheerfulness and confidence in his smile. He also gave us specific comments, such as, "I like jackets with a military taste", "The fit is the most important thing of all", "I love the stage outfit I wore for the "英雄; Kick It" MV". Taking hints from these comments, the styling was presented in a way so that his energetic character would shine through.
---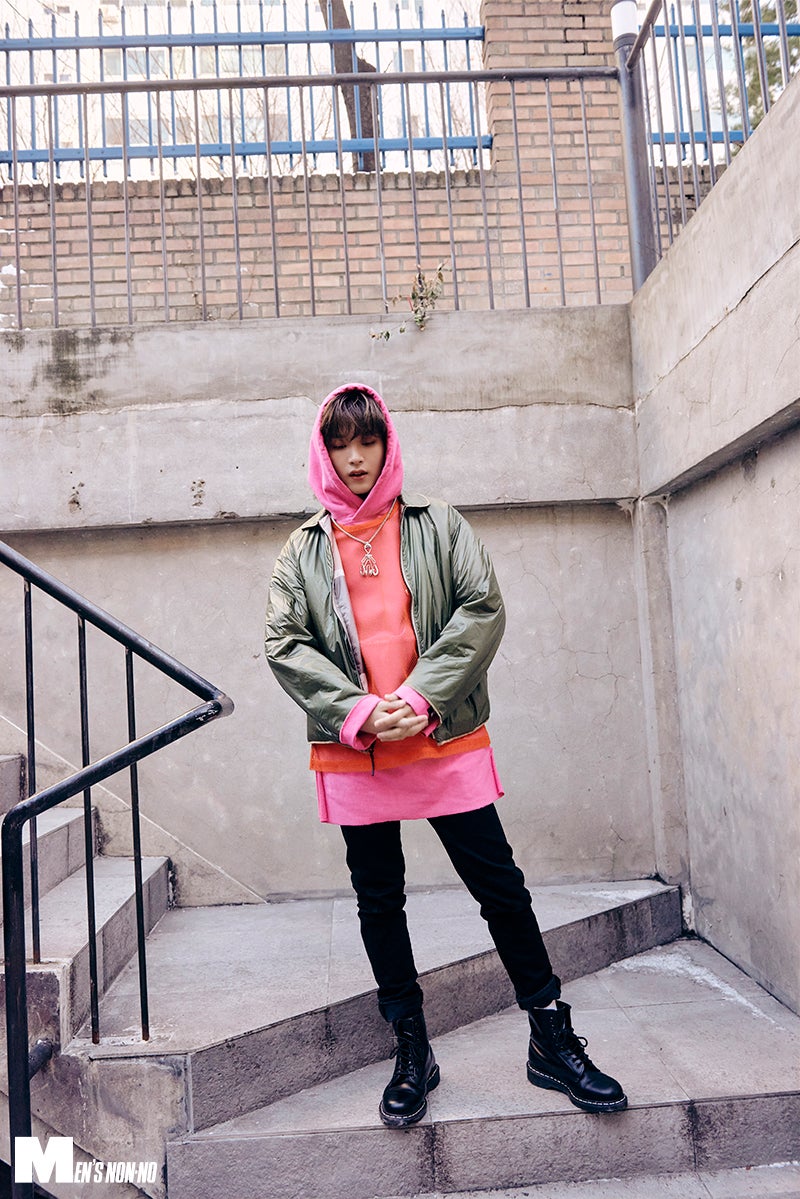 ---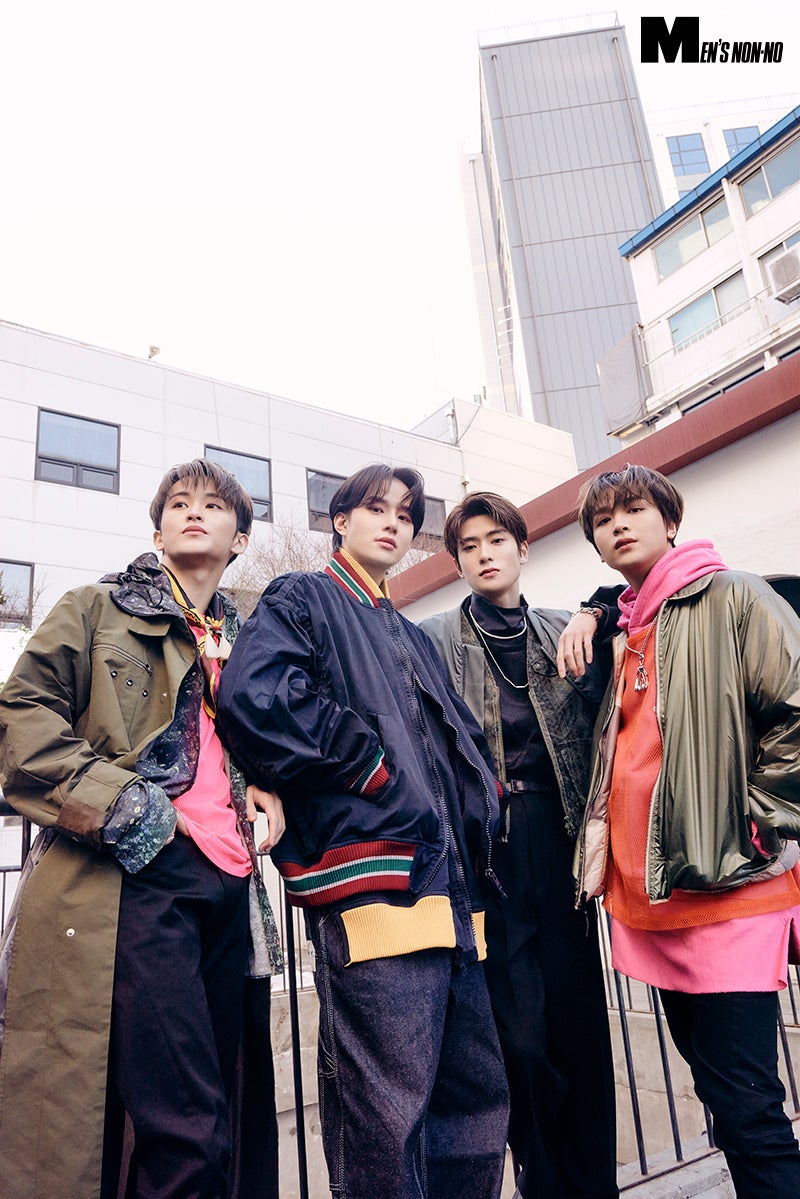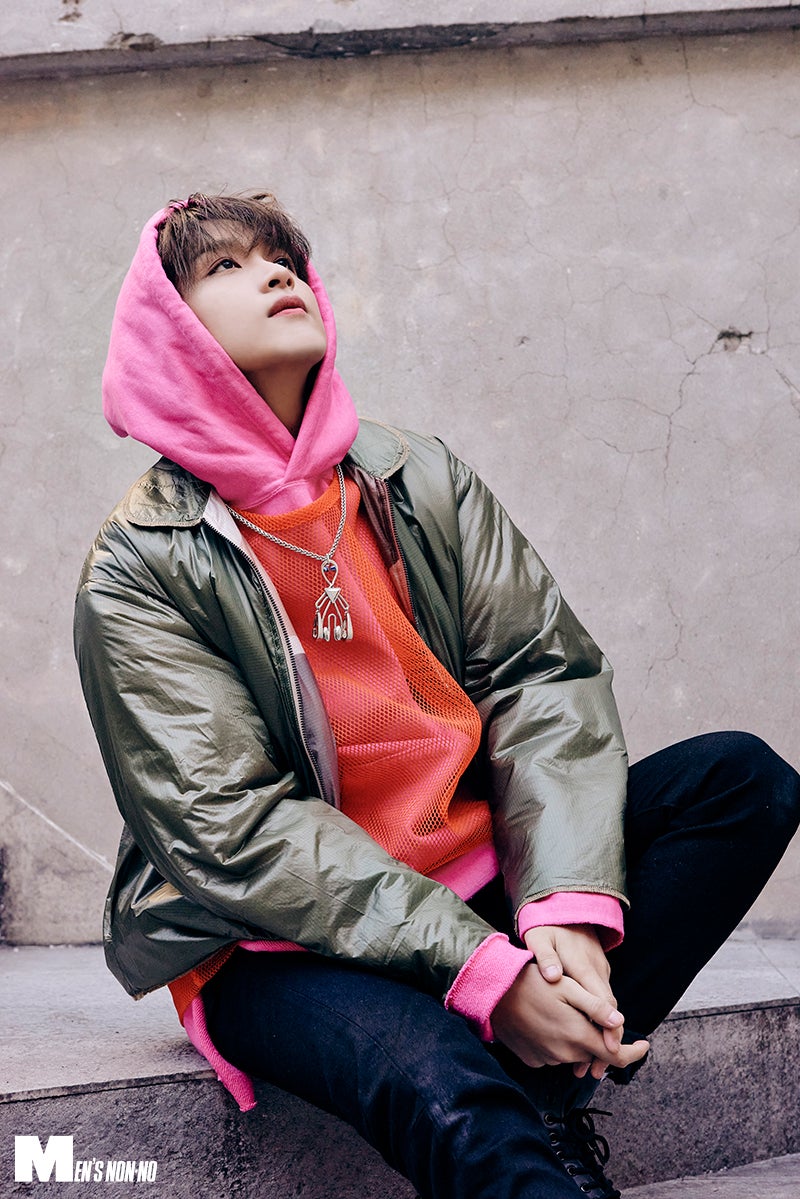 ---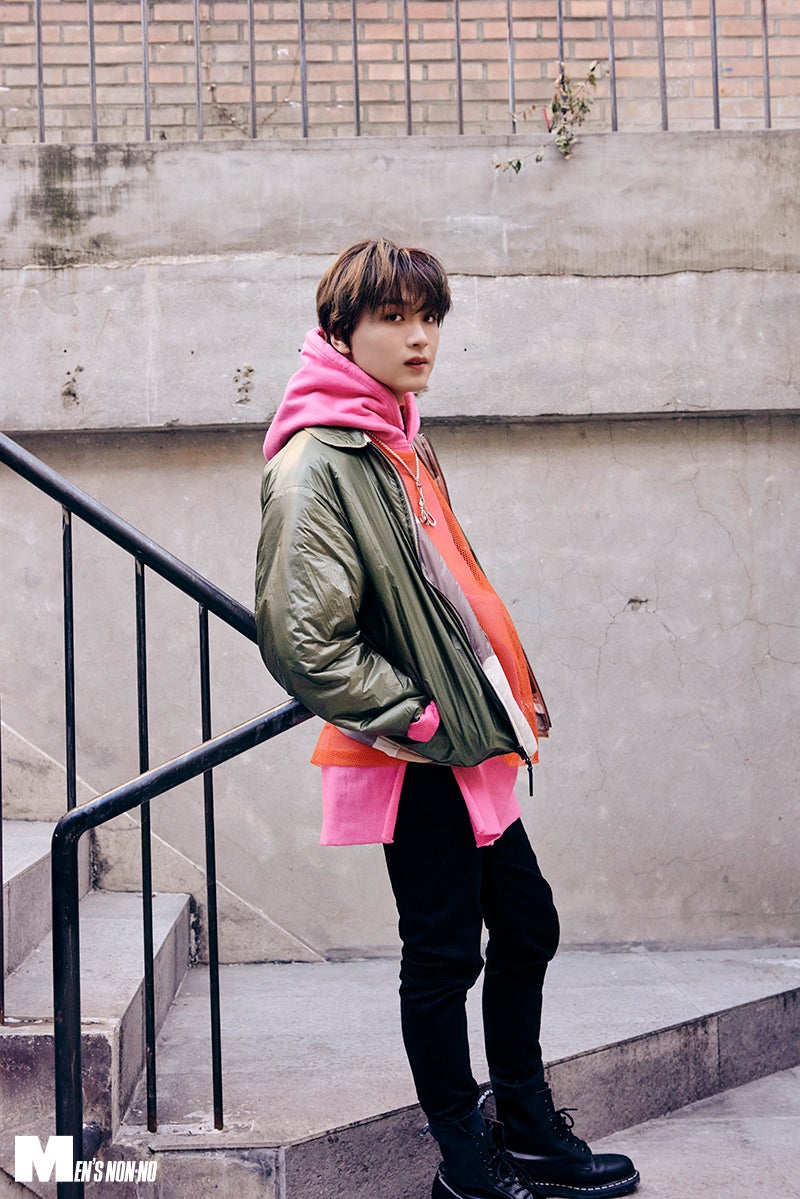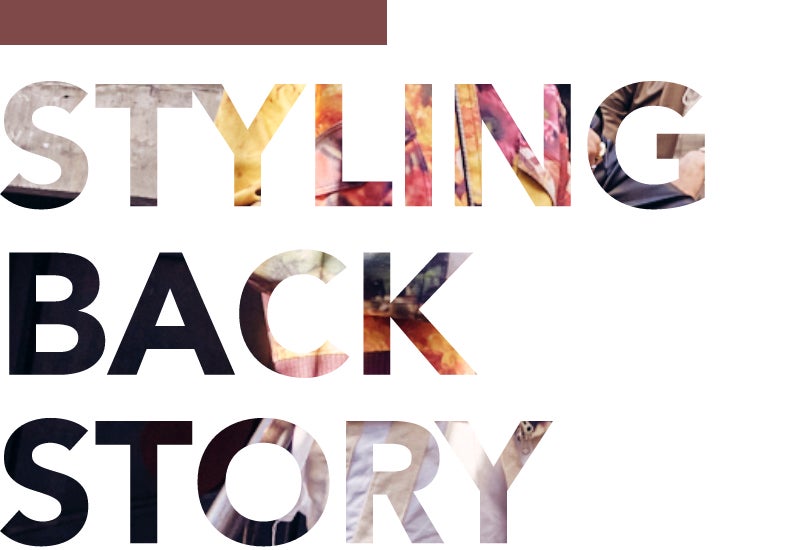 ---

Vivid colors that bring out the luminous mood of HAECHAN are powerful and playful! The stylist was very particular about matching the color concept with the dry khaki jacket so that it wouldn't be overly adorable. HAECHAN understood it the moment he put the outfit on without any explanation, and in the making-of video, he enthusiastically talked about the colors being his favorite part of the outfit. Since the top is oversized, by wearing black skinny pants to adjust the overall silhouette, the completed look is street style with sophistication.
Jacket (N.HOOLYWOOD TEST PRODUCT EXCHANGE SERVICE) 57,200 yen /Mister Hollywood T-shirt 15,400 yen / MISTERGENTLEMAN Hoodie 35,200 yen / ALMOSTBLACK Pants 23,100 yen / LAD MUSICIAN Harajuku Necklace (TOGA VIRILIS) 16,500 yen / TOGA Harajuku Store Shoes – Socks / Stylist's personal items

---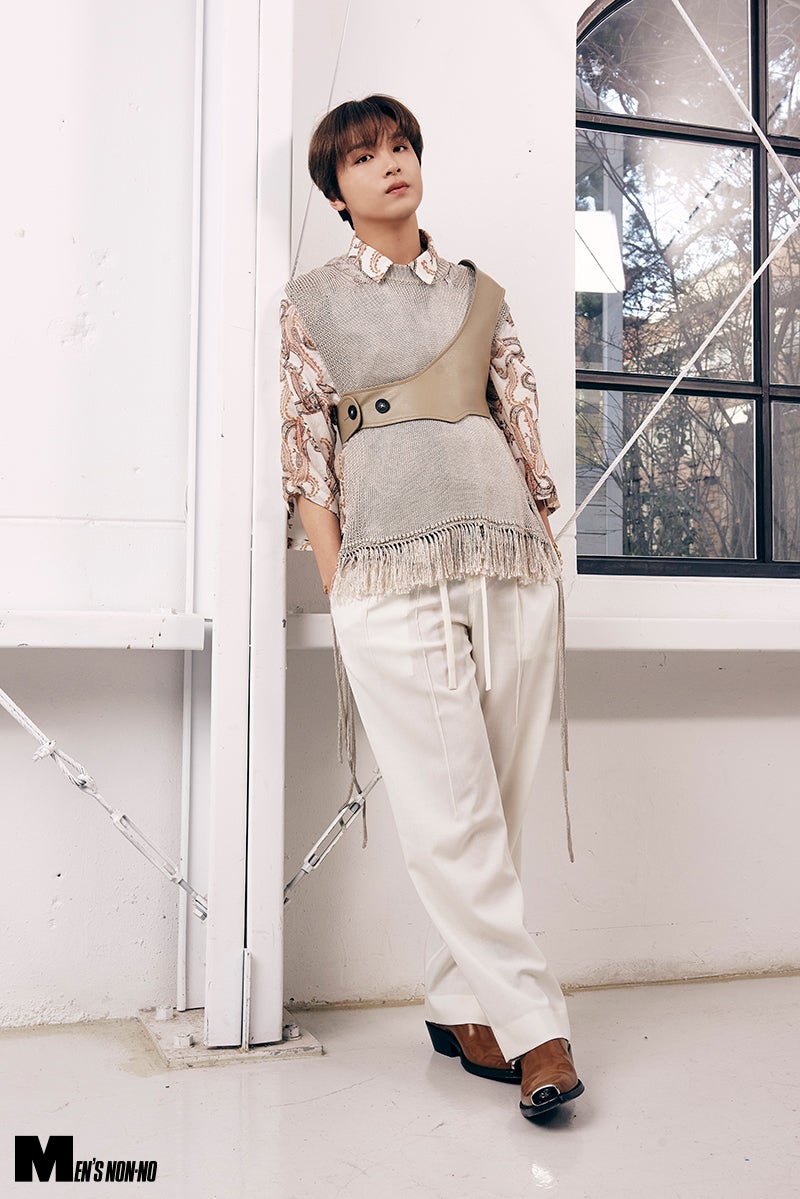 ---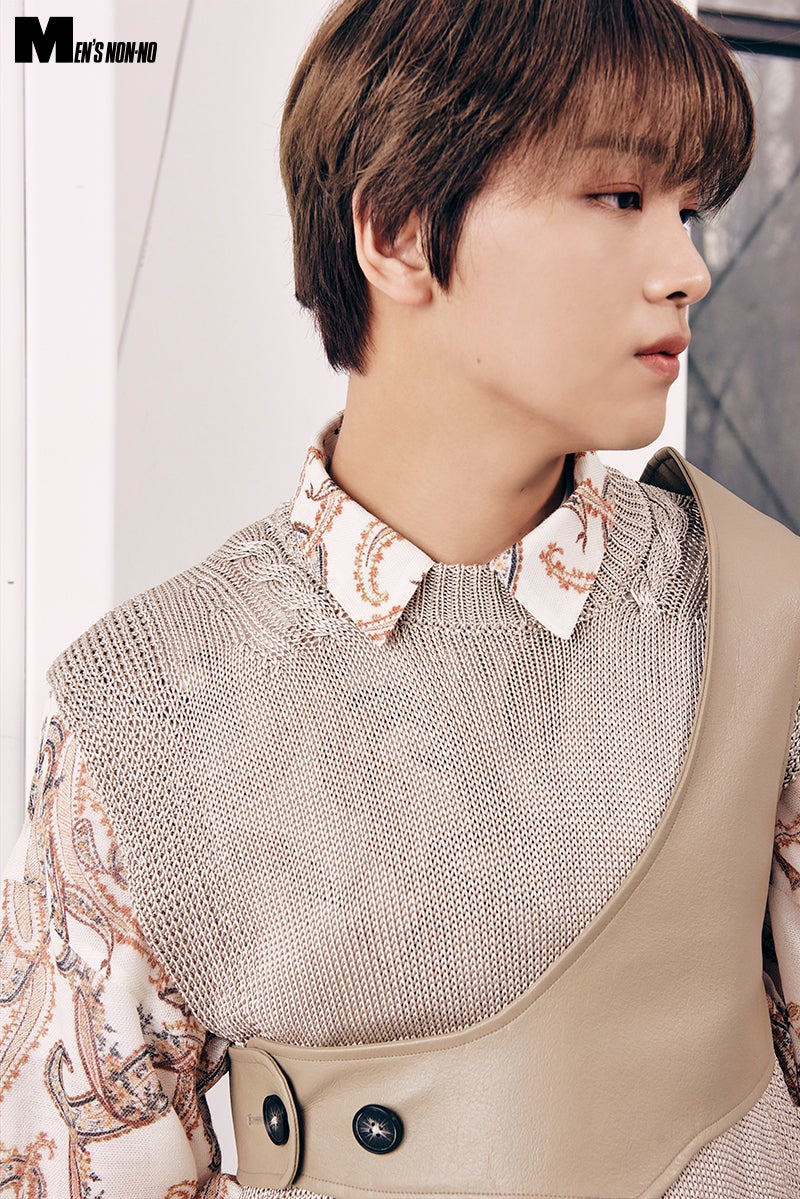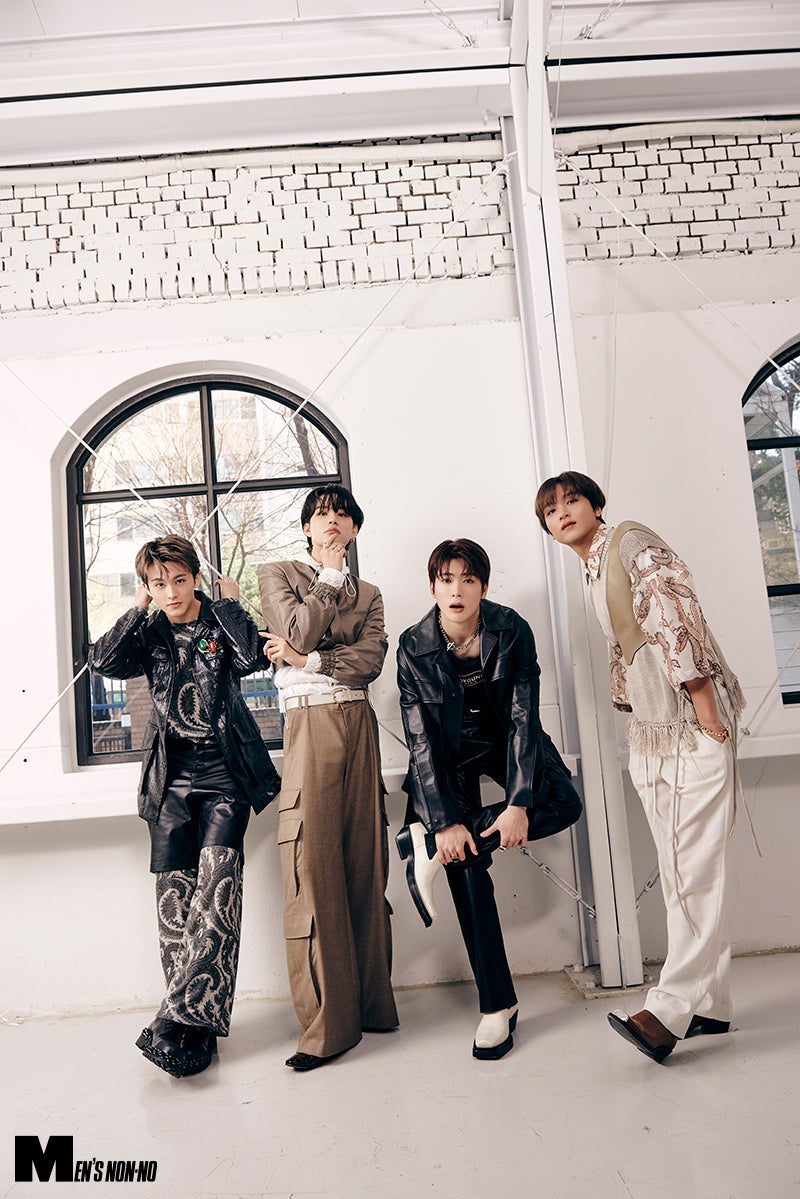 ---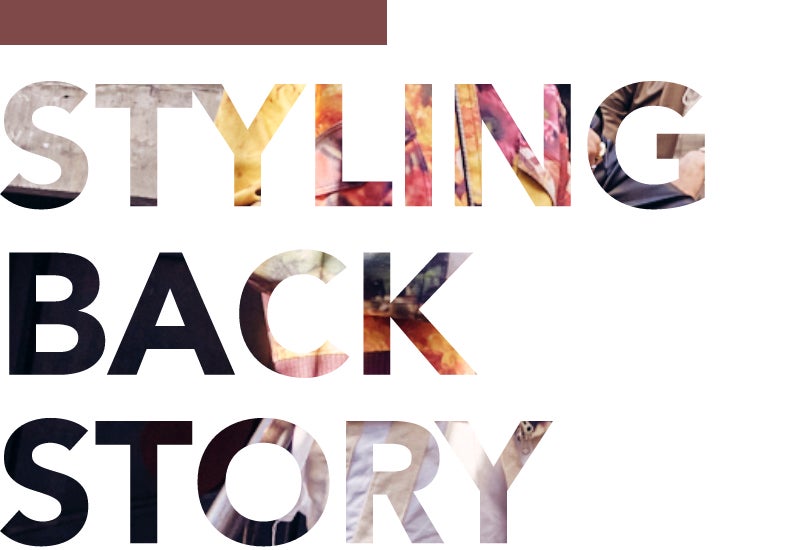 The main combination is of unique items made by "WILLIAM K. PARK", a couture brand based in Seoul and N.Y. One-shoulder leather vest, fringed knitwear, and other quirky designs were inspirational ideas for coordinating the outfit. Mr. Youngjin Kim's choice of this brand along with others with the concept of "borderless" for various approaches in styling speaks of his policy, and shows his experience in styling many new-age groups, such as NCT 127.
Vest – Knitwear – Shirt – Pants / WILLIAM K. PARK Necklace – Bracelet / Portrait-report Miscellaneous / Stylist's personal items
---

Special release of mini interview questions that did not quite make our magazine or separate volumes!
MEN'S NON-NO:What kind of image do you have when it comes to Tokyo fashion?
HAECHAN: It's like a bunch of young people who love fashion!
MN: What did you like about the "TOKYO STYLE" outfit this time around?
H: The fluorescent orange that I wore inside my jacket. I like it because it looks even better when worn with a pink hoodie and khaki jacket. I haven't worn this type of color combination much in my personal clothing, but I think it looks great on stage or for magazine shoots, and it makes me feel good when I do wear it.
MN: Of all the outfits you wore for "LOVEHOLIC" activities this time around, what was your favorite?
H: The suit I wore for the CD jacket! It's my favorite fashion look!
MN: Please tell us about any new fashion items you may have purchased lately.
H: A hat.
MN: In your attempt to express "love" through the entire album, what kind of awareness, approach, or challenges did you personally set for yourself in terms of "mindset"?
H: Each song has a different atmosphere, so I tried to express the love that fits the theme of each song. For example, in "gimme gimme", I think I was able to express the intensity of craving for love and not being able to get out of it. Incidentally, the part where I appear for the first time in the song, "LOVEHOLIC captivated", I wanted it to be cool more than anything, so I worked really hard on that when recording it.
MN: On the other hand, what did you focus on most in terms of "technical aspects"?
H: I worked on the recording hoping that my pronunciation would be more natural than in the previous Japanese album. It may be a mini-album, but I gave it my all! 
MN: In keeping with the theme of "love", what kind of moments do you feel fulfilled by love?
H: When I'm exposed to music. I love music deeply. In combination with my passion, I am able to further develop my abilities.
MN: If you were to hand-deliver "LOVEHOLIC" to someone as a gift, what would you say to them?
H: "Do you like songs? Then, you're gonna love this!"
MN: How about a message for those who are anxiously awaiting NCT 127's performances.
H: Until the day we can be with you all again in person, we would like to show you as much as we can in our own way, and hope to somehow be able to communicate even under these circumstances! Please love us as much as possible and I always thank you.
Models: NCT 127 Photos: HEEHYUN OH Hair: Songhee Han Make-up: Seongeun An Stylist: Taichi Sumura(From TOKYO) Youngjin Kim(From SEOUL) Coordination: DongHun Jung[LIKE STUDIO CO.,Ltd.] Translation: Rie Nemoto Keiko Tsuyama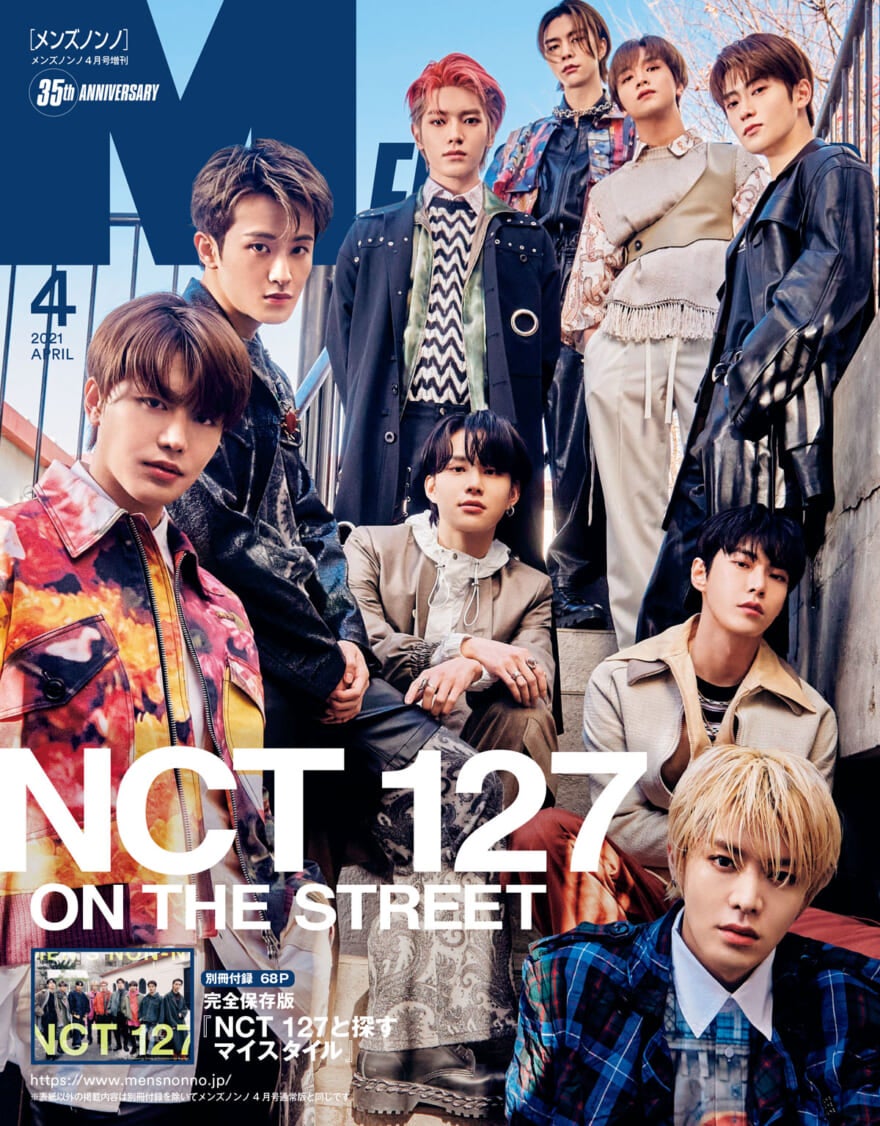 NCT 127

NCT 127 is a boy band with global reach, consisting of multi-national members and based in Seoul of South Korea. Their latest hit "Neo Zone" has sold over 1.5 million copies and still rising. Japan's highly-anticipated 2nd Mini Album "LOVEHOLIC" released in February 2021 reached No. 1 in the Oricon Weekly Album Ranking, and continues its rapid progress forward! 

For the latest on NCT 127: nct-jp.net
---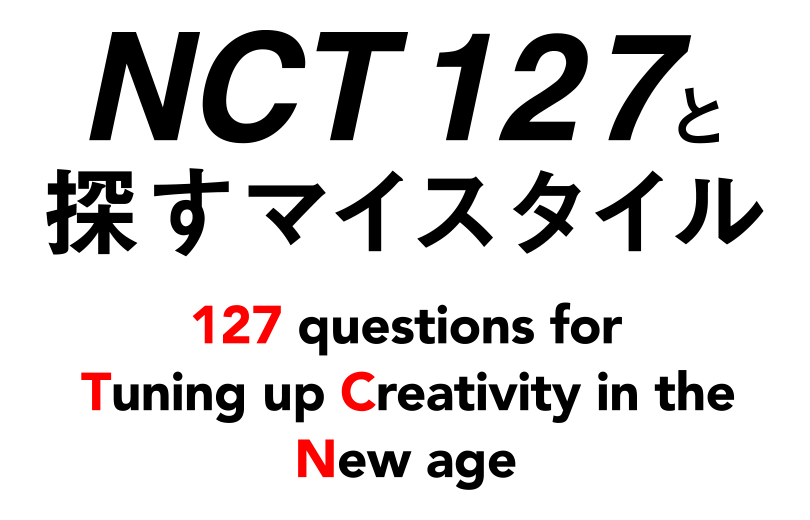 ---


---


---


---


---


▲ WPの本文 ▲