▼ WPの本文 ▼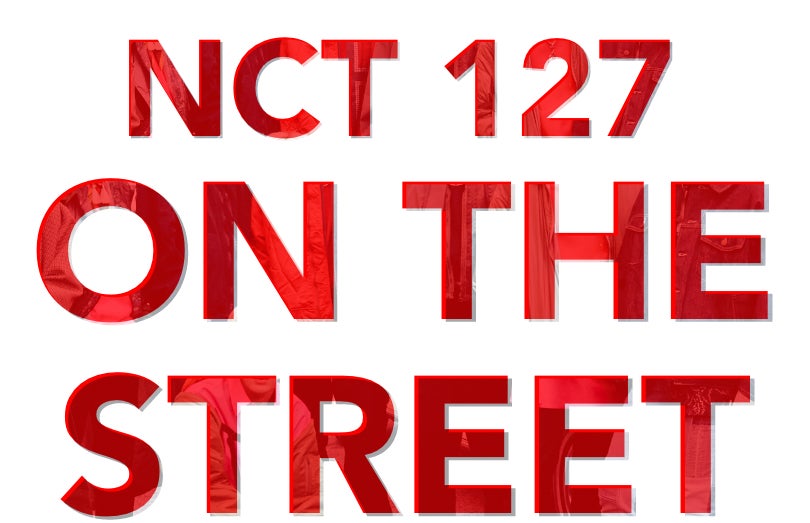 ---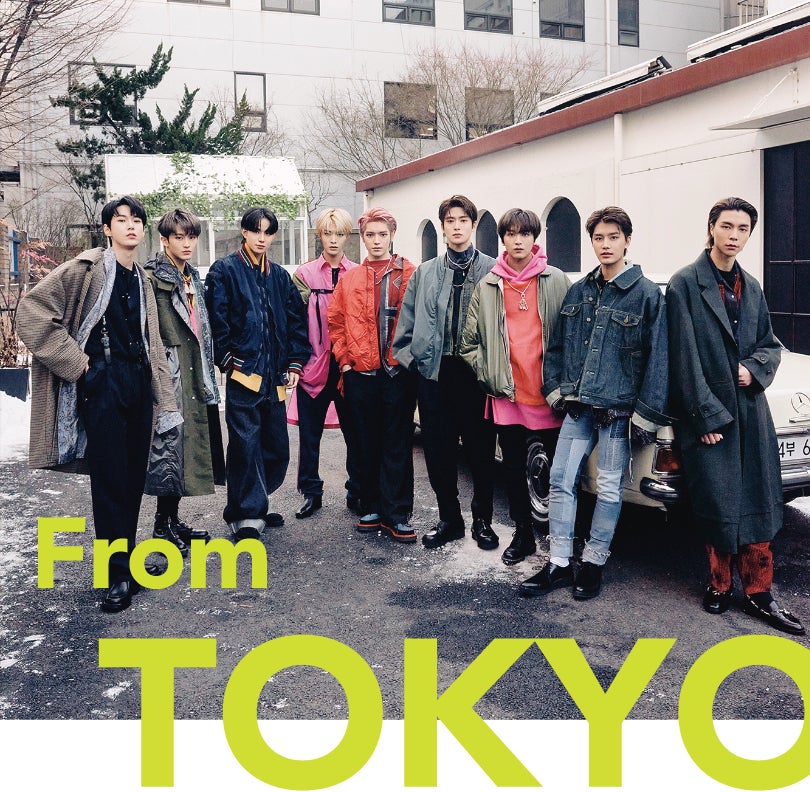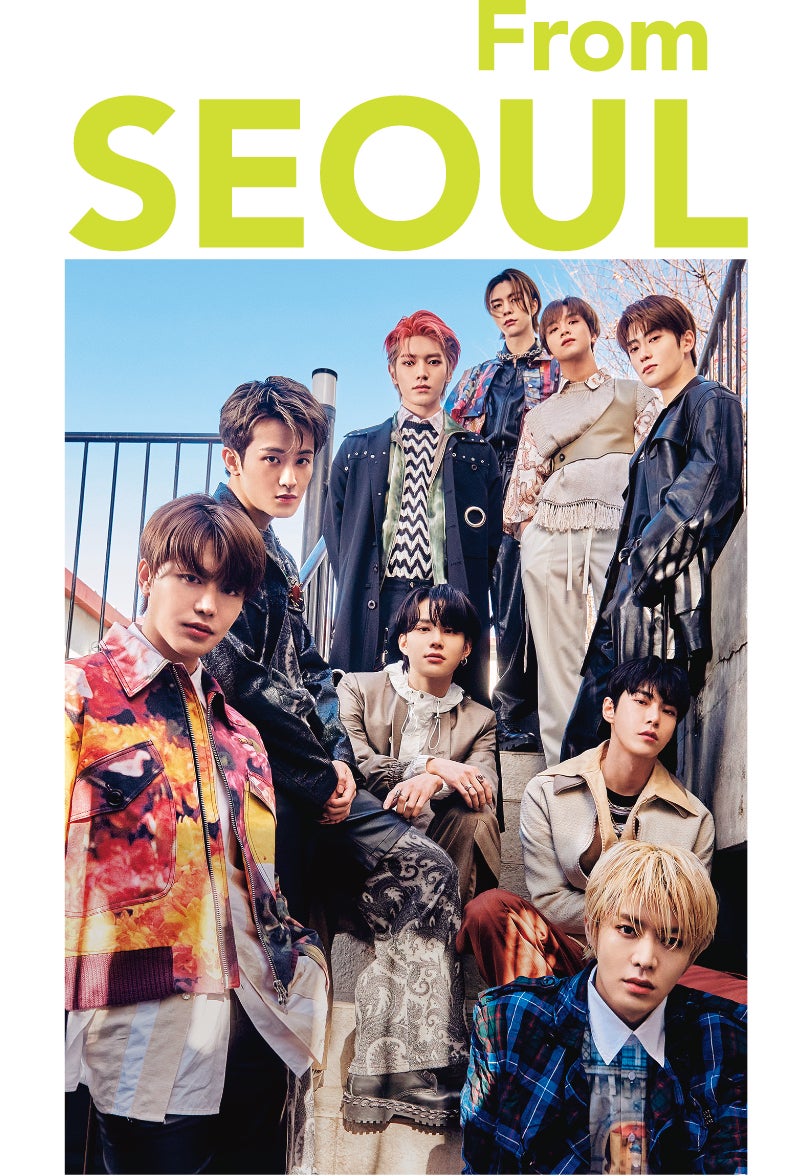 A unique sense of fashion thrives on the streets around the world. From Seoul at 127 degrees east longitude, NCT 127 constantly delivers fashion to us in exciting ways. When it was decided that they would appear in MEN'S NON-NO, they graciously agreed to the request from our editorial department that they wear not only the Seoul coordinates full of their sense of color, but also the current fashion from Tokyo. Nine outfits prepared by MEN'S NON-NO were packed up and sent across the ocean to the members of NCT 127. What a fitting way to conclude the journey into pursuing NCT 127's "My Own Style", which has been the theme of our WEB series since last summer.

Stemming from the request of MEN'S NON-NO, from top Japanese and Korean fashion stylists, Taichi Sumura and Youngjin Kim, who rose to the occasion with eye-catching outfits, to all the staff members and creators from Tokyo and Seoul full of passion and effort resonating throughout this project, this special collaboration of leading-edge Japanese and Korean men's fashion has been realized. In this article of the short series, along with never-before-released cuts, we will introduce styling secrets and commentaries on each and every member's fashion style.
*For this interview, YUTA spoke to us in Japanese and all other members in Korean.
*"From SEOUL" outfits were leased in Korea and we are unable to accept inquiries from within Japan. Thank you for your understanding.
---

---

It was impressive how MARK mentioned in his previous interview that he sees fashion as a reflection of his inner self and as a form of self-expression. For someone who introduces himself as a rapper, a lover of writing, a dancer, and "a young man who is still learning about the world"… Exactly what is the style that will suit him…? Our staff members in both Japan and Korea could hardly wait for the chance to come up with that one outfit for Mark that goes beyond matching his physicality and hairstyle!
---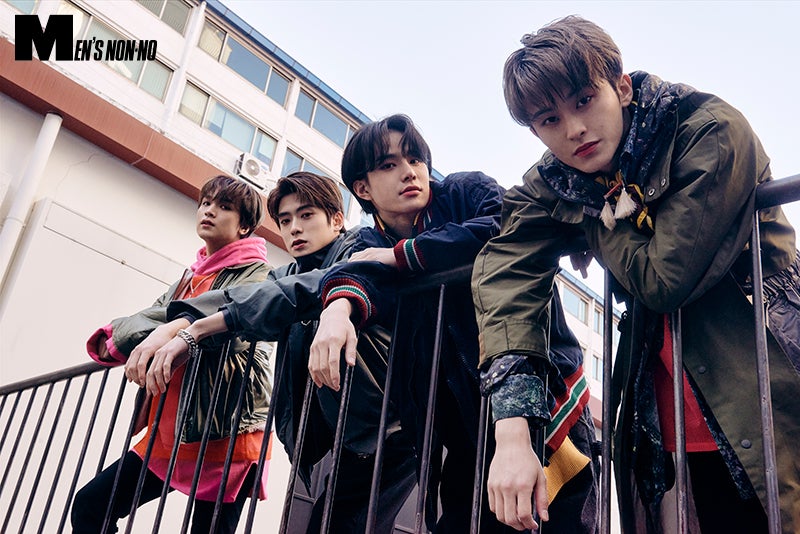 ---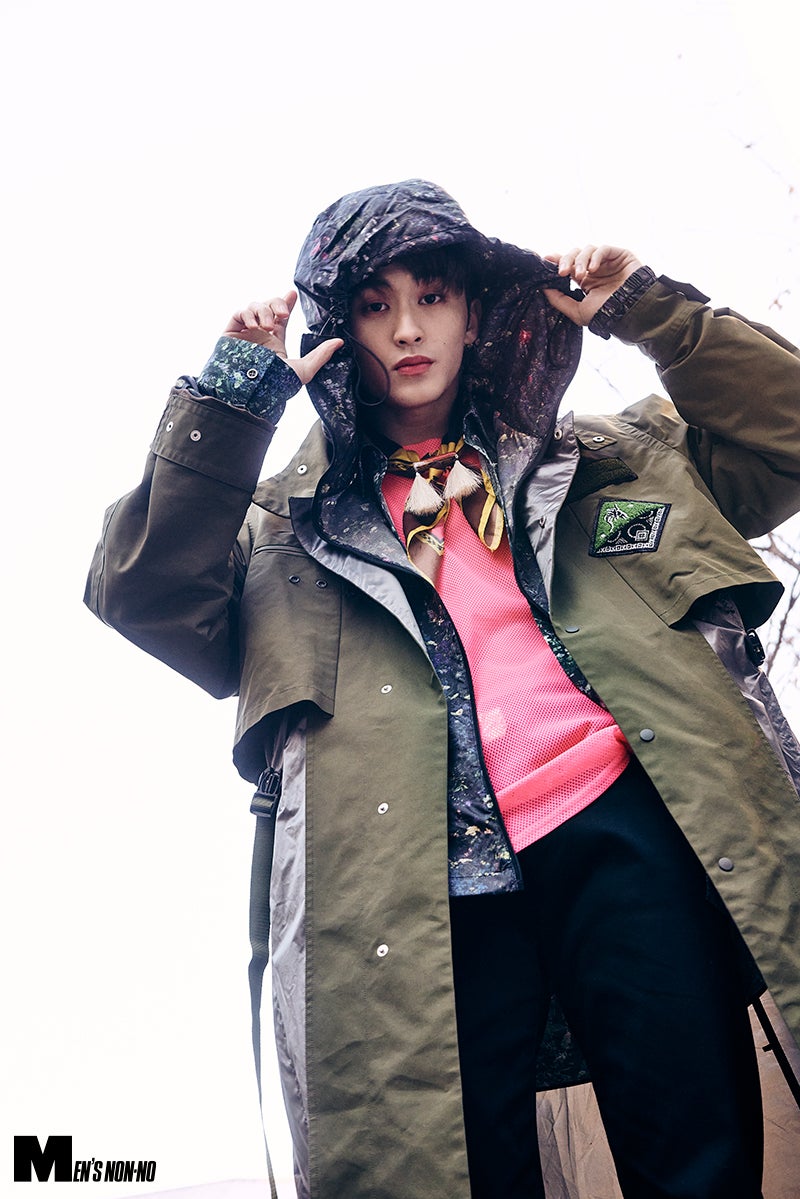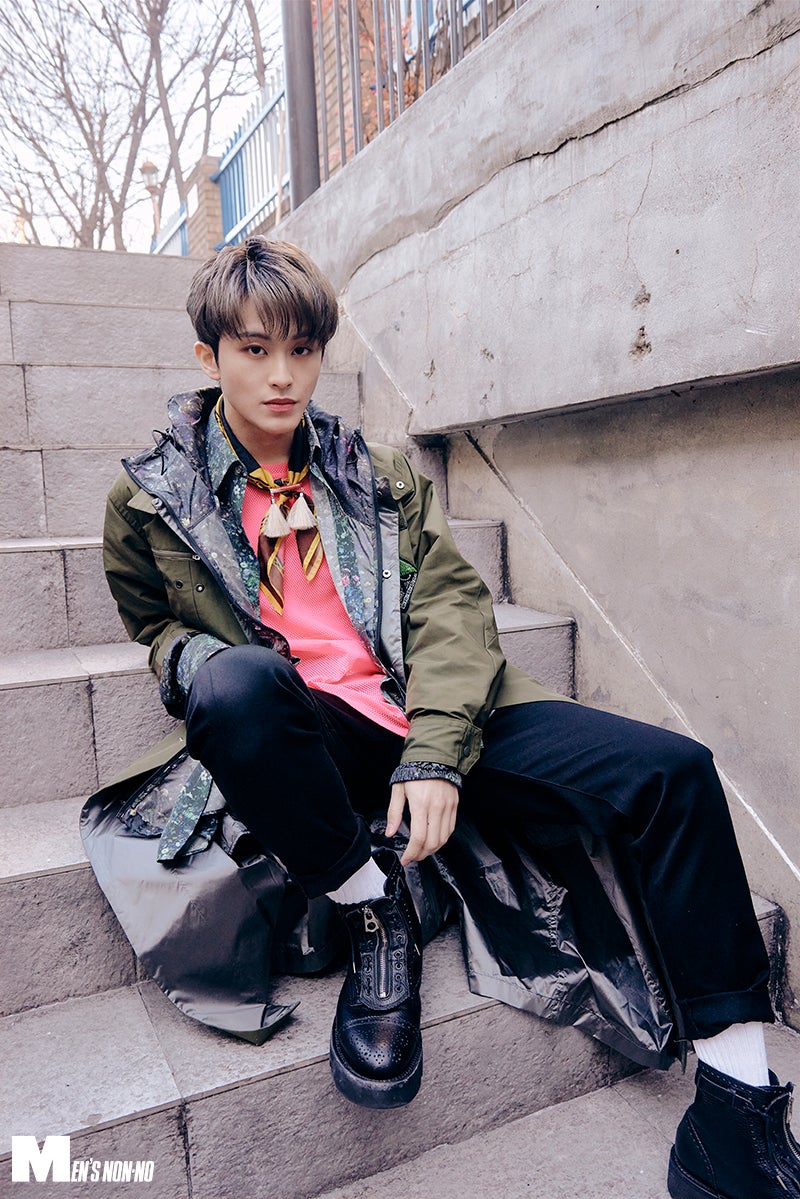 ---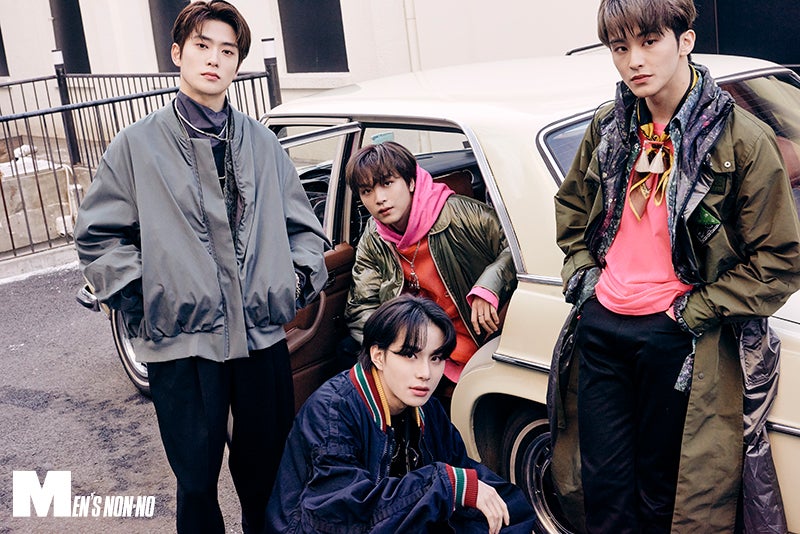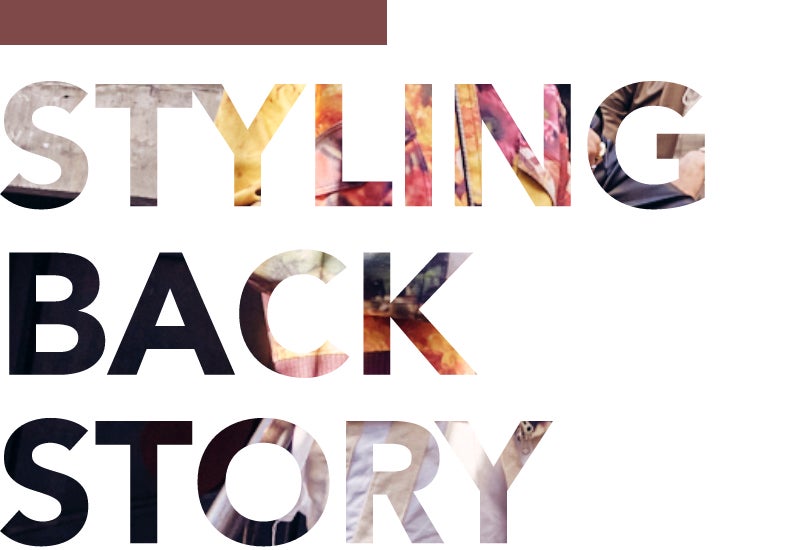 ---

The underlying theme is "the TOKYO STYLE of MARK the rapper" as seen by MEN'S NON-NO. Using MARK's overwhelming ability to dominate the streets and his intelligence in facing words on a deep level as the image source, we aimed for a powerful yet intelligent approach to detail. The body of the heavy military-style coat shifts to nylon fabric with trappers in a lyrical way. An elegant scarf is carefully added as an accent. The neon pink mesh inner fabric is layered on a jacket with a delicate print that resembles an impressionist painting. It sounds like a chaotic look, but Mark orchestrated everything that looks like a harmonized styling.
Coat 108,900 yen – Scarf 9,900 yen – Scarf ring 12,100 yen (all TOGA VIRILIS) / TOGA Harajuku Store Jacket 46,200 yen – Shirt 34,100 yen – Pants 19,800 yen / LAD MUSICIAN Harajuku long-sleeved T-shirt 13,200 yen / SOUTH2 WEST8 Shoes – Socks / Stylist's personal items

---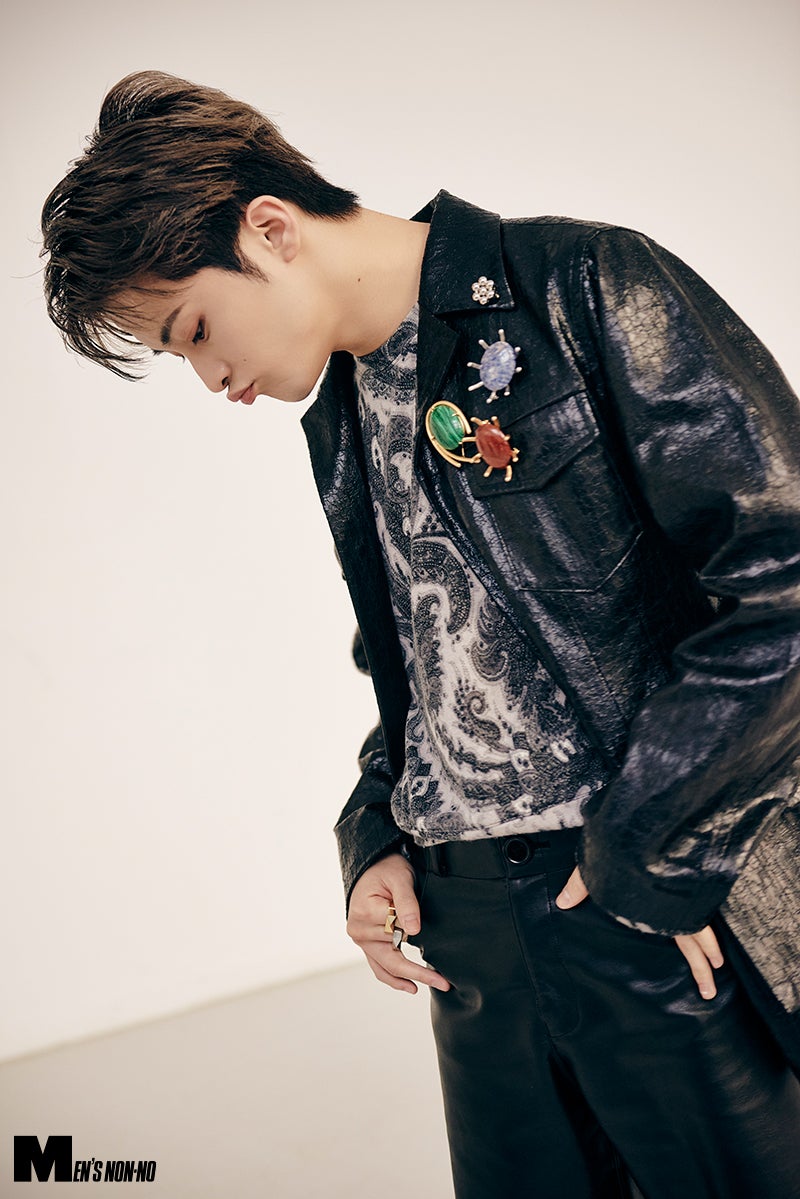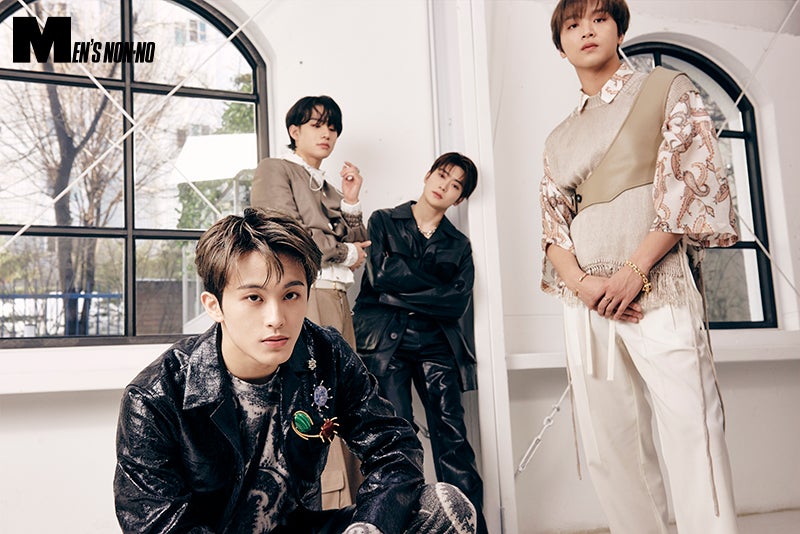 ---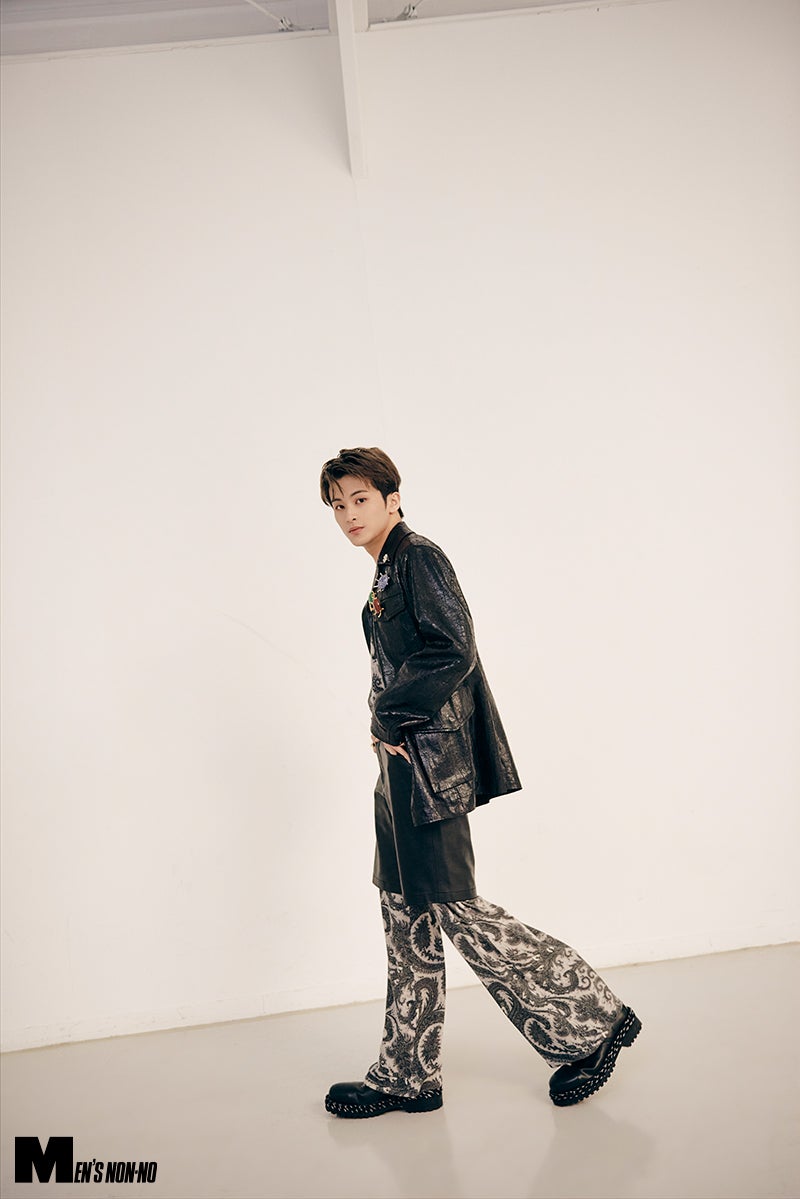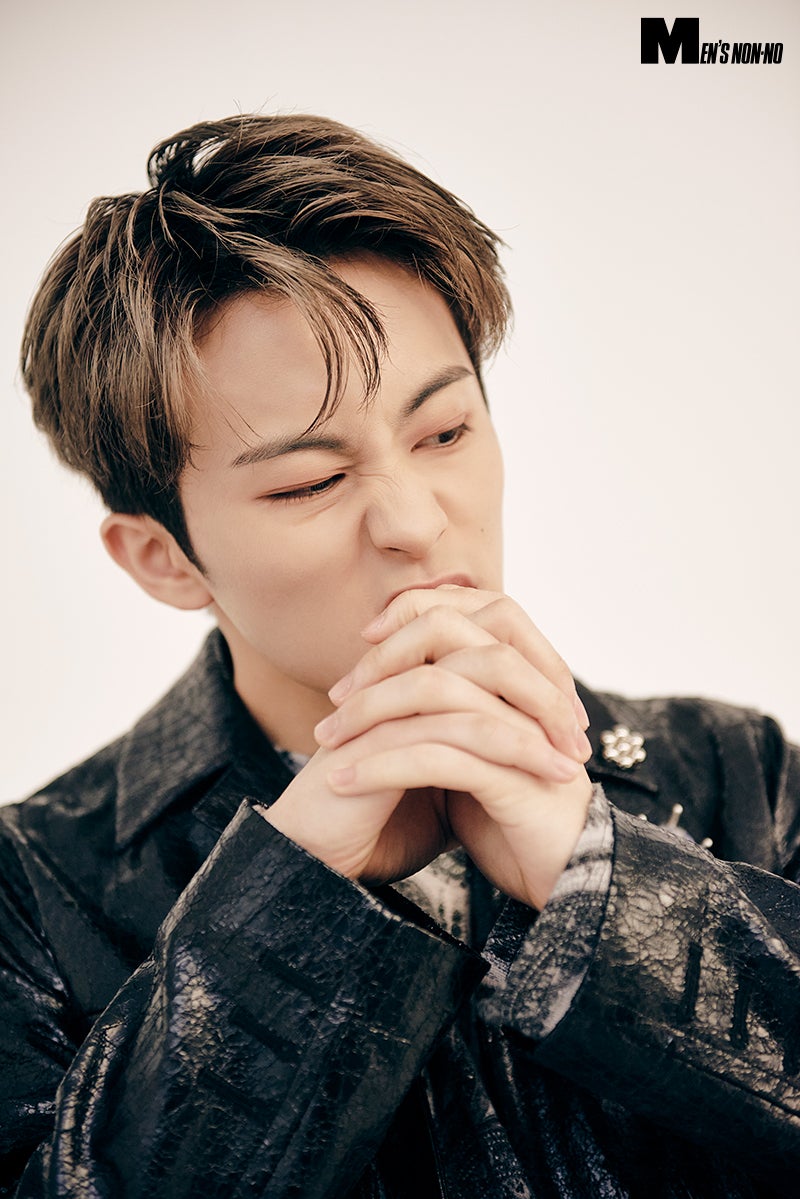 ---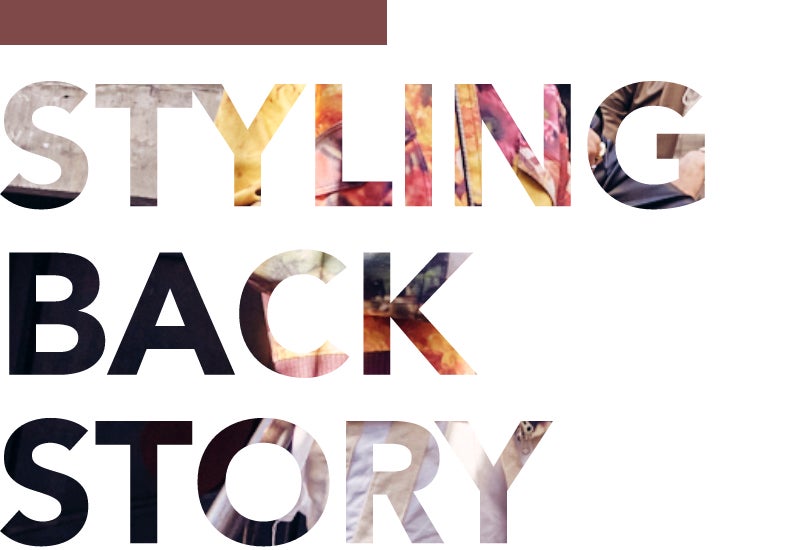 The complex structure of the styling is interesting in that it has an impact at first sight and makes you want to analyze it carefully thereafter. All the items by Yunsé, a womenswear designer based in Seoul and London, are unique. Layering of the leather shorts and all-over patterned flared pants, the antique brooches scattered on the jacket, and the other fresh and innovative approaches made… These were the hot topic among the MEN'S NON-NO team. Hat's off to Mark for pulling it off!
Jacket – Top – Pants – Brooch / Yunsé Shorts /Iguill Ring / Portrait-report Miscellaneous / Stylist's personal items
---

Special release of mini interview questions that did not quite make our magazine or separate volumes!
MEN'S NON-NO: What did you think of the "TOKYO STYLE" coordinated outfit?
MARK: The interesting designs got me all excited! I enjoyed creating different expressions with the hoodie.
MN: Of all the outfits you wore for "LOVEHOLIC" activities this time around, what was your favorite?
M: The jacket I wore with my suit outfit.
MN: If you were to introduce "LOVEHOLIC" to someone who listens to it for the first time, what would you say?
M: "It's an album chock-full-of-love!"
MN: What kind of awareness, approach, or challenges did you set for yourself in your attempt to express "love"?
M: Love comes in many forms. So, after analyzing love in various ways, I tried to compose the songs in diverse genres. What was particularly important was that we tried to create our own style and flavor by adding the different voices of each member of NCT 127, each of which has a different color. I was most concerned about how best to give the song its own personality and that's what I experimented with. We tried using different tones to express the various textures that people have.
MN: What was your impression when you first heard the lead song "gimme gimme"?
M: I felt it illustrated a very powerful kind of love. The overall impression may be dark, but it has the meaning of overcoming trauma with love. It's been a while since we've delivered an album to everyone in Japan, so we gave it our all when making it.
MN: In the music video for "gimme gimme", you also show off your dance moves. Is there anything noteworthy about it?
M: In the performance of "gimme gimme", I was careful to make the jumping part look particularly cool and tried my best to convey a powerful impact with simple movements, so please have a look. I also remember being conscious of making sure that my facial expressions fit the perspective of that world and depending on the staging. However, it was actually very cold on the day of the shoot (laughs).
MN: What were you, MARK-san, looking forward to most with regard to the release of the album?
M: Not only will we show you the new-improved level of NCT 127, but I also hope that it will be a gift for the fans who have been waiting all this time.
MN: What parts did you work hard on during recording?
M: That would be the part "Are you bored? Why your eyes are darker. The world that can't be experienced is so very far" in "Chica Bom Bom". It's the bridge, so I did my best to connect with the atmosphere before and after, without overdoing it.
MN: "Hero; Kick It", which was a big hit last year, is also included. What is your impression again?
M: The lyrics, "우리가 어딜 가든 축제 (Translation: "No matter where we go, it's always going to be a festival)", remind me of the energy of an NCT 127 party!
MN: What do you personally pour your love into right now?
M: My "pedin jumper"! (Editorial note: down coat)
MN: Many people have read your interview series. Please give a message to your supporters!
M: In our current situation, there is a limit to what we can do in person, you know? But like in the last interview, we are so happy that they read what we had to say with such enthusiasm. We are also grateful to MEN'S NON-NO. I hope you will listen to this album and feel that we are communicating through the music, even though we are not able to see each other in person or perform in front of you. I do hope to be able to see you all soon. Until that day, I'll also keep working hard!
Models: NCT 127 Photos: HEEHYUN OH Hair: Songhee Han Make-up: Seongeun An Stylist: Taichi Sumura(From TOKYO) Youngjin Kim(From SEOUL) Coordination: DongHun Jung[LIKE STUDIO CO.,Ltd.] Translation: Rie Nemoto Keiko Tsuyama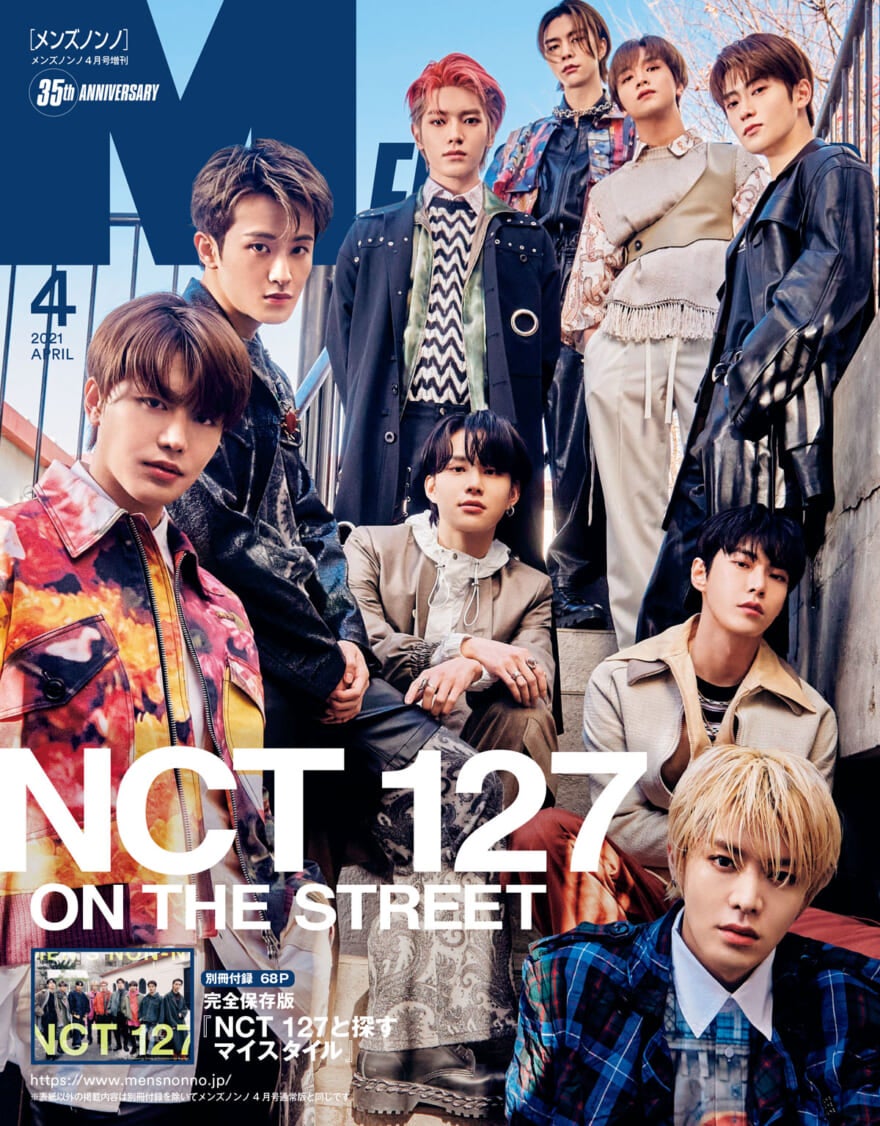 NCT 127

NCT 127 is a boy band with global reach, consisting of multi-national members and based in Seoul of South Korea. Their latest hit "Neo Zone" has sold over 1.5 million copies and still rising. Japan's highly-anticipated 2nd Mini Album "LOVEHOLIC" released in February 2021 reached No. 1 in the Oricon Weekly Album Ranking, and continues its rapid progress forward! 

For the latest on NCT 127: nct-jp.net
---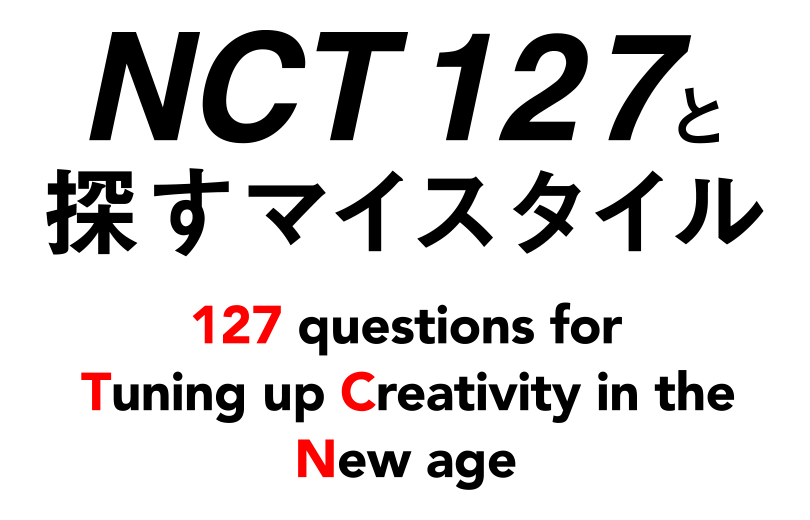 ---


---


---


---


---


▲ WPの本文 ▲