▼ WPの本文 ▼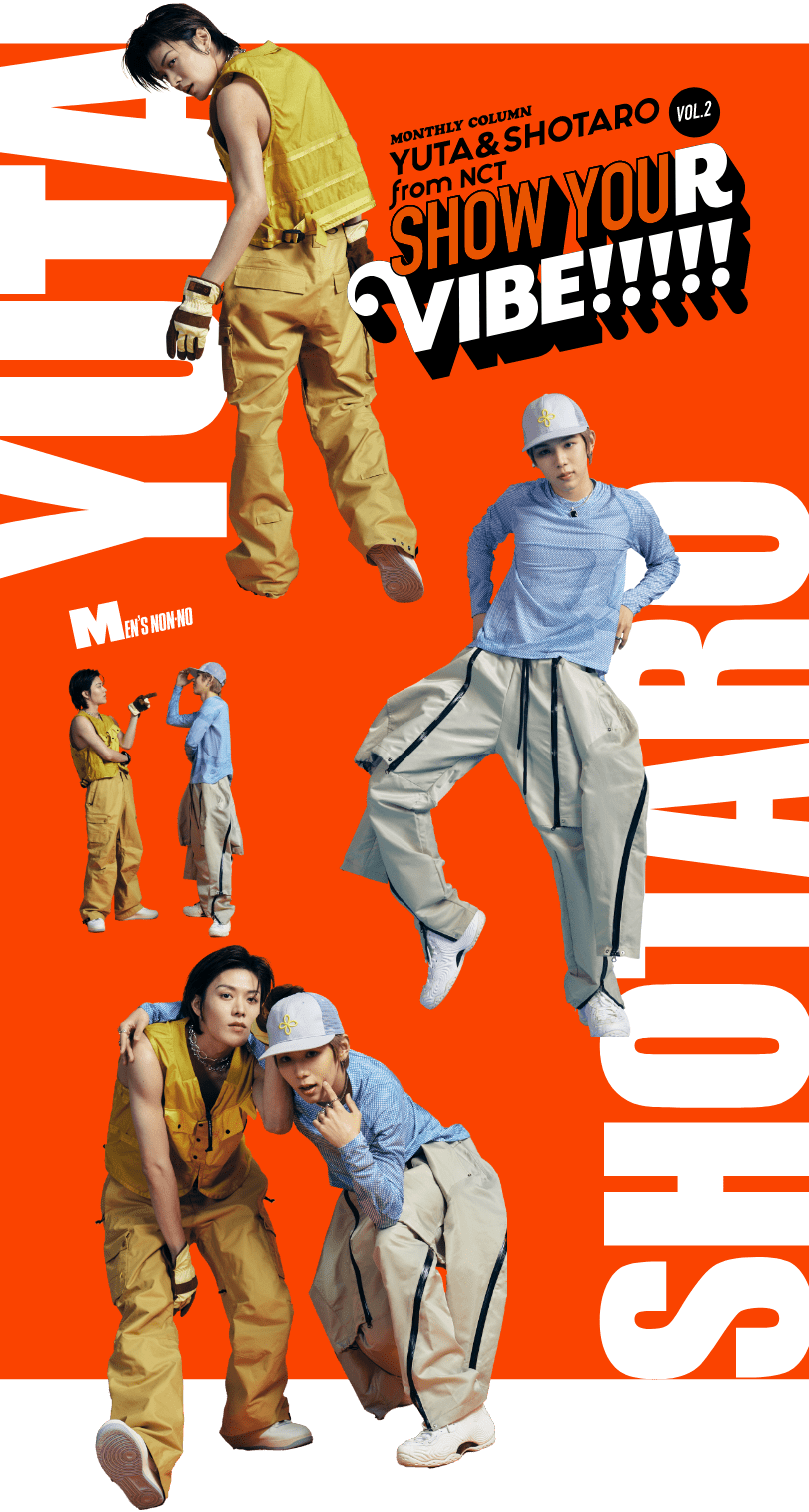 Smack dab in the middle of the MEN'S NON-NO generation, we have YUTA at age 26 and SHOTARO at age 21. Though they are both in their twenties and amidst enjoying the bloom of their youth, there's a slight difference in their perspectives. The "senior member" perspective, where YUTA has become super busy with so much to do even though he now has an adorable junior member to tend to, and thus in a tiny tizzy over how he should be hereafter. Then, there's the "junior member" perspective, where SHOTARO still has loads of things to learn, but also thinks every single day about how he wants to make tons of friends while having fun in the process. Exactly what do these two, who are active on a global scale, think is necessary for them now? We bring to you the second edition of MEN'S NON-NO's WEB article series, where YUTA and SHOTARO give us their real "VIBEs", talking about how to wear the trends with style and what's going on with them right now.
☆This is a small collage cut straight from the magazine in a non-cut version. Only those who saw the actual magazine version will be in-the-know!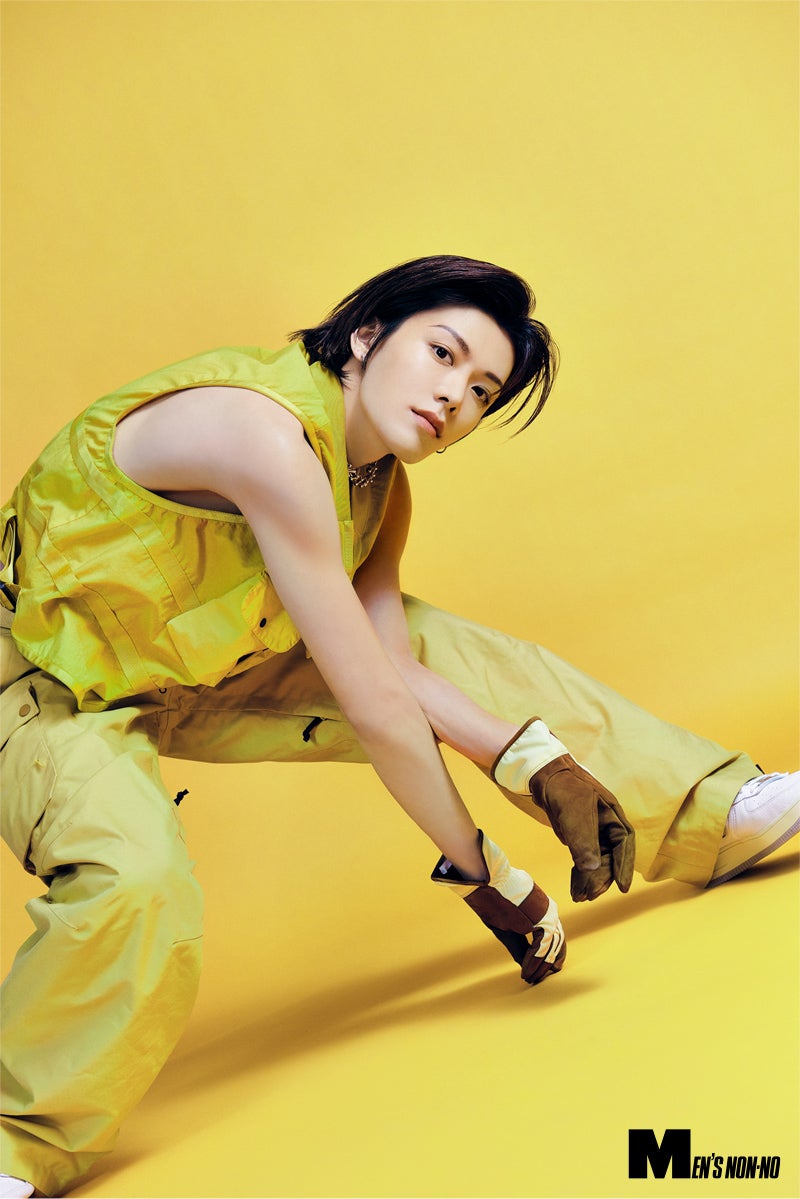 (@yuu_taa_1026)
I, myself, am still groping my way through, a daily jungle of being confused and troubled, so it's hard to feel like I'm a senior member to someone.
But regardless of age, I'm not good at being coddled by others! (LOL) The challenge I currently face is how to let go and be completely dependent of others.
---
What exactly does 'senior member' even mean
——Now that you've graduated the era of being called "The Newcomer," you now have a junior member generation and it appears that people are now calling you the "Role Model."
"It's all inspiring to me as well. Looking back at when NCT 127 debuted with "Fire Truck," there's this nostalgic feeling that comes over me, thinking, "Man, we used to be like that, too." We feel the momentum, and above all, all these young people are great performers! Although I'm still young, too (LOL)… But I so have to say, I don't think I really like that 'senior-junior' thing very much"
——The two of you look like close friends during your shoots and SHOTARO-san appeared to be relaxed and having fun. It's almost as if you, YUTA-san, see things as flat and uniform rather than as a 'junior member'.
"I always believe that we should be competing against ourselves, regardless of our environment or position. In the questionnaire, I was asked, "What have you noticed about yourself as you grow as a senior member?" But I really had nothing in particular to say (LOL). So, don't really fuss over SHOTARO from my end"
——Like you could share some words of wisdom (LOL)…
"No way. It's not like that at all (LOL). But it could be because my ideal of "the kind of person I want to become" is my father. He takes the initiative to show us important things through his actions, and even though he's awkward at times, it's super cool to see him do what he needs to do, and I just really want to be like that. When things get rough, I think about what my father would do"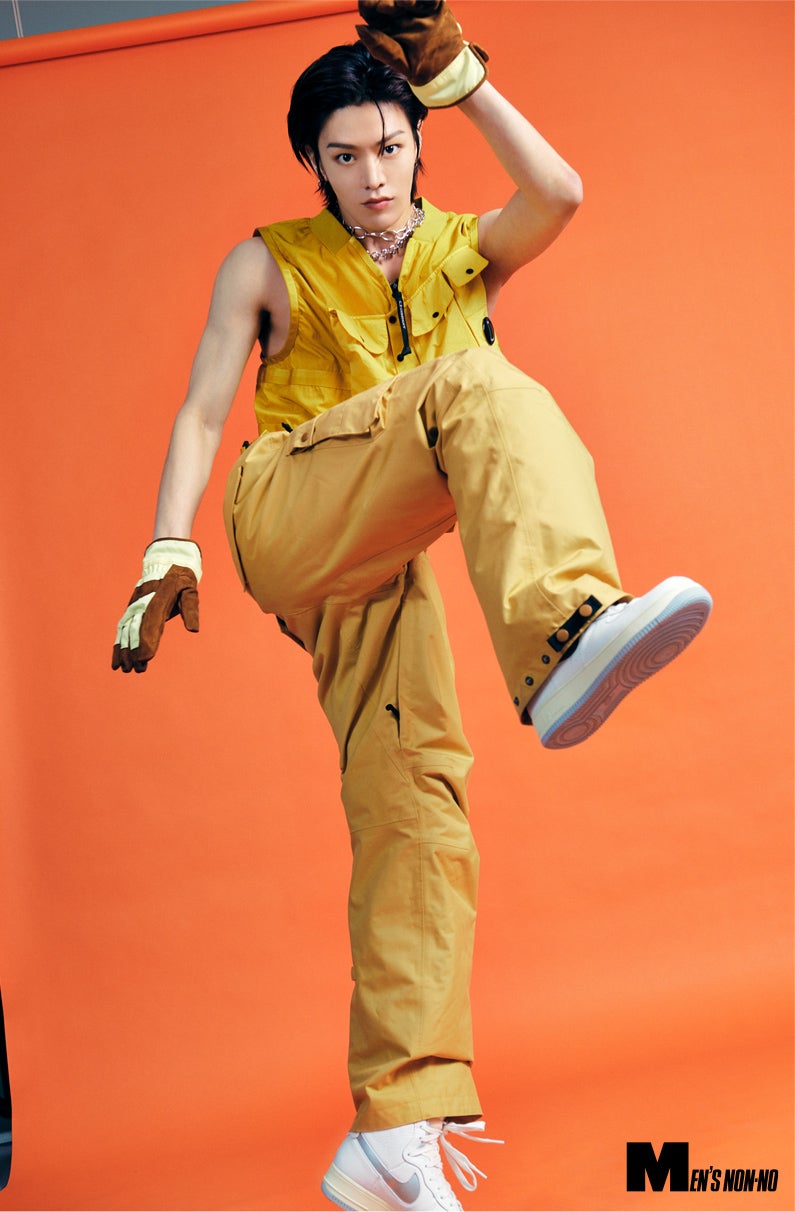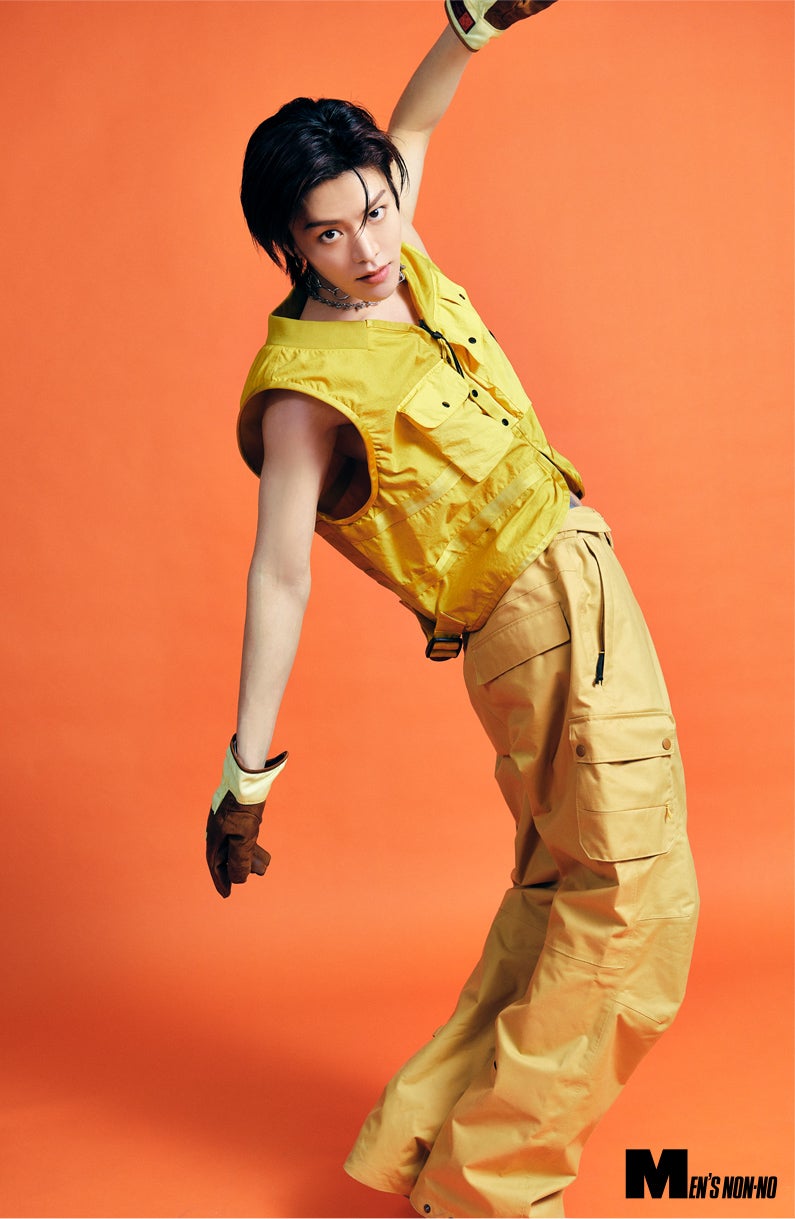 ---
Changes in motivation and how to maintain it
——With regard to what you said at the time of your debut, "we want people to know us," has there been any change in your desire to have your name known?
"I think it has changed. I've heard the saying, "Rather than chasing the money, do what you love and the money will follow," but it's similar to that. Rather than pushing and pushing to get our names known, I've come to realize that if we do what we are supposed to do, then people will become more interested because of that effort. But if I were to be greedy, I'd want men and women of all ages to know about us (LOL)"
——So you value your motivation in a simpler way?
"Well, as long as I am YUTA from NCT 127, I really want to work hard when it comes to our team activities and music. What we do can't be expressed by scores, and it's not about win or lose. I try not to worry about whether others will approve or not, or about what's being said on SNS. If someone can understand us, I want him or her to stand by us"
——Words that place value on originality, like "my own way" and "me" have popped up before.
"I've recently been thinking that I might be using those words in contrary, when I'm 'not' comfortable. That I'm emphasizing my desire to express originality or how I want to be. And at the same time, I've learned "to never stop, because it's okay to take a break. That the important thing is not to give up." That's the balance I've learned… That the best thing is to not overdo it and to do things at my own pace with the help of those around me"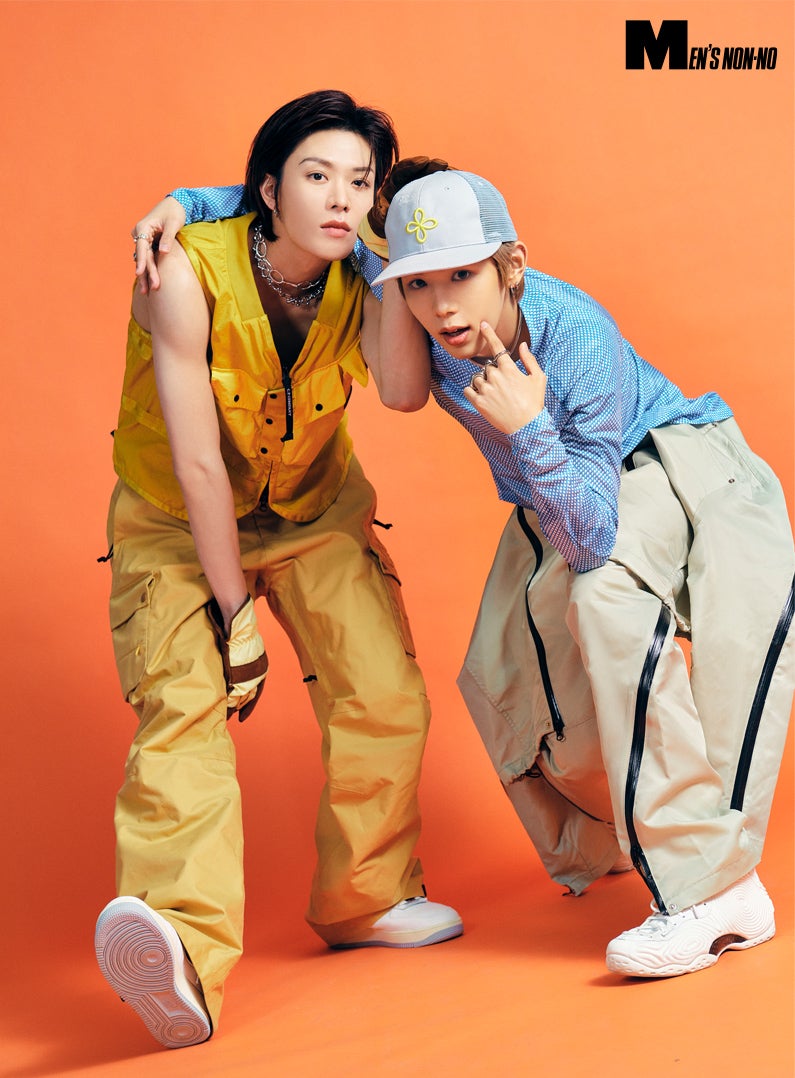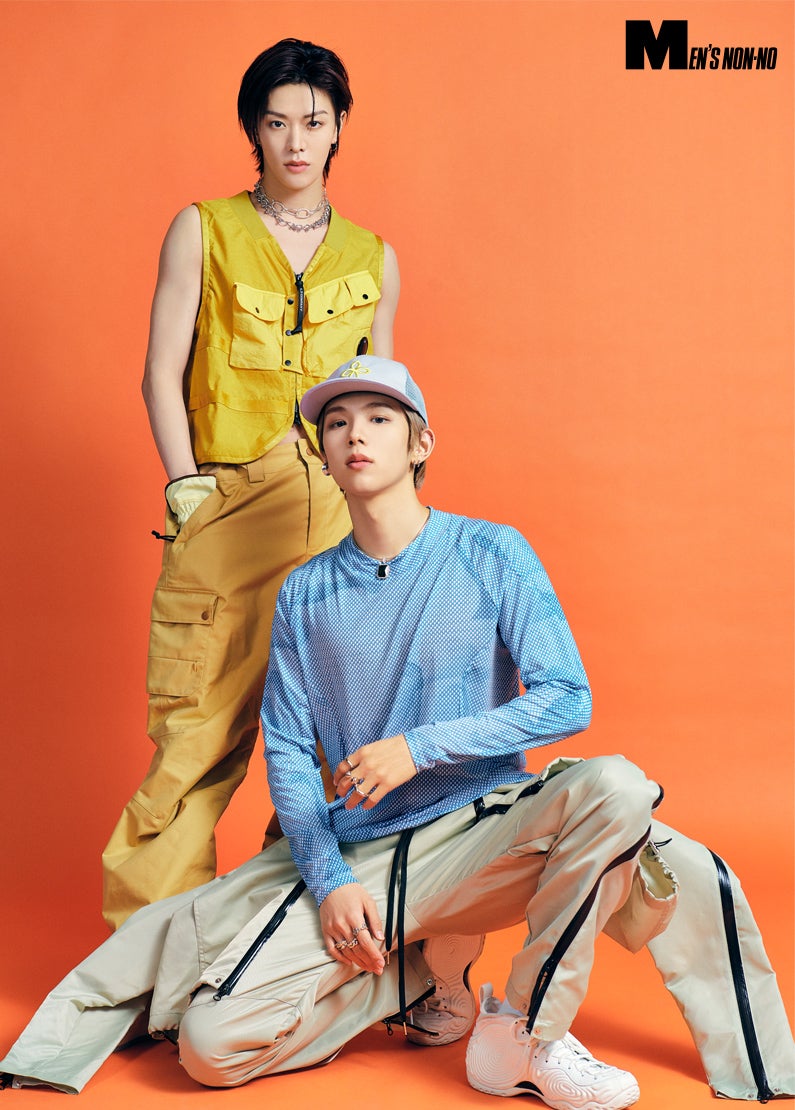 ---
My challenge to be more dependent on others
——Whether you gain experience and hone your skills, it's still important to rely on others.
"I'm really not good at being coddled by others (LOL). Luckily, I get help from all kinds of people. The challenge I currently face is how to be more dependent on others!"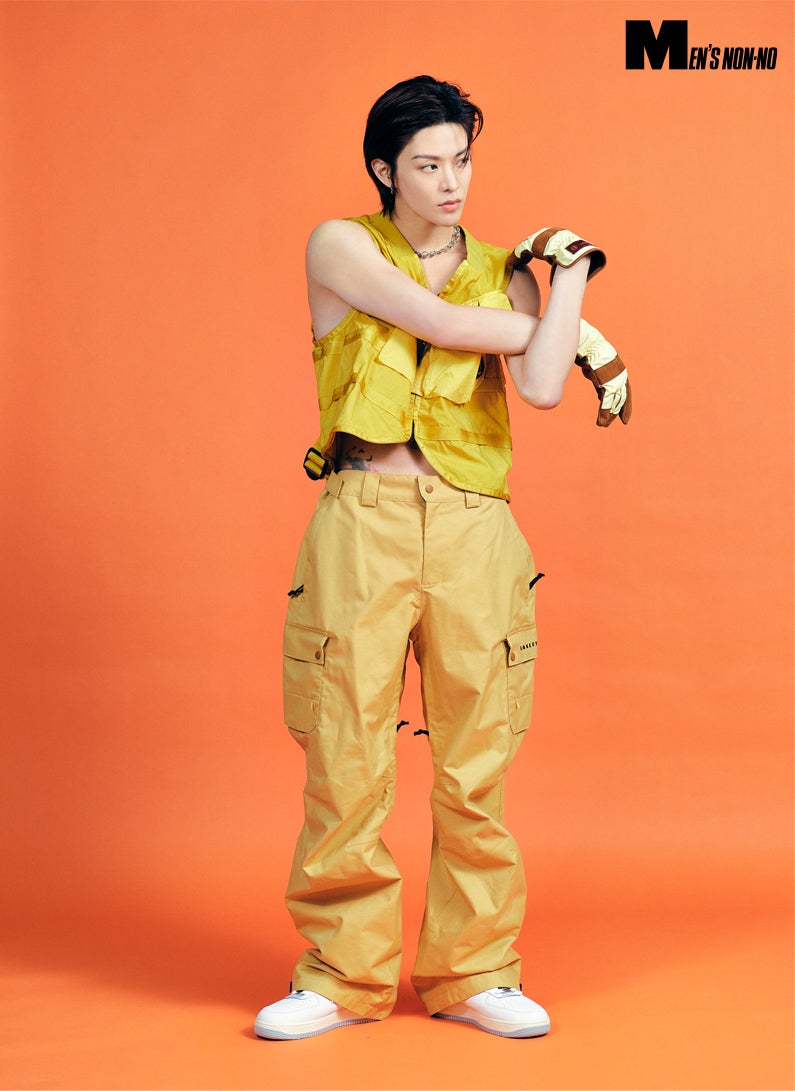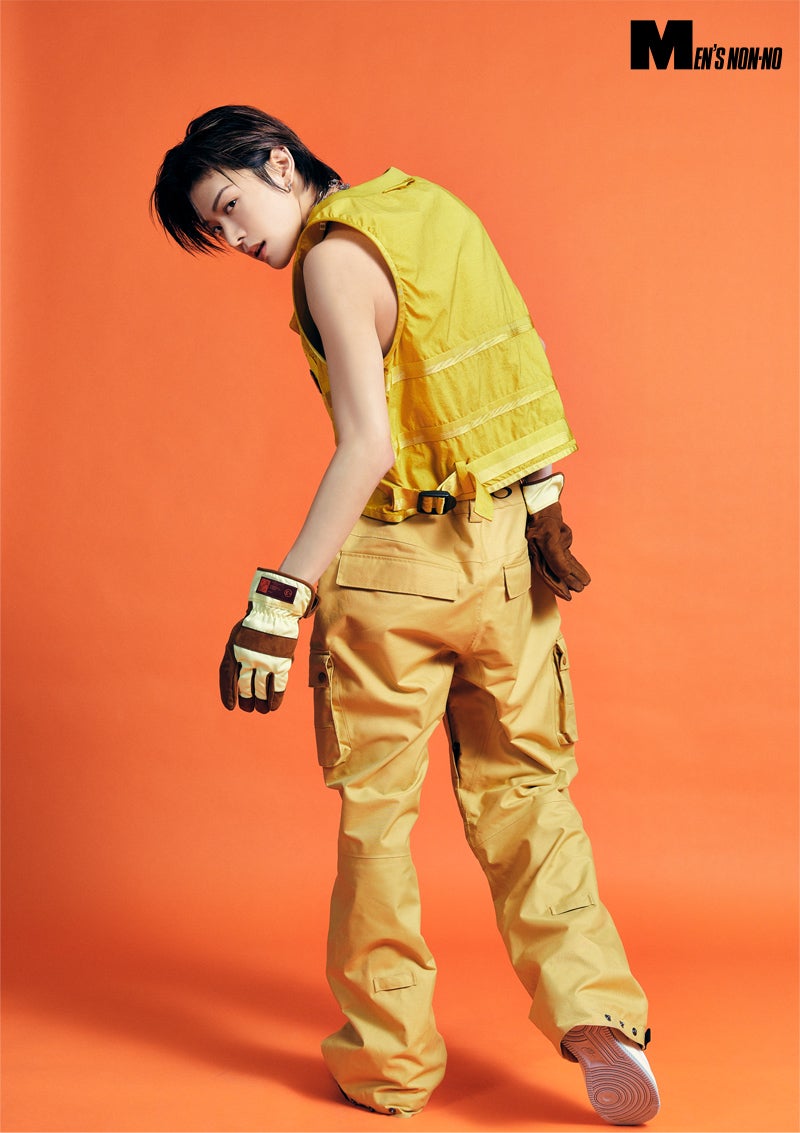 ---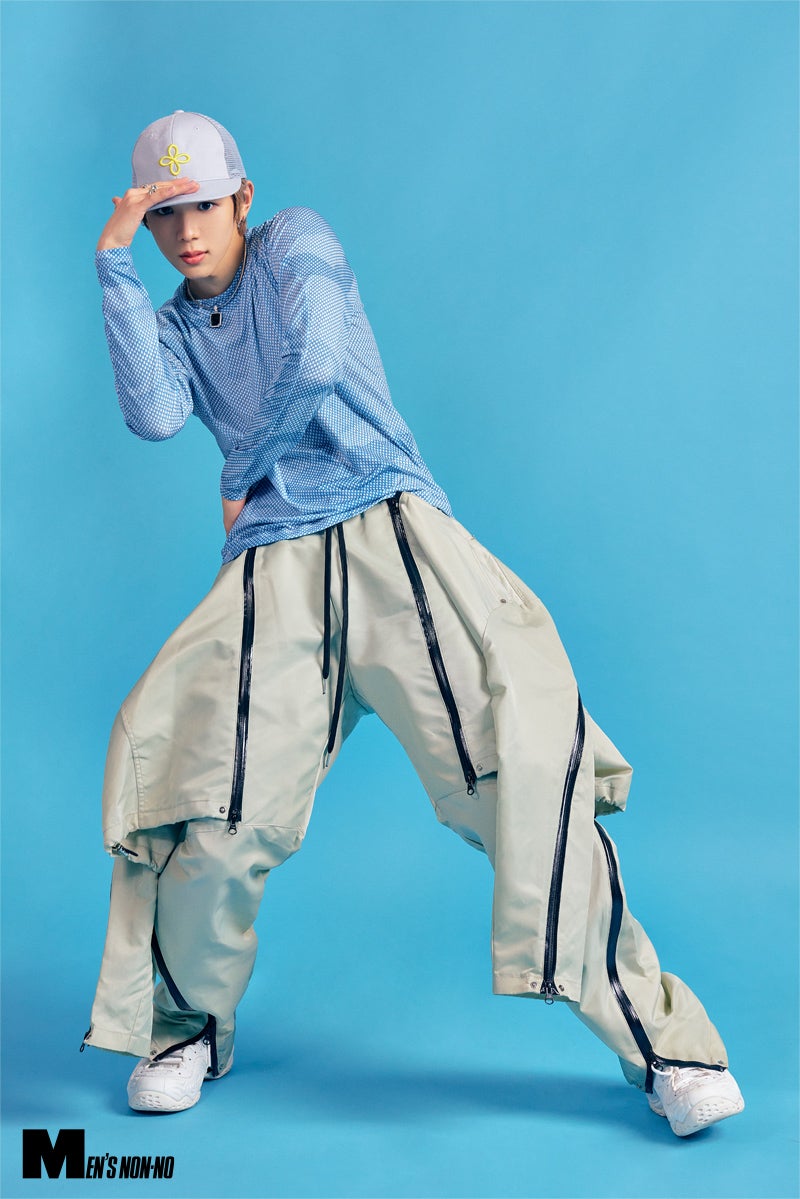 (@_shotaroo_)
I think I'm the type of person who gets along with everybody and I'm often told that I'm "sociable," but when it comes to new places, just like anybody else, it's tough for me, too. That's why I put a lot of effort into being able to communicate with others. I am truly grateful of my older brothers of the group who help me.
The roots behind the beloved young brother character
——Speaking of you, SHOTARO-san, you are that beloved young brother character! It's certainly enviable for those who don't have a knack for socializing.
"I'm often told that, and so I thought about why, but I think I've always had such nice people around me. Looking back, there were a lot of people who were always smiling, so I think I just absorbed it naturally"
——During the shoots, even before someone from your agency does, you always greet each staff member onsite.
"I didn't even realize that! (LOL) I might've been doing that naturally, because I love talking to others and doing something with everybody… But since moving to Korea, I've realized more than ever how important communication is"
——No matter how much you like people, a new life can often be nerve racking.
"That's true. I think it's the same for everybody, but when our environment changes, it takes time and hard work to adapt. I'm someone who can get along with just about anyone, but each day after I moved to Korea, I had a little difficulty at first, not to mention the language, because it was my first time living and working in a foreign country. I realized once again just how important relationships with others are and that trust is essential in everything we do, so I made an effort to communicate with others as much as possible"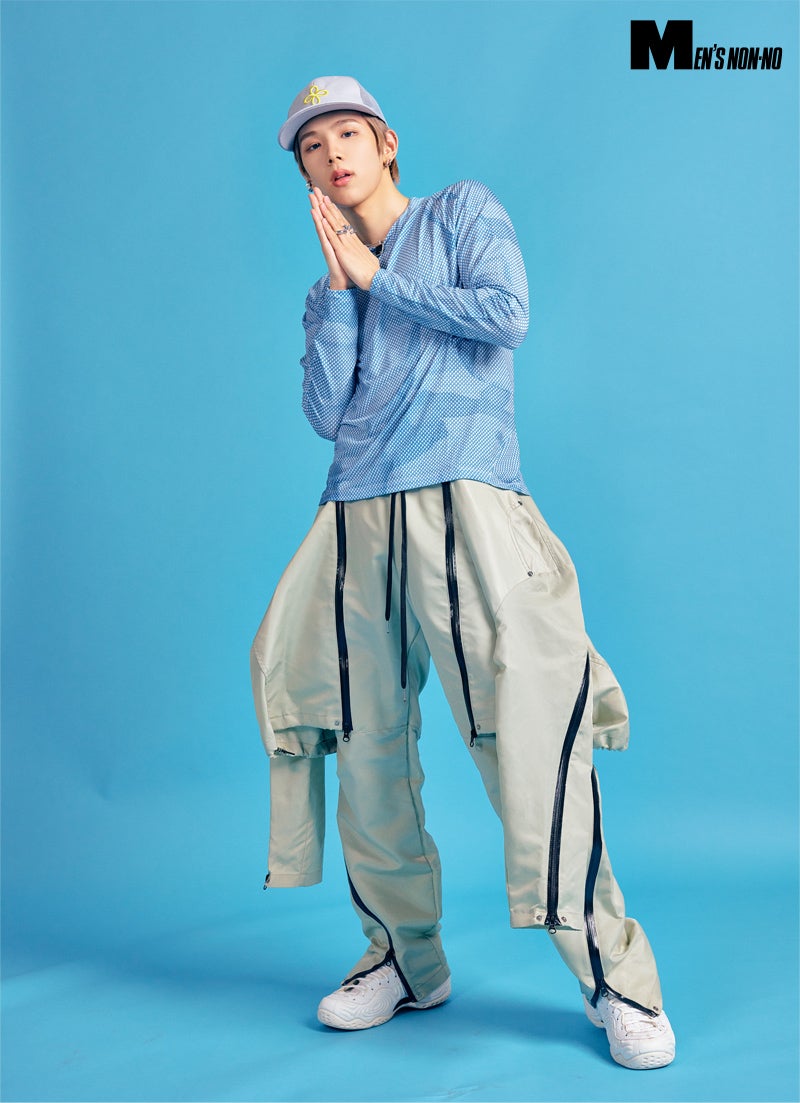 ---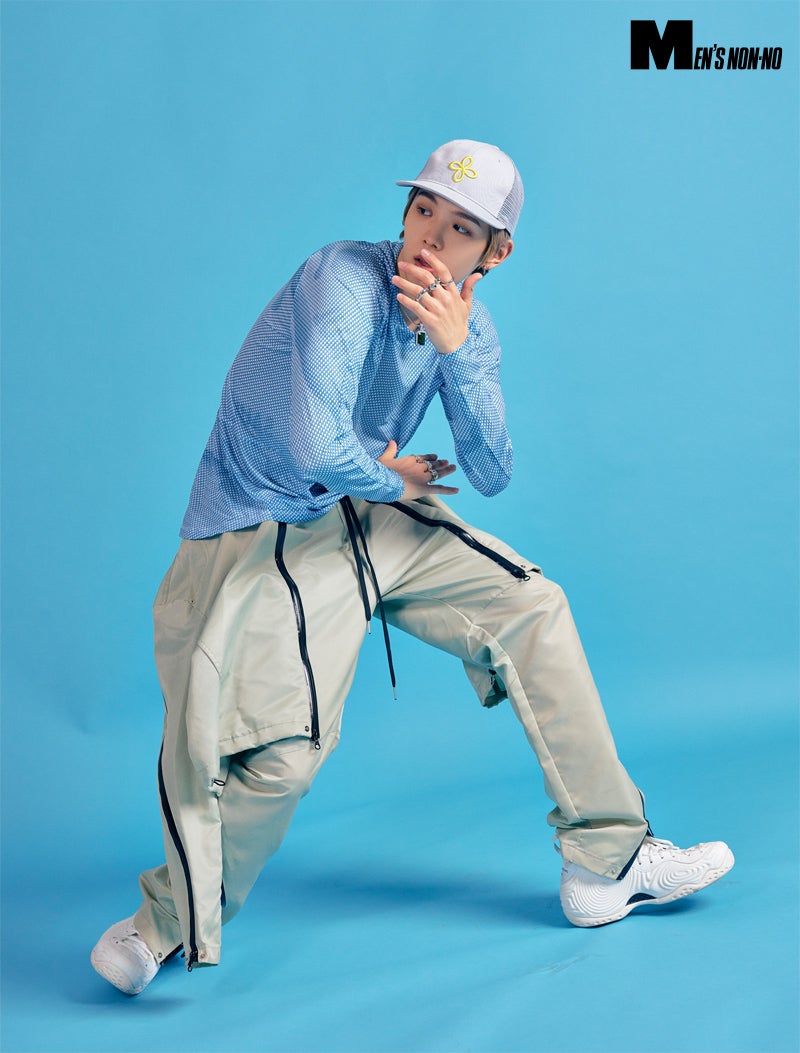 The art of making friends?!
——For our readers who are not brave enough to start a conversation with others, could you please share the SHOTARO-way of getting along with others.
"It's hard to be spontaneously friendly or to fit right in out of the blue, so what I do is talk to someone that is near me first. It could be something simple as, "What did you do today?" or "What did you do yesterday?" Anything really (LOL). If the conversation continues, you ask that person something that is easy to answer, like, "What's your most favorite movie these days?" And just like that, the conversation goes on… Was that okay? I wish I could give everyone a more serious form of advice, but this is what it's like for me (LOL)"
——That sounds very helpful!
"No need to overdo it. Just take captive of the nearest person! Also, remember to find someone who looks easy to talk to. If you're polite to others, they're sure to be nice to you!"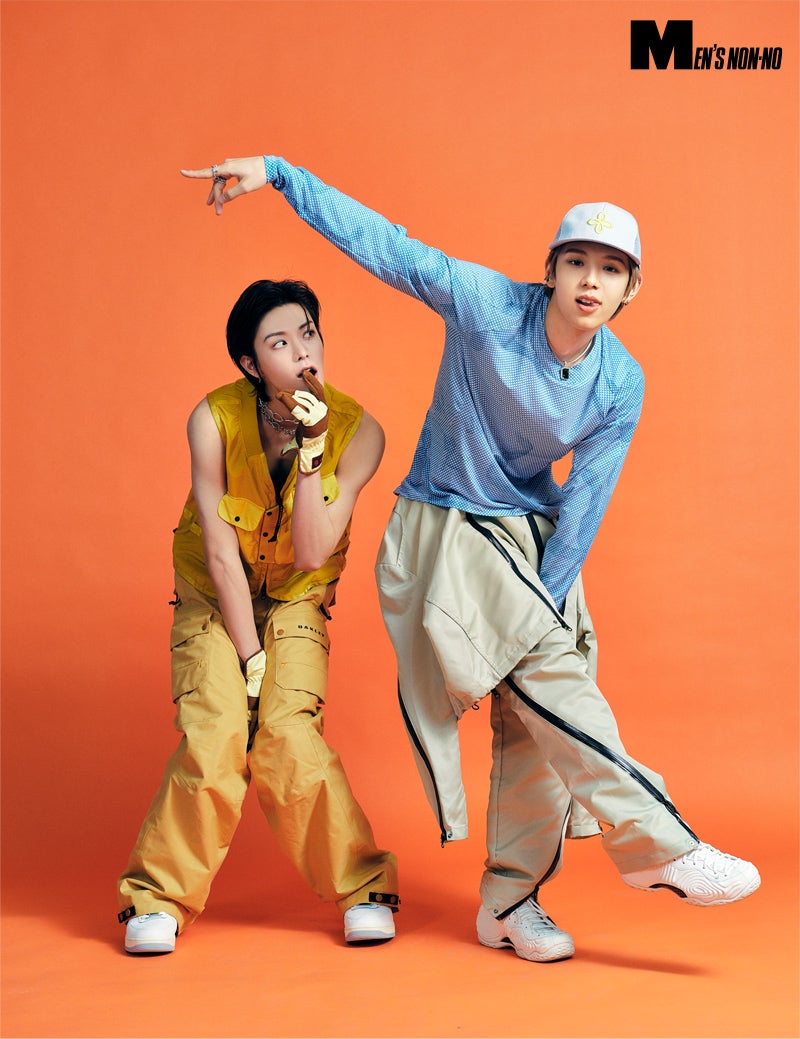 ---
As expected, the members of NCT are incredible!
——NCT is also a big group of 23 members. So compelling!
"It all started with 'nice to meet you," but now I go shopping and hang out with the others, which is now my favorite part of living in Korea. Starting with YUTA, all the big brothers of NCT are really nice. For example, I've recently been hanging out with TAEYONG-san and we talk about a lot of things, but after listening to him, I see that he's someone who can look at himself objectively and is able to make a stoic effort toward himself"
——So you learn while having fun talks?
"Exactly! I mean, I don't think it's very easy to look at yourself with objective eyes. Besides, to understand what you need and then take action… it's not something anybody can do. So I really admire TAEYONG-san for always making such effort and take action in that way. Total respect. NCT is full of the coolest big brothers ever! I would like to continue to absorb all of it without question"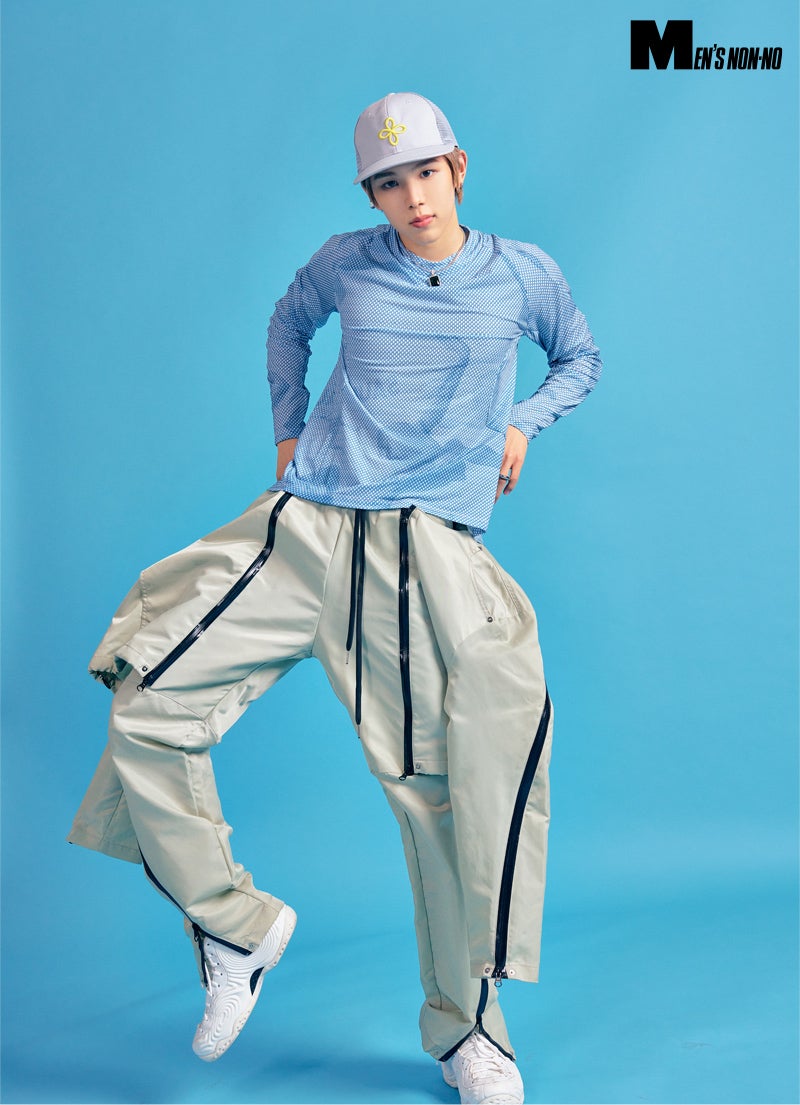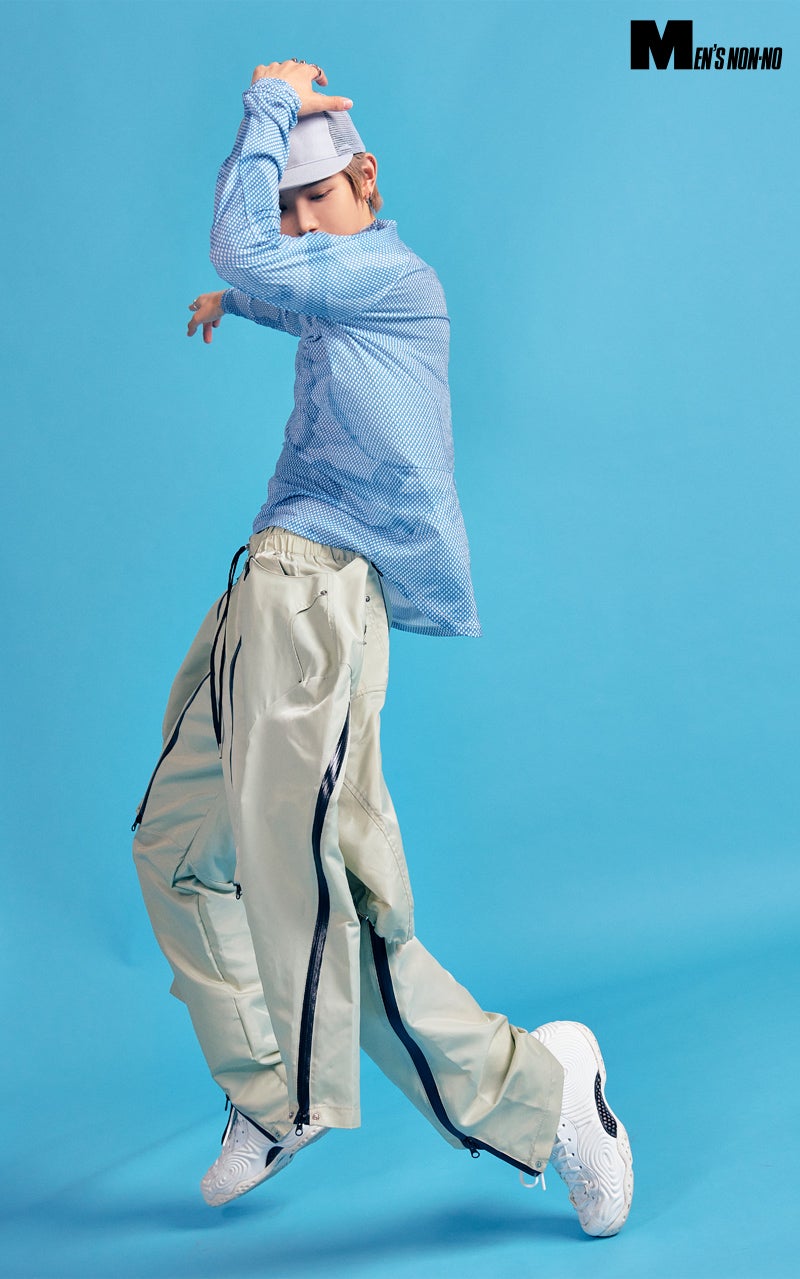 ---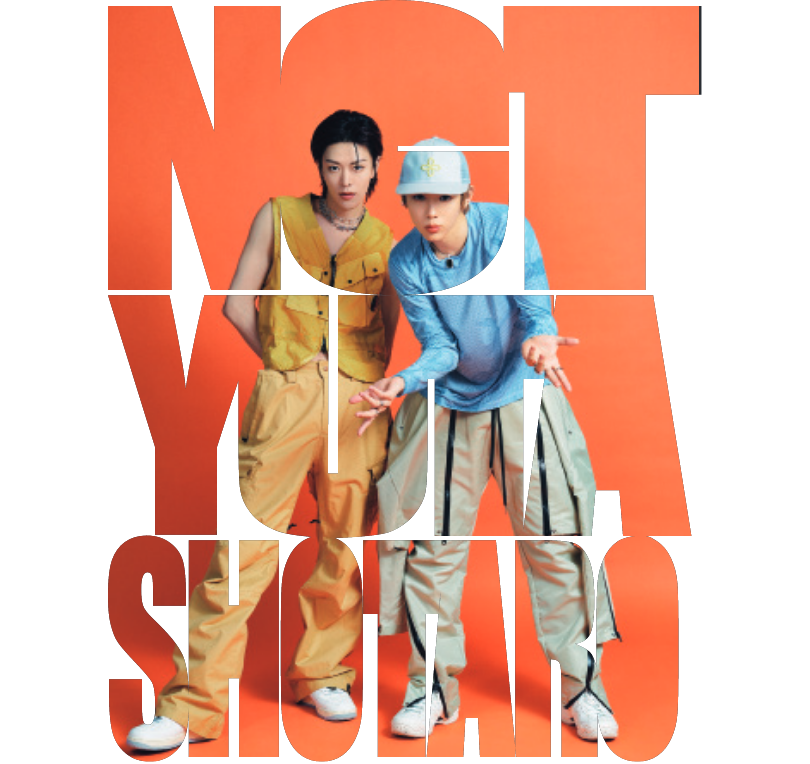 JULY FASHION :Sports MIX
YUTA
The idea behind the two looks came from contrasting colors and silhouettes with a focal point on being "sporty." YUTA-san's look is unique, but I was particular about selecting items that would complement his body line as he dances.
VEST/C.P. COMPANY PANTS/OAKLEY SHOES/NIKE GLOVES/OAMC NECKLACE/VIOLLINA・SENSE OPTIC
SHOTARO
As the top is tight-fitting, the pants were selected for their interesting movement. YUTA and SHOTARO are both grabbing no matter what they wear when they dance and it's so much fun to create an ensemble while thinking about how they will look in motion!
T-SHIRT/SAUL NASH PANTS・HAT/SURGERY NECKLACE/FLAN RING/ROCKING AG・VIOLLINA・SENSE OPTIC SHOES/STYLIST OWN
*All outfits were prepared and put together in Korea. Inquiries from Japan cannot be accepted.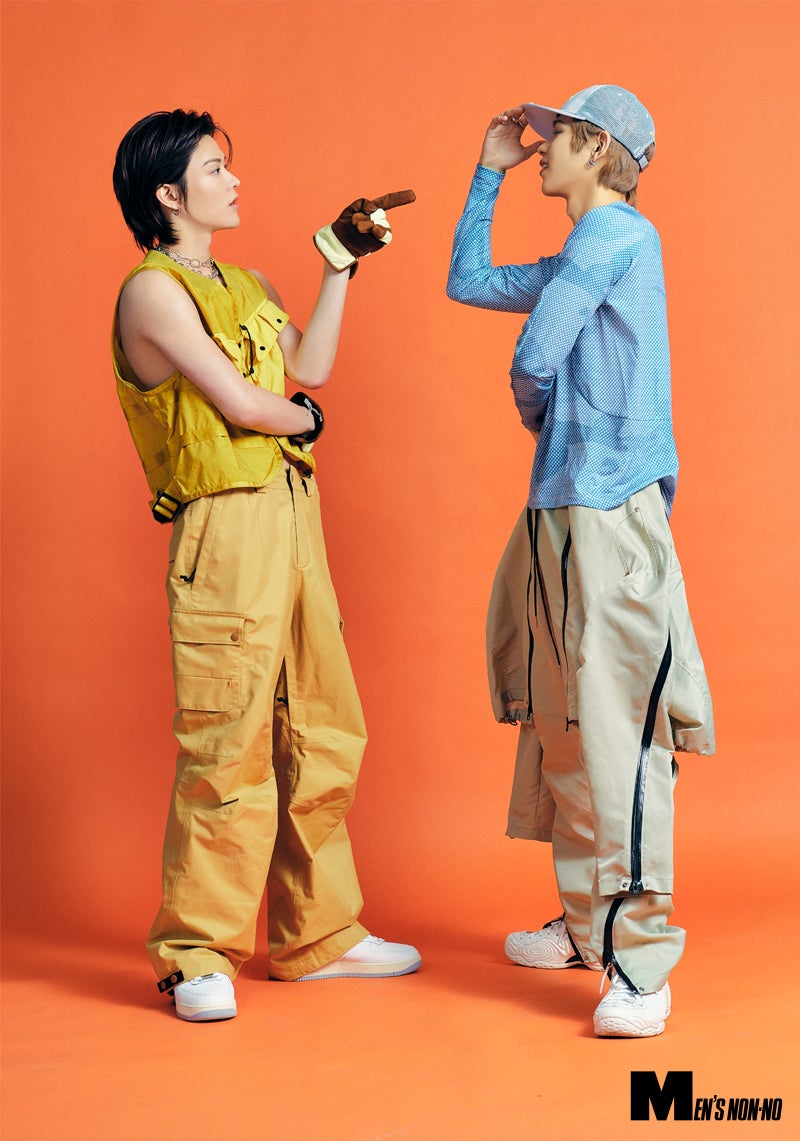 ---
「RESONANCE」
NCT
NCT is a special group, where the various units NCT 127, NCT DREAM, WayV, and NCT U gather together. With overwhelming performance skills, cutting-edge fashion, and unique, attractive characters, this boy group has countless fans all over the world. Their skills – singing, dancing, and rap – are all remarkable. Once you have seen them, you can never forget them! 
Models: YUTA/SHOTARO [Both NCT] Photos: Heehyun Oh  Hair: Songhee Han  Make-up: Seongeun An  Stylist: Youngjin Kim Coordination: Shinhae Song: Asaki Kan, Sachiko Tanno [TANO International]  Logos: ZUMA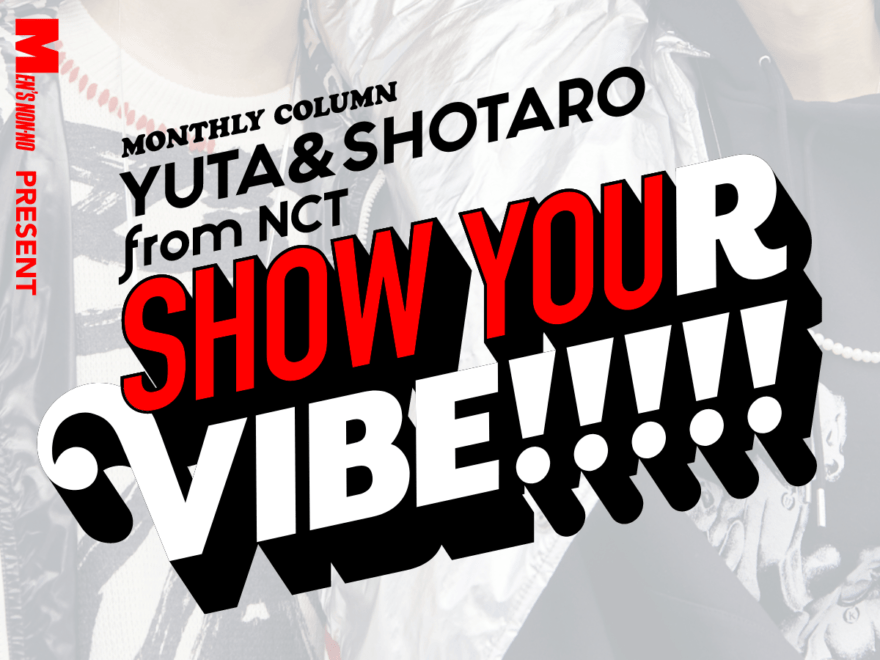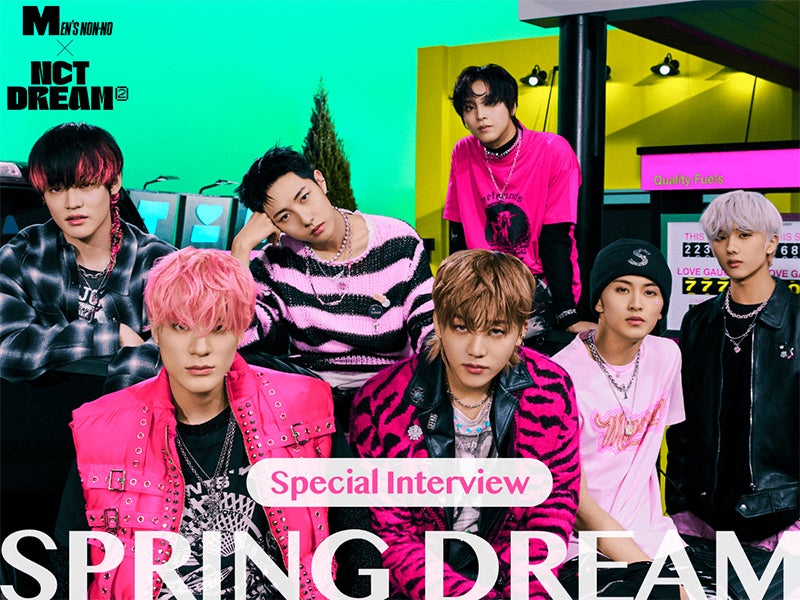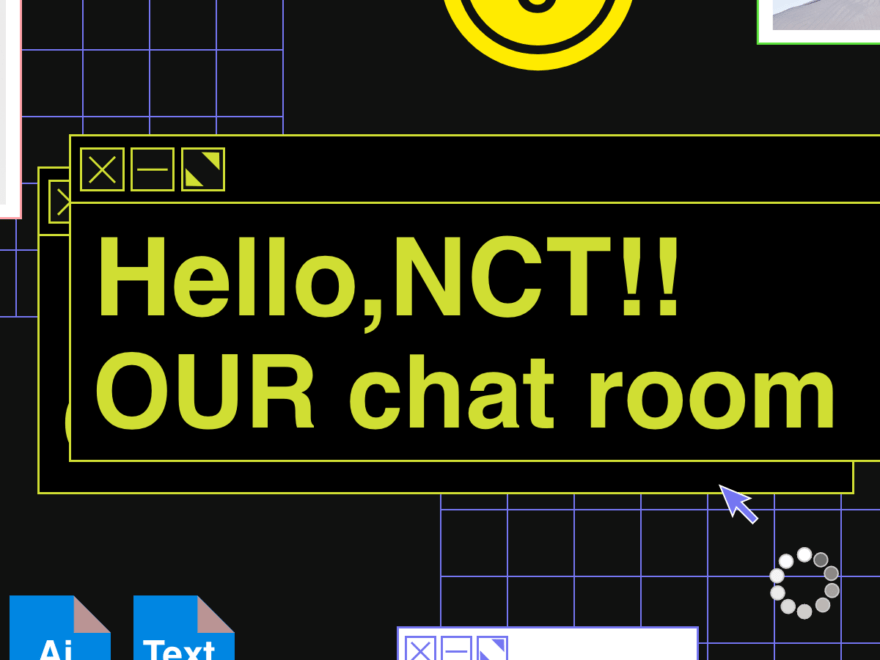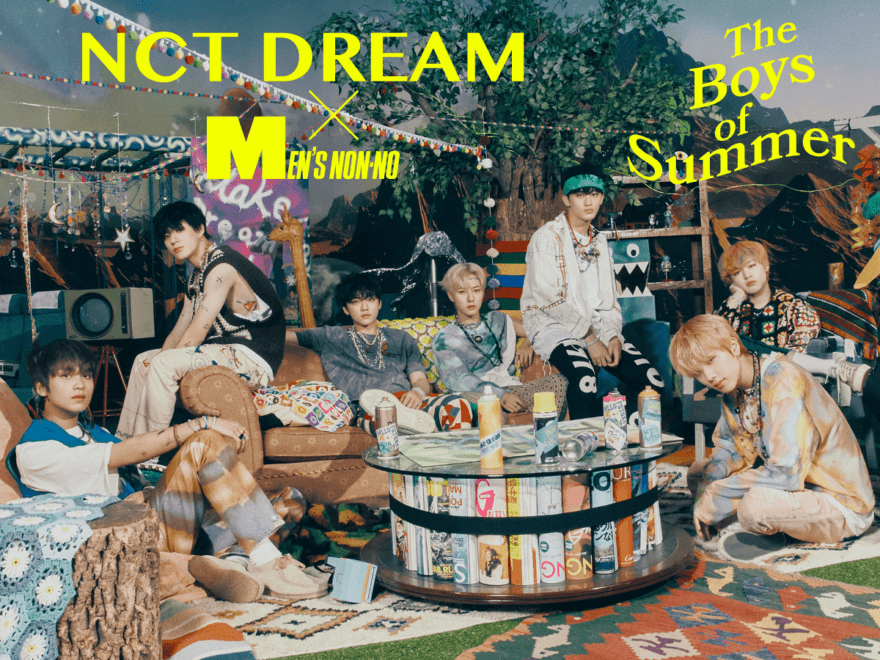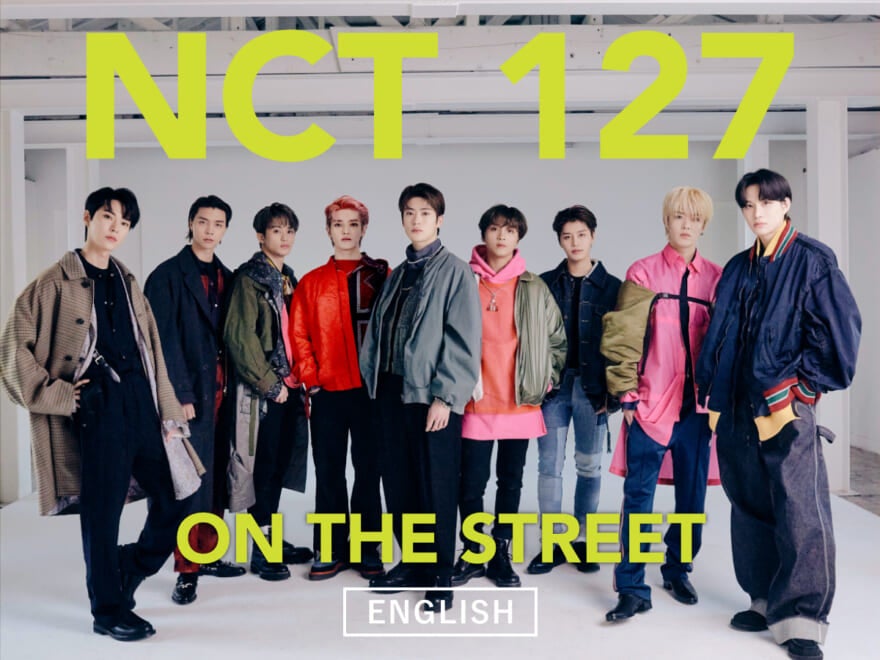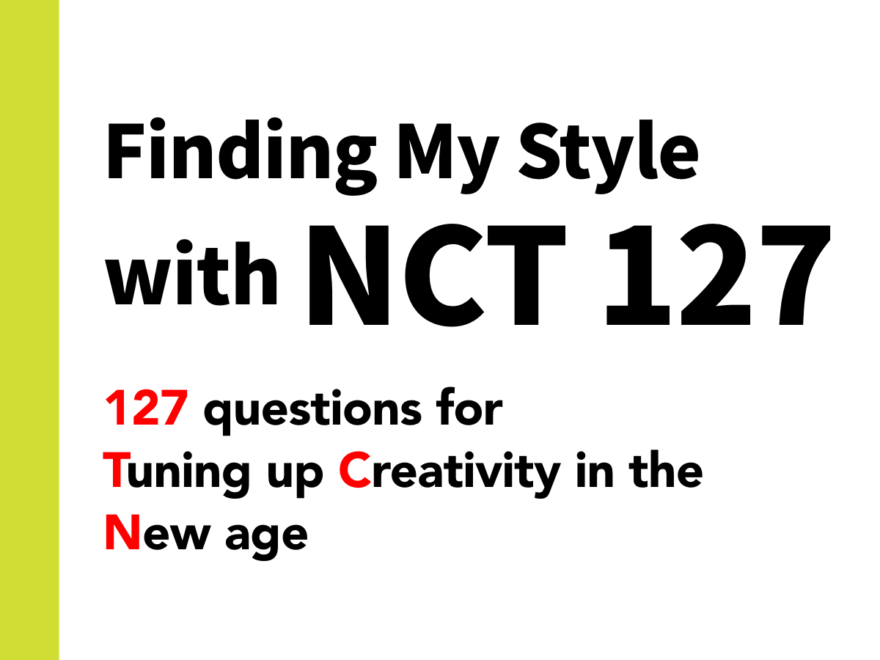 ▲ WPの本文 ▲