▼ WPの本文 ▼
As a model who regularly appears in MEN'S NON-NO, Yuto Nakajima speaks to us about what fashion and being a model means to him. Special interview and fashion shoot in celebration of his birthday!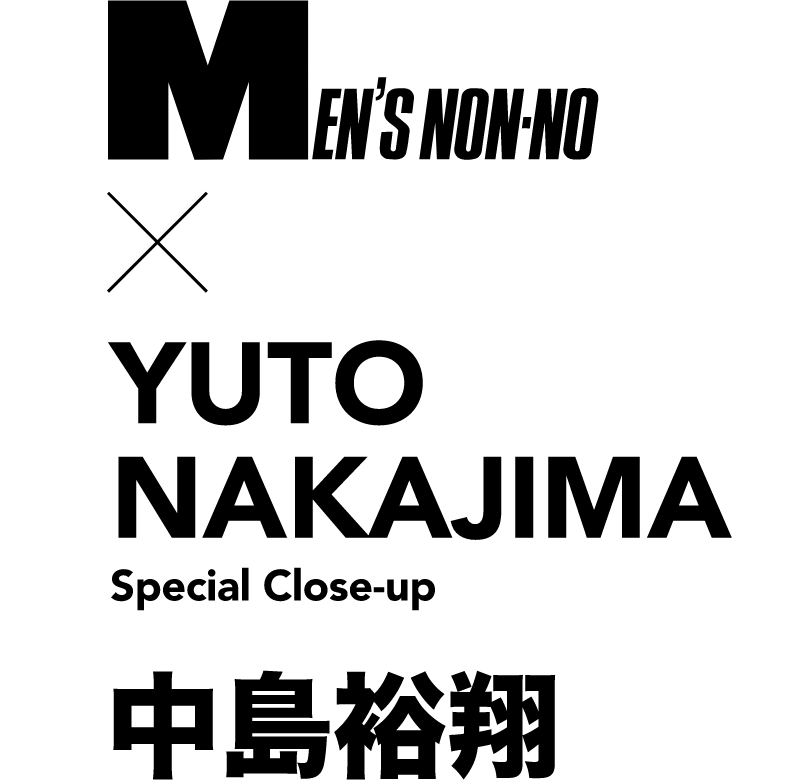 ---
Yuto Nakajima celebrates his 28th birthday today, August 10. At times, you'll find him as one of Japan's top idols, and other times, you'll find him as an actor actively performing on the front lines, while at the same time, showing his enthusiasm towards being a model and going one-on-one with fashion. Ever since his appearance in the June 2017 issue of MEN'S NON-NO, he has earned great trust from the editorial department, creators, and other models, as he genuinely approaches each shoot on a monthly basis. Confidently stating that he has "pride in every job he does" and that his policy is not to have any preconceived notions about his title as "a talent from Johnny & Associates". With that in mind, we had the opportunity to speak with Yuto about how he is devoted yet anchored to his modeling.
☆Along with the Japanese version, an English version is also available to the world!
What Yuto Nakajima wants to wear this fall, completely hand-selected!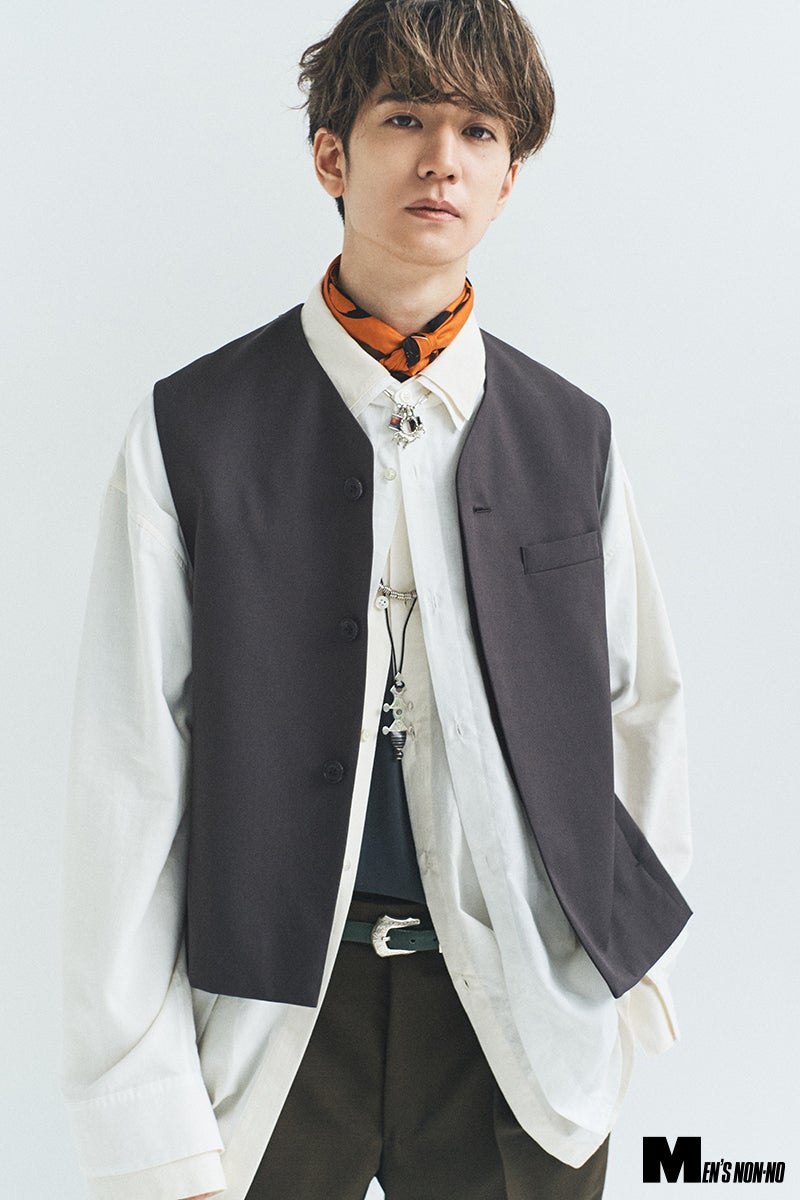 Yuto: (while looking over the numerous back numbers on the desk) Wow… I remember all of these! They're not from that long ago, but do bring back memories. Oh! This shoot was super fun with all the different doggies.
MEN'S NON-NO (Hereafter "MN"): With your monthly appearances, the volumes do accumulate. Thank you for not missing a single issue!
Yuto: Hahaha… stop already (LOL). Honestly, it's really my pleasure to be able to shoot as a model for MEN'S NON-NO!
MN: You're usually in our magazine, but this time, it's on our website, which is a bit more personal. Yuto, being an idol and an actor are core to you, but at the same time, you have also placed a lot of weight on your modeling career for years. There are not that many people like you, so we would like to hear your perspective towards modeling and fashion as Yuto Nakajima. Including your outfit today, we worked together from the initial meeting to find what "Yuto wants to wear this fall", selecting photographs, trying out numerous things together.
Yuto: This type of project is a lot of fun. It's not that often I get to take the time to talk about my fashion and modeling work!
MN: Let's start with today's outfit. It's your selection!
Yuto: I like this styling a lot! I especially like the color coordination.
MN: When consulting with you in advance on what type of outfits you want to wear for the shoot, you gave us the following keywords.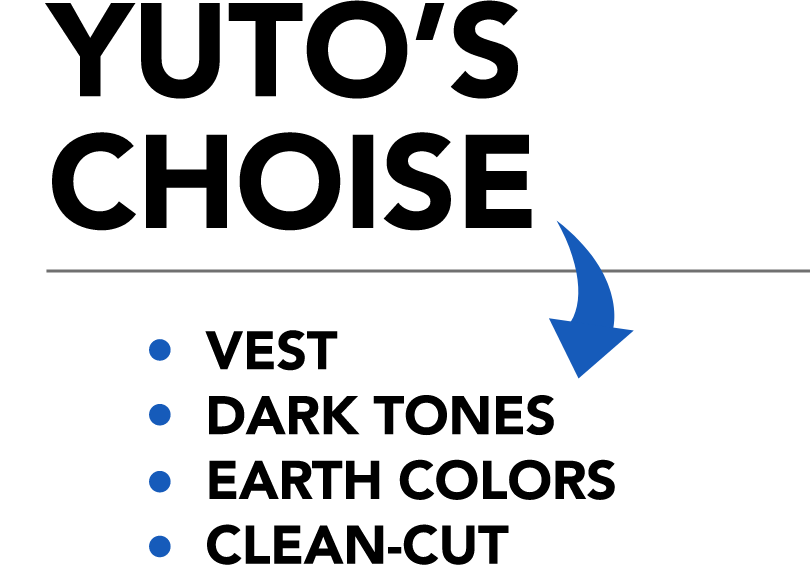 ---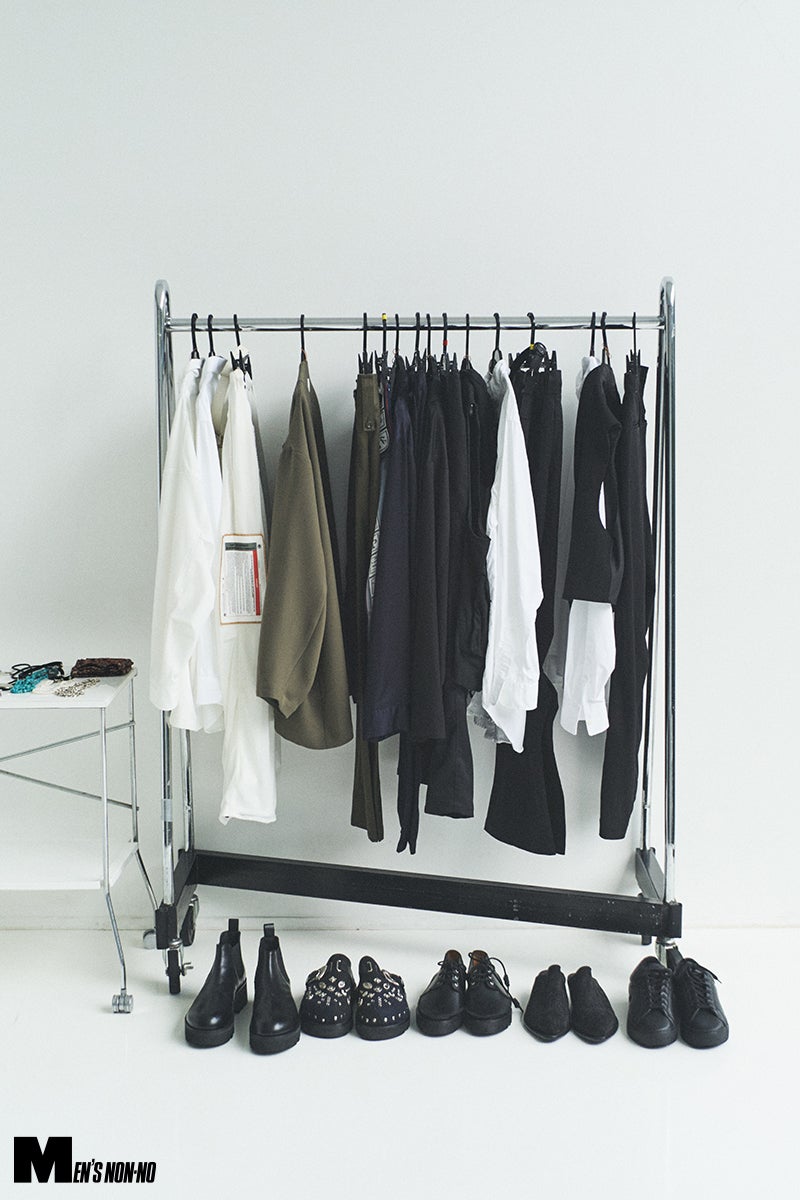 Yuto: Yeah. I was so happy to see that all of it was on the rack! Thank you so much.
MN: It was interesting seeing you work with the stylist,editorial department and actually selecting your own outfits for the first time.
Yuto: Today's outfit has the perfect balance of being clean-cut with a bit of personality, which I love! In fact, this is the kind of styling I've also personally been into lately.
MN: Is that so?! Has your sense of style changed at all since you began modeling?
Yuto: I think I've gotten to where I like to be a little playful. I've always been into a lot of sophisticated styling, but I've come to where I often like to add a little accent that is playful… where it's not that obvious.
MN: So, you used to wear things that you knew were going to look good on you?
Yuto: I did. I did. But when I say "playful", I don't mean something that's flashy or going to jump out, but rather something that grabs you. Of course, I've matured in comparison to before, so my styling shows more composure overall.
MN: Composure with an accent point, you mean.
Yuto: Exactly! So that's exactly what today's styling is about. I'd like to pat myself on the back for choosing a vest (LOL). It really works well. The shirt is awesome! The layered look is a beauty.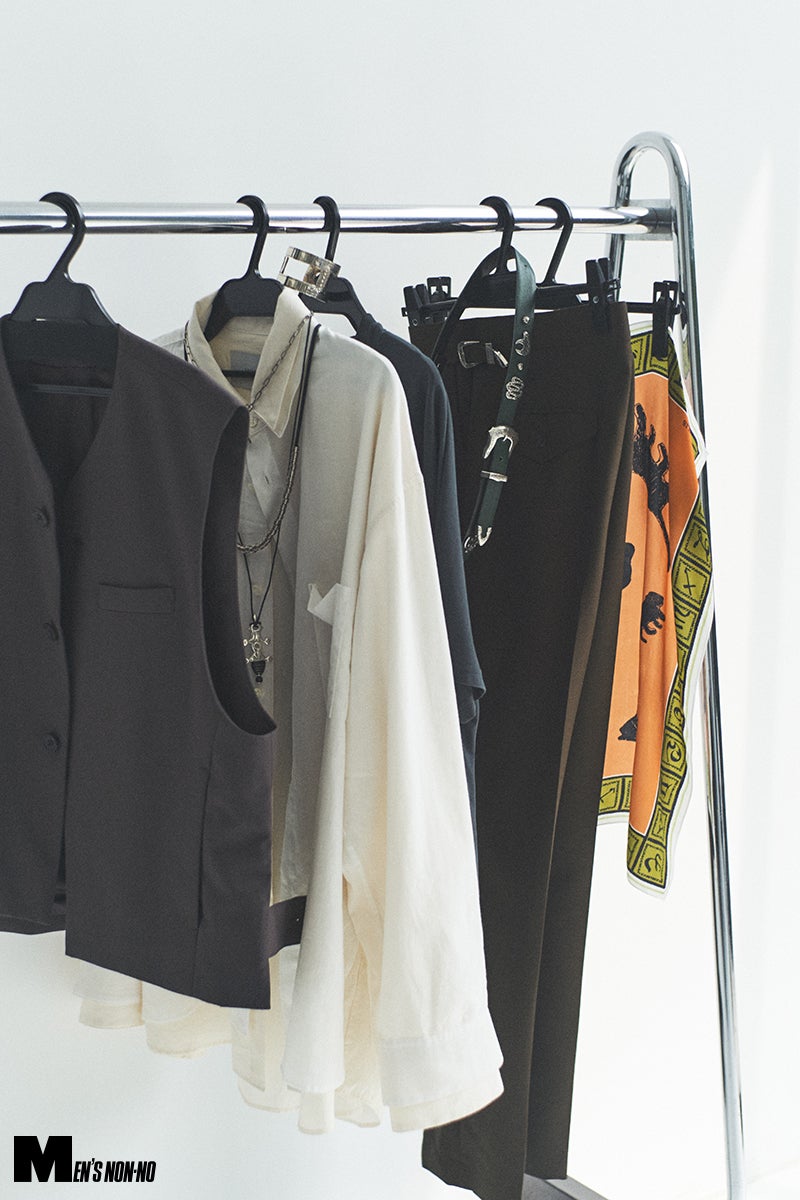 ---
Vest ¥39,600・Shirt ¥50,600 (both from stein)/enkel〔TEL: 03-6812-9897〕 T-shirt (08sircus) ¥20,900/08book〔TEL: 03-5329-0801〕 Pants ¥47,300・Belt ¥31,900・Scarf ¥9,900 (all from TOGA VIRILIS)/TOGA Harajuku shop〔TEL: 03-6419-8136〕
MN: So the vest fits your mood for this fall?
Yuto: Yeah. Kind of what I'm feeling. When this project came to me, I thought about what I might want to wear and I remembered that I used to often wear a vest in the past. I wondered what it would look like if I wore one now. I felt something trad or even cute would work. So then the stylist suggested something with more of a mod taste, which is how we ended up with combination. I really think it would be great for the fall and the winter. I really love the colors in earth tone. The texture of the shirt is also a bullseye!
MN: You often talk about how you like that loose fit, so it's perfect.
Yuto: Yes, it is. Also, how the bottom of the shirt widens. The scarf the stylist brought forward is also very fashionable.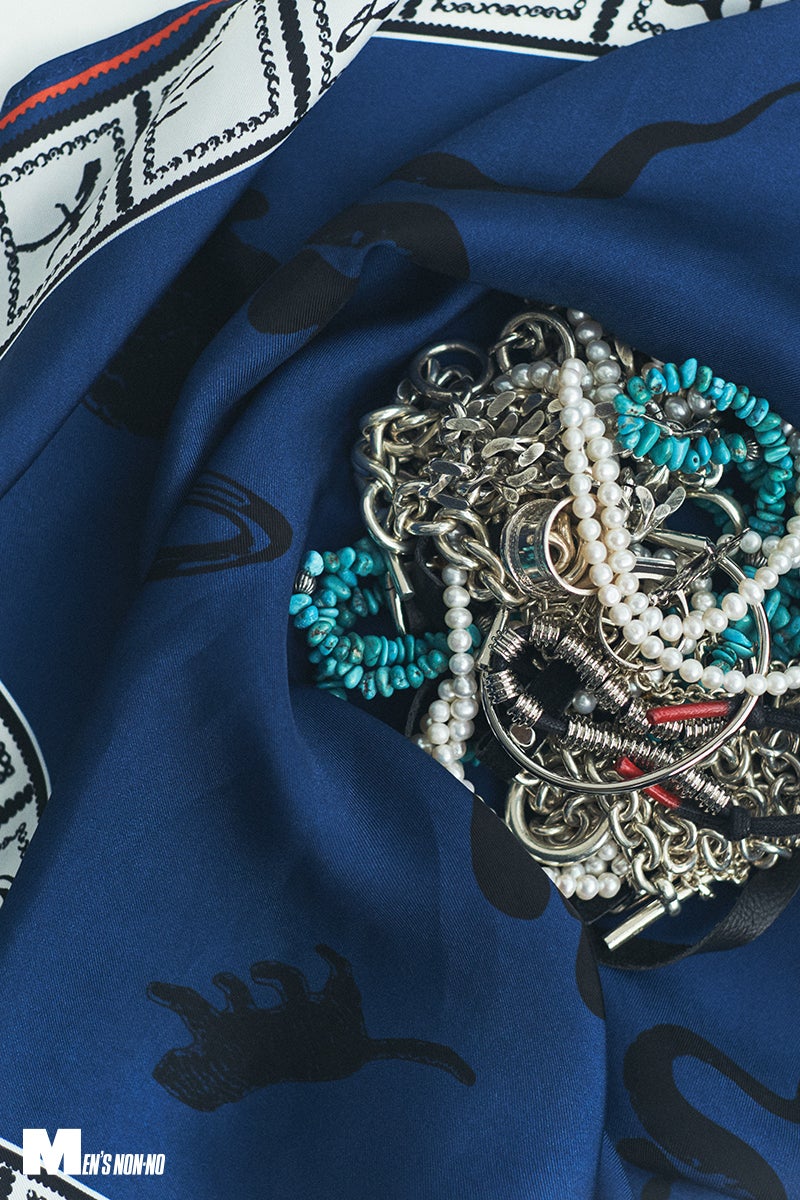 Metal beads necklace ¥17,600・Motif necklace ¥12,100 (all from TOGA VIRILIS)/TOGA Harajuku shop〔TEL: 03-6419-8136〕 Silver necklace ¥22,000/Adawat'n Tuareg〔TEL: 050-5218-3859〕
MN: It's true that the playful points you mentioned work as accents.
Yuto: And voilá, everyone! (LOL)
What triggered Yuto Nakajima into wanting to become a model
MN: Now we'd like to ask you about fashion and modeling as a career. Do you remember what made you want to become a model in the first place?
Yuto: I think I was still in high school, but I realized that I kept growing taller and taller among all the other guys around my age at our agency. That's when I thought, "Wouldn't it be great to work as a model." That maybe could become one of my strengths. So, I decided to discuss the possibility of becoming a model with my agency. When I was smaller, I was about the same height as everybody else, so I was able to dance in the front line on-stage, but as I grew taller, I kept being pushed to the sidelines or to the back for visual balance. That's when I thought maybe there's a way I could use this as something positive rather than negative and looked into it on my own back then.
MN: What a positive and lovely way to think.
Yuto: Yeah. I knew nothing about modeling, but I knew I wanted to give it a try. And just as I was thinking that way, "FINEBOYS" (HINODE PUBLISHING) approached me with a modeling job and I knew I just had to do it. Even with Hey! Sɑy! JUMP, maybe I had strong feelings about wanting to do things differently than the others. And let's not forget, as a major premise, I simply loved fashion.
MN: By the time you came to MEN'S NON-NO, you already had several years of experience in your modeling career. What was it actually like when you first started?
Yuto: I thought it was fun to be able to wear all kinds of clothing, going to all kinds of places, and taking photographs that made the most of my natural appearance, rather than the usual "fixed smile". I know now that it's a different approach from that of idol magazines, but I think, at that time, it was fresh to me to be able to be a part of photographs that placed emphasis on the mood.
What you realized once you started participating in fashion magazines shoots
MN: There's something to be said for both fashion shoots and idol centerfolds, right?
Yuto: That's so true. Because I do both, I feel like I am able to make a difference in how I get to my point of arrival within the various media realms, and that's something I can be confident about.
MN: That certainly is a strength. When a project focuses on the performers themselves, it's done in a way where they can stand out, but models have a big undertaking and that is to show off the clothing, so the approach is different.
Yuto: I do clearly feel the difference there. It's not about "me, me, me."
MN: In current shoots, you're sort of like, "There's no need to see my face at all. This is the focus of the outfit, so make sure to get that shot." It may be normal for a model, but four years ago, you must have been a little nervous at first not knowing how far I could go (LOL).
Yuto: Exactly (LOL). It's really strange for me to say, but you know, as an idol there are sayings like the "face is everything" or something like that. And that's why, I think it's genuinely a learning experience for me to be given an opportunity to do work where the main character is not me, but where the focus is on the outfits. It really is a great experience to be able to think about how to make the outfits stand out with what you have.
MN: It seems like you get it because you seriously think about your approach according to the job site.
Yuto: Haha, but of course (LOL). But there are also further differences depending on the fashion magazine. FINEBOYS and MEN'S NON-NO are completely different, and even within MEN'S NON-NO, things are different depending on the project.
MN: Is that something you've come to realize while working as a model?
Yuto: You could say that. Thinking back to the beginning when I really didn't know anything at all, I believe I am able to tell the differences now because I've been able to grow at a gradual pace. That reminds me, at the end of my time as a model with FINEBOYS, I looked back at my photographs from when I just started out as a model. And I really thought, "Wow, I was all fired up." Like I was overly using my face (LOL). But that's when I thought, the fact that I was able to notice that, is what made it possible for me to realize when to ease up like I am able to do now.
The vital element to your identity as a model
MN: But that's really difficult. Of course you have to make the outfits stand out, but it's no good if you can't bring out your unique qualities as a model. Otherwise, it wouldn't matter who's wearing the outfit…
Yuto: I know! That balance is without a doubt super difficult, but it's even more fun to face. I work hard as a model at each shoot to make the outfits look great, but at the same time, we have to understand that there's a reason why we are called upon and that's where our identity comes in. So even though it doesn't always work out, I do attempt to try these different positions and simply try to do something, but that's me. Hahaha.
MN: So you're a stickler for the meaning behind why you are being casted.
Yuto: Yeah. I always hope that they will think it was a good idea to cast Yuto Nakajima as the model of a project, if even a little. For that reason, there was a time when I struggled a little over the need for an identity that was all my own. With MEN'S NON-NO, I used to read the magazine even before I began regularly appearing as a model for the magazine. So I sort of had a preconception on "how it should be." Like I was overly conscious about "This is what MEN'S NON-NO is!!" It's only natural that models know how to make the outfits stand out and that's why I really felt it was important that I find a way to differentiate myself from the others. Through all that, I am now able to enjoy the balance between putting myself out there while also being a full-fledged model. I don't mind being corrected as long as I try. After all, it's just a matter of subtracting.
What type of model do you think of yourself?
MN: It's very interesting, because it's coming from you, Yuto, who has to put yourself out there and work hard at it while doing it. So when you look at yourself from the perspective of a fashion model, what kind of model do you think Yuto Nakajima is?
Yuto: Ahaha… I wonder what kind (LOL). Mmm… I bet I'm a pretty easy model to mimic. But then, I'm not really super tall compared to other models. It would really make me happy to know that the readers of MEN'S NON-NO, which is a magazine made for young men in Japan, will think, "He's a good reference, I'd like to mimic him." Also, in a good way, I think one of my strengths is that I don't have a preconceived notion of myself as a member of Johnny's. I don't really think about what I can or can't do just because I'm a part of the Johnny's family. I'm anchored when I look at each situation. It's something that I've always felt as being important. First and foremost, I always think about how to handle the work in front of me. So when I'm modeling, I approach the work completely as a model. Regardless of where I am, I want to be someone who can be really proud in their work, not in their title. If it's an acting job, I want to be there as an actor, and if it's a fashion shoot, I want to be there as a model.
MN: You talked about that during the interview for this cover shoot. That if you're going to do it, you want to take your work as serious as the others on the same field, and not be like a guest model.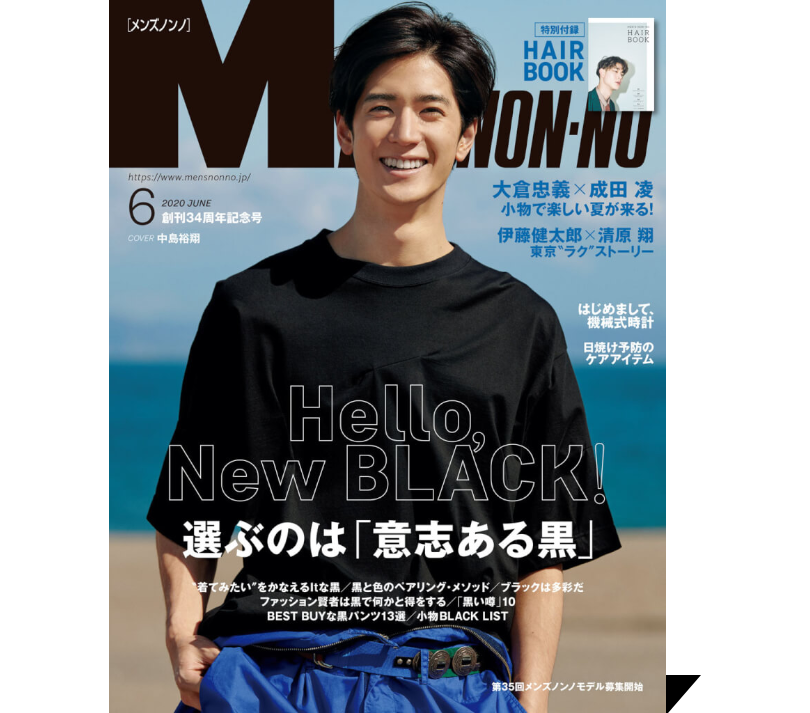 ---
June 2020 issue
Photography/Tatsunari Kawazu [S-14]
Yuto: That I did. I haven't changed at all. That part anyway. After all, it is kind of my policy. But that also has to do with the passion I feel from all the staff members. Wait a sec! This cover really is a good one, isn't it!?
MN: Agreed. We received a lot of feedback on how invigorating this cover is!
Yuto: I really like it~! This was also new to me. It's surprisingly rare to find me in a photo out there with such a spontaneous and natural smile. I don't think I've ever seen this side of me in a cover photo like this.
MN: We received a lot of comments from people who said that seeing your smile cheered them up, because they were in such-in-such a situation. In that sense as well, it was a very memorable cover.
As long as I give it my all, it's okay to struggle
MN: You spoke earlier about the time when you struggled a little over the need for an identity that was all your own. Do you still have times like that?
Yuto: Nope!
MN: Ahaha. You stand firm (LOL).
Yuto: Of course I do, all the time~. I get home and start thinking, "I should've done it like this or that." But what's more powerful than that is that I enjoy the shoots all the time now.
MN: All the staff members always look forward to your shoots. They all feel that you are a model that thinks deeply about how to make everything look the best, and even the stylists say things like, "I can't wait to see Yuto~." (LOL)
Yuto: Who! Really?! Awesome! But, yeah, I do constantly think about how to best show the outfits. Like, "I wonder what the staff want me to do?" You know? Basically, I think I'm the type of person who really has a strong desire to fulfill the needs of others. I try to figure out what they are looking for and work from there, but that alone would be to "blah", so I try to be creative and add something extra. I do have to admit, however, that there are times when I can't quite get a good grip of the situation. But when you look at the finished product, it's that kind of thing that can at times surprisingly fit in. The strange thing is, whether it's acting or modeling, there are times when I think, "that went well." But later look at it and say, "Wait, what?" And on the flip side, something that I thought didn't go well, winds up being favorable.
MN:That's true. You get a different impression when you look at the photos one by one on the monitor versus when you see them edited into a magazine.
Yuto: So different! So even if things are not working out like you want, as long as you put all your effort into it, the outcome may give a turn for the good.
What's the difference between your work as a model and your other work?
MN: You say you have an anchored outlook for all your work. What do you feel is the biggest difference between your performances as an idol or actor in comparison to when you are a model?
Yuto: First off, I think there's quite a difference between movies (moving images) and stills (still images)
MN: Oh, it sounds simple, but it's actually pretty deep…
Yuto: Exactly, it is deep. It's about how to create an atmosphere that appeals to the viewer, or even a sense of dynamics in a single still photo at the sound of a "beep"… The amount of data is overwhelmingly different from that of a movie, you know. I think that's the difficulty of stills.
MN: It's easy to think that it's all about the mind, but for you the physical difference is massive.
Yuto: Yes, for movies that would work, but for stills, you have to add more exaggeration to get the point across. Oh, wait, 'subtract' would be the better term. Even if you're told to "look natural" when posing, it's still a little different from how you normally move in life. Your hair and make-up. Even your eyeballs are on stop-motion. But with movies, there's still motion when you're stopped. I mean, everything except for you is still in motion with time.
MN: That's so true!
Yuto: I also think stills are particularly difficult when you're not looking into the camera. It can be hard to figure out where to turn to get the best angle for the outfit and how to make myself look good to some extent at the same time!
MN: With movies, you have enough frames to follow-up, such as spinning around.
Yuto: Yes. So there's a lot to think about in that split second of a shutter. It won't work if it's over the top and the focal point differs depending on the outfit. Take wide-leg pants, for example. You should open your legs to show the wideness of the pants, but if you open them too much, it would be weird, right (LOL)? For movies, you can instantly tell what the shape is by looking at the motion. I think we use different parts of our brain, depending on the performance, and knowing the difference will certainly be useful in the future.
MN: It's nice you are able to cross-over your thoughts from the experiences you have gained at the different types of sets.
Yuto: Yeah. I really feel like I am who I am because of the things I have experienced and the people I have met. I mentioned earlier that I struggled a little over the need for an identity that was all my own, but I'm still in the process of figuring it out, and who knows if I'll ever be able to come up with an answer. It won't work if I force a theme just because this is how I am. But on any set, for any job, I think there are moments when a person's personality comes out. The essence of that person. That is something that absolutely happens on fashion magazine shoots. With MEN'S NON-NO, I do what I do in the way I do, believing that an identity that is all my own is actually shining through.
MN: I've seen it before. When someone works hard and suddenly right before your eyes, that person's personality comes shining through.
Yuto: Exactly! But! I do feel the pressure every single time (LOL). Because I need to do a good job. Just today, I heard from the stylist how, "Everyone always comes up with a huge proposal before each shoot, and there are a lot of meetings." I feel that passion and energy from the staff deep in my bones.
MN: Well, they all have their own battles, so no need to feel the pressure there (LOL).
At first, you thought you wouldn't be able to fit in with MEN'S NON-NO!?
Yuto: Well, I guess you could say that there's a part of me that has always looked up to MEN'S NON-NO. What's more, I really feel the love. It's such a happy feeling. Since I didn't think I would be able to fit in at first, to be perfectly honest.
MN: What? With MEN'S NON-NO?
Yuto: Yes. Like I might be a cast out or something.
MN: You mean like you were an outsider…? Or nervous like a transfer student on the first day…
Yuto: Yes, right! Exactly like that (LOL)! Like if I didn't fit in, I'd wind up eating all alone at lunch time. But every single person I've met at MEN'S NON-NO has been so pleasant and we've had great chemistry each time, and it's just so much fun. What a relief (LOL).
MN: That's good (LOL).
Yuto: I mean really, it's the least I can do to place all my efforts into the shoots, considering all of you have been placing your efforts into preparing for the shoots days in advance.
Striving for that passing grade and further beyond
MN: But we also find the models to be incredible in that they have to come on the day and are expected to give a performance that's a perfect 100 points or more.
Yuto: Regarding that aspect for me personally, I have Johnny's Jr. to thank for the flexibility (LOL)! We've been thoroughly trained. I think there's something to be said about having a preparatory period versus not having one. It really was not uncommon for parts to be cut just before each performance, or in contrast, added. And we have to learn these parts instantaneously. So though it could be unreasonable (LOL), I have been able to develop the ability not to flinch even when I'm asked to do something on the spot. But I do believe that it is essential that we can't be phony about it. It's necessary, that process of figuring out in your mind just how you're going to do it
MN: Goes without saying, because it can be done…
Yuto: Yes, right~! We're often looked at as "You're from Johnny's, you should be able to do anything." In fact, it's true to some extent. Sure we can do it, but if we don't do it right, that's the end of it. We can make that passing grade, but whether we can go further beyond that is entirely up to individual effort. You can do this much, but whether you can say "yes" when you are asked to go one step further, is another story. It happens when you have so many different commitments to fulfill. That's why I want to do my work as a model in the best way possible, without becoming complacent. Because I love clothing, I don't want to forget how fun it is to be a model, and I still look back at the magazines and reflect on what I could have done better. It's important to me that I don't just fiddle through it all.
Yuto and his MEN'S NON-NO model friends
MN: I mean, you actually go home saying, "Wow, that was fun!" even now, after four years of this. It's unimaginable to think now that you felt you wouldn't fit it in back then.
Yuto: I'm not really a shy person, but there was a part of me that was "en-garde". Even though we may be from the same Johnny's agency, not all people will feel what I feel. When I first jump into a different genre of work, I tend to worry a little, or I'm more sensitive to whether other people might feel uncomfortable.
MN: But luckily, everything worked out. The other MEN'S NON-NO models like you, too. Keisuke Nakata boasted "Yuto's my best friend!" (LOL)
Yuto: (BOL) Kei-chan! I have a lot of fun on shoots with the other models, too. The first model I was ever in a shoot with was Koji Moriya. He was really friendly and talked a lot with, which was really nice. Oh! And I used to follow Shuntaro Yanagi as a reader for a long time. When we were in a TV drama together, the first thing I thought was "Hey, he's from MEN'S NON-NO!" (LOL). Who'd have thought I'd be in the same magazine as him one day. He has this cool image, but is actually a super nice person.
MN: All the MEN'S NON-NO models have a kind heart, don't they? But then again, I think our side was nervous back then, too. We were looking forward to having you, but as you mentioned before, we did wonder about whether you would be okay about posing without the focus being on your face, or whether it would be okay to take out on location for a shoot, or if you would be okay with wearing so many different outfits. I feel like we were a touch worried about those kind of things prior to the shoot. On the first day, we probably asked you something like, "We're hoping to have you change into a bunch of different outfits…" but hesitantly (LOL).
Yuto: That's right, you did~ (LOL). I think I laughed and said, "Not a problem at all!"
MN: Looking back now, I feel like we were a bit disrespectful to you. Especially since you came to the shoot ready to seriously take on the work as a model.
Yuto: Not at all. It's easy to think that way. In the early days, the hair and makeup stylists were also very polite and detailed, asking things like, "Can we do this? Can we do that?" But there's no longer any kind of confirmation at all now (LOL). Even today, the stylist got mad at me saying, "Hey, don't you think your hair is too long and it looks weird?" (LOL)
MEN'S NON-NO feels like home
MN: Hahaha. And a relationship of trust has successfully been established. Let's leave it at that (LOL). So, as you engage in modeling for shoots on a monthly basis, what does MEN'S NON-NO mean to you?
Yuto: Like home. Like when we did that shoot for the Hey! Sɑy! JUMP cover, I sort of wanted to have a big attitude and say something like, "Hey, guys. Don't forget this is my MEN'S NON-NO." (LOL)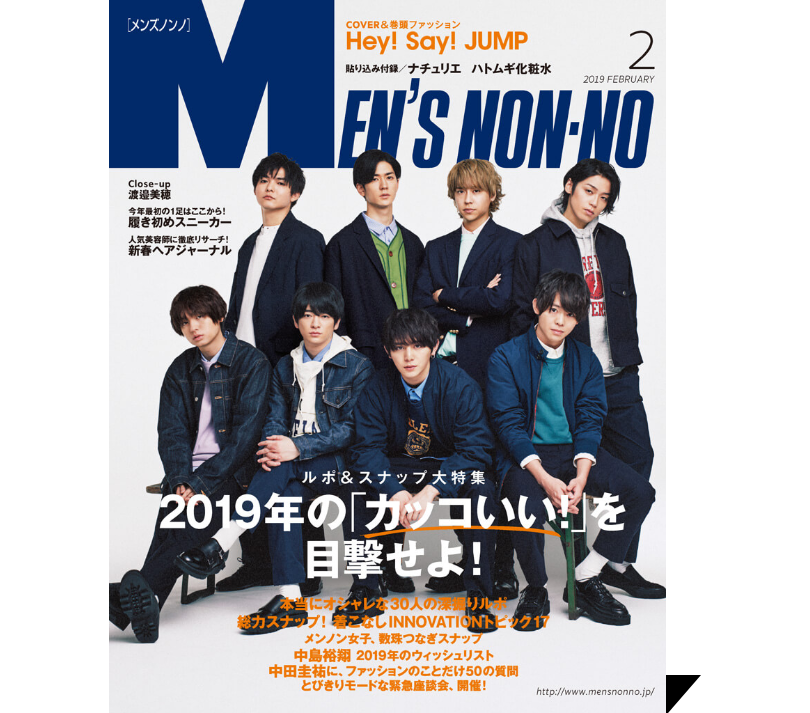 February 2019 issue
Photography/Taro Hirayama
MN: (LOL). When watching "Itadaki High JUMP" (Every Saturday, 10:25 a.m. to 11:05 a.m. / on Fuji TV), the other members say things to you like, "Hey! As expected from a MEN'S NON-NO model!" (LOL).
Yuto: Boy, do they ever say that (LOL). They're all so supportive of the fact that I'm a model for MEN'S NON-NO(LOL).
MN: Even the moderator said, "Keep up the good work." It sounds like they are all aware of what you do and that's something to be proud of. Your fans and Hey! Sɑy! JUMP's fans are also avid readers of MEN'S NON-NO, sending in their blazing feedback. You also talked about how your "fans are really like that" in your interview for the cover issue. We're grateful for every month!
Yuto: Aren't they, though~! My fans even check up on who the hair and makeup stylist is for each shoot (LOL). It would be great if the other members and our fans can have the opportunity to come in contact with fashion as well as hair and makeup like they've never experienced before through MEN'S NON-NO. I hope it's inspiring and I love being a bridge between the two. For me, MEN'S NON-NO is a presence that takes me to a world that I have never experienced before and that is big. So, my fans should have that experience as well, right? I think it's so very amazing that the work I have been invited to do for MEN'S NON-NO is having a positive impact on others.
I'd like to enjoy the world of MEN'S NON-NO with the other members of Hey! Sɑy! JUMP
MN: Actually… in celebration of 15 years since the start, it has been decided that MEN'S NON-NO will feature… Hey! Sɑy! JUMP again around winter time.
Yuto: Woa!!!
(Clapping from the studio)
MN: That's all I can say for now (LOL).
Yuto: Oh… I can't wait! I really want the other members to experience MEN'S NON-NO, too. What I like about MEN'S NON-NO is that I get to see myself in a light that I can't see myself anywhere else. Of course, I express myself in different ways depending on the theme, and I put a lot of effort into my work, but oftentimes, there are clippings of facial expressions that have been pulled out from inside of me. It's something I feel, so it's hard to put into words. Most of the time, I see facial expressions that I've never seen of myself anywhere else. I'd like the other members to enjoy that feeling, too!
That one best-ever piece of work chosen by Yuto
MN: So, shall we choose a photo now? Earlier, you spoke about your commitment towards pulling out expressions that are natural. It's exactly what the photographer mentioned today, "I want to take a fashion portrait that's timeless, that doesn't look overly posed and with an expression of being "on the way" to somewhere, which makes it almost impossible to take your eyes away from it."
Yuto: Yes, yes. That's it! Which cut should be chosen? If I have to choose only one cut, then I'd prefer a standing pose rather than a sitting pose… Mmm… maybe this one. It's one of those shots that when you open up the page on your smartphone, it jumps at you and your heart throbs in an instant. Also, this is a little detailed point, but the way the shirt bottom flow is absolutely beautiful.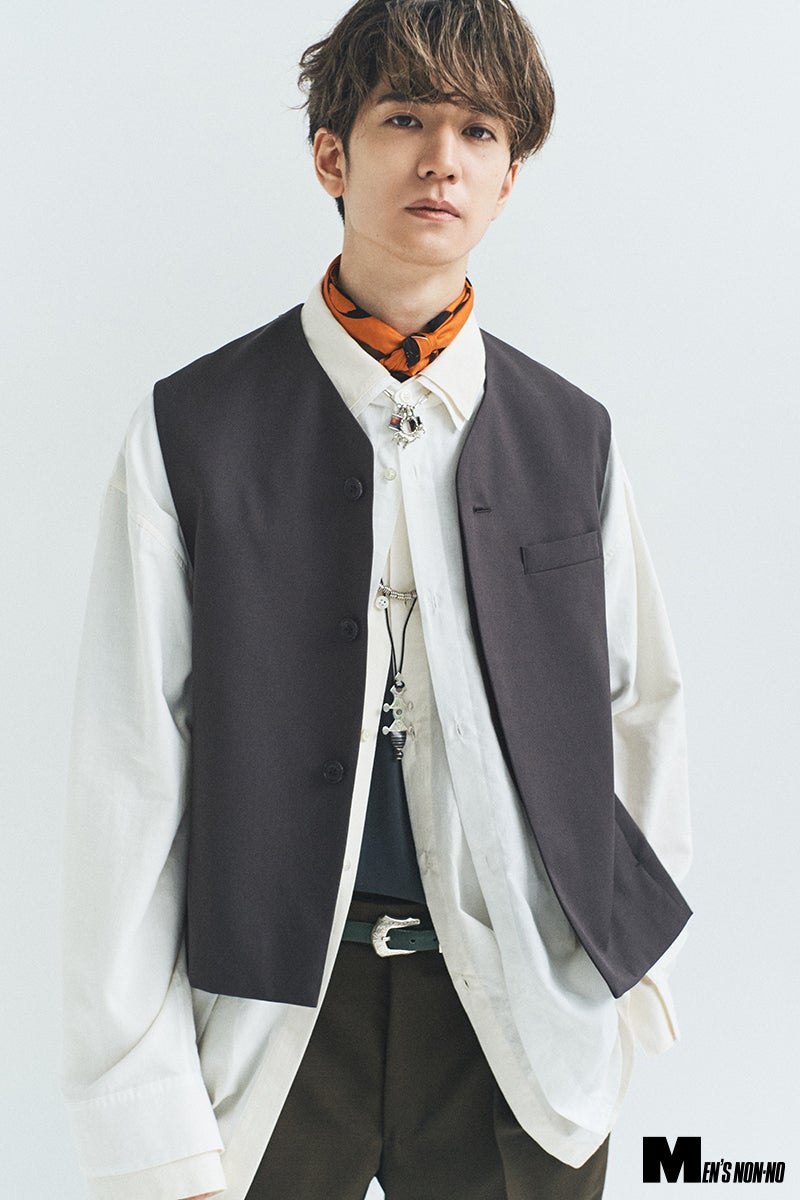 MN: (Voices of praise from the staff regarding his comment on the fashion aspect) Then, let's go with this cut. Yuto, this is your first time to stay and choose a photo!
Editorial department note: The main opening cut has been successfully chosen.
Yuto: Can't wait to see how it turns out!
---
Yuto as part of MEN'S NON-NO on its 35th Anniversary
MN: In November, Hey! Sɑy! JUMP will reach its 15th anniversary. MEN'S NON-NO is amidst its 35th anniversary year. This is kind of a cliché, but do you mind giving us a word in celebration?
Yuto: That's right! It's your 35th! That is really incredible. Once again, congratulations on your 35th anniversary. Although it has only been a few years out of those 35 years, I am so happy to be a part of the history. I think that because I've been a reader, viewing the magazine, I feel blessed even more so to be able to work with MEN'S NON-NO. It's actually one of my dreams come true. I went from being a reader to be a part of the MEN'S NON-NO team, conveying the message, and that is a big responsibility and yet stimulating at the same time. I can't tell you how happy I am to be a part of the 35th!
What I would like to share with the overseas fans about Japanese fashion
MN: Also, the English version of this interview is scheduled to be uploaded at the same time, so if there is anything you would like to say to the people overseas!
Yuto: Um, right. I absolutely believe there is a good quality to the Japanese fashion culture. Of course, since we call it "yo-fuku (洋服)," [which means "clothing from the West" in kanji], it originally came from the other side of the world, and by being digested by the Japanese people, something good was created, or should we say, it gave birth to a new culture or trend from the cultural mix. I think Japanese fashion has a pop style to it that is a little different from other countries in the world. I wish that people from overseas could see how interesting and cool it is. Though we are from different environments, it would be great if some aspects could serve as a good reference. That's what I would like to convey together with MEN'S NON-NO. And once we are able to travel again, I hope that Hey! Sɑy! JUMP can perform overseas as well. I believe there are people in different countries waiting to see us. I'd love to go somewhere we've never been yet. I think it was when we went to L.A. in the past for work, but somebody from Chile spoke to me. That person told me, "There are quite a few Johnny's fans in South America!" FYI, that person was a fan of ARASHI (LOL). That person had a bunch of metal pin badges of ARASHI on his/her bag, but just happened to notice me and called to me, "Aren't you Nakajima-san?" Since then, I've been really intrigued by South America, and would like to do a concert there as well.
I'm seeing more male fans at the venues
MN: Since it's the anniversary year for both MEN'S NON-NO and Hey! Sɑy! JUMP, could you please introduce a little about Hey! Sɑy! JUMP for our MEN'S NON-NO readers?
Yuto: Oh, I meant to say this, but what has really changed since I began appearing in MEN'S NON-NO is that I see a lot more guys at our concert venues. We definitely have MEN'S NON-NO to thank for that!
MN: Ohh… That's amazing! You've also appeared in our magazine as part of your group's activities, like when we published a conversation and fashion shoot between you and Okazaki Taiiku in the January 2021 issue of MEN'S NON-NO for the release of Hey! Sɑy! JUMP's album, "Fab!-Music speaks.-".
Yuto: That was a lot of fun. I think it sparked an opportunity for people to learn about our music from a different angle than what they used to. We have a lot more releases coming up, so I hope that the readers will keep an eye out.
MN: It seems "Okami Seinen (Young Wolf Man)" from the album Fab!-Music speaks.- resonated among a broad range of fans.
Hey! Sɑy! JUMP
"Okami Seinen"
Yuto: You know it! Our outfit and dance moves are very entertaining, so please check it out.
MN: Just as Yuto fans have become readers of MEN'S NON-NO, it would be wonderful if the opposite came true, too.
Yuto: It's really nice to be accepted regardless of gender. I mean I do hope to be respected by the readers like, "Wow, Yuto's super cool!", just like back when I was just a MEN'S NON-NO reader. It's true. During our concerts, we're like, "Hey, there are a lot of guys in the audience. Here and over here, too." It's a great feeling. I'll try to mess with them and stand with my arms folded at them, but then they get really shy, so I'll wave my hand at them like, "Whee~!" And it's so adorable to see them wave back like, "Whee~!" Like, "So you do want to have fun after all "(LOL), you know? Speaking of guys, in the beginning, there were a lot of fathers that came to the concerts with their families. But now, you can tell that the number of young men has increased drastically. When we are able to have a concert where there is actually a live audience again, it would be great if there are even more new fans, and of all sorts!
MN: Incidentally, our editor-in-chief is a father in his 40's and he says, "Jump's songs are really good~" all the time (LOL). But he's horrible about remembering song titles. The other day, he said, "This song is great called, Anti Hero". I quietly listened to him, thinking he likely meant "Negative Fighter" (LOL).
Yuto: (BOL). That's way too funny! Let's just keep it "Anti Hero".
MN: It's funny how minutely wrong it is that you can tell what he's trying to say (LOL).
Yuto: Yeah, amazing we can tell!
MN: Our editor-in-chief loves songs that are uplifting and positive.
Hey! Sɑy! JUMP 
"Negative Fighter"
Yuto: I love "Negative Fighter", too. I hope he's looking forward to our upcoming release "Gunjou Runaway (Ultramarine Runaway)".
MN: If only he can remember that one… He'll probably come up with another subtle difference (LOL).
Yuto: Like "Seishun Highway (Adolescent Highway)"!
MN: So wrong, but just enough to understand~ (LOL)!
A message from Yuto Nakajima to the readers of MEN'S NON-NO
MN: We've talked about so many things, but we're nearing the end of the interview. Last but not least, if there's something you would like to say to the readers, please do so.
Yuto: Hey! Sɑy! JUMP did an online concert at the top of the year. It proved difficult to do a concert offline, but we really wanted to find a way to show ourselves to our fans, even though it may not be in person. It didn't matter how we did it, we just kept insisting that we really wanted to see all of you. We were so desperate that it didn't even matter what venue it was at. Just being able to do it makes us happy, and now that there are the tools for the fans to be able to see us, the most important thing was to do it. So, even though it was online, it was an opportunity for our fans to actually see us and we're really happy that we did it. Therefore, we are going to continue to carve out a path to increase our connection with our audience, and with hope in our hearts. Same goes for magazine shoots. After the state of emergency, and not being able to do any shoots, I realized it was no longer a given that we would be able to get together with the staff members for a shoot. I'm grateful that people can see me through the work I have done even under those circumstances. Not exactly sure what we can do, but it is our 15th anniversary, and I'd like to be able to continue to think about contents that will give people joy. So, let's definitely see each other again in the future! I hope to be able to continue to be a part of the MEN'S NON-NO family as long as they will have me (LOL), and will work hard to be able to do so. I'd still like to grow as a model as well. Thank you deeply for today.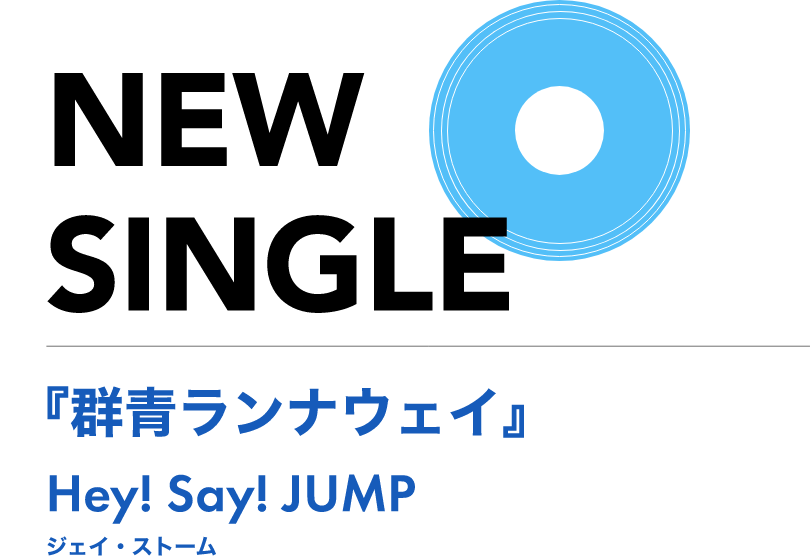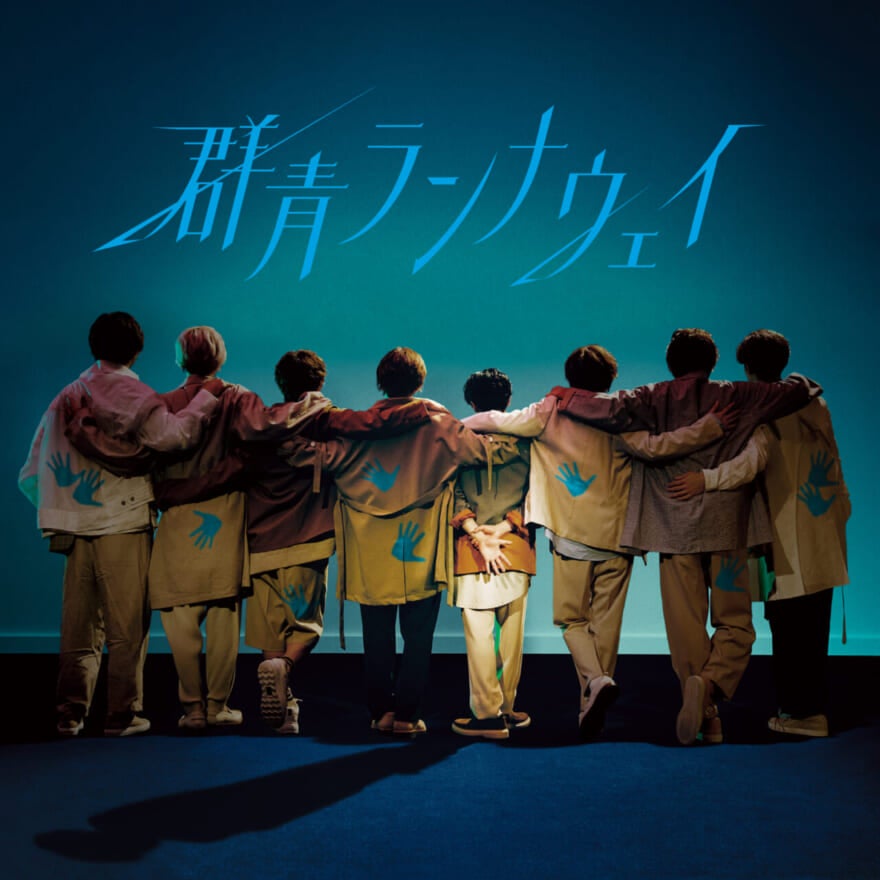 ---
This will be the group's 30th single, a memorable one. It is an emotionally driven song with open-ended answers, feelings of frustration and irritation for unrequited love are channeled through raging lyrics on an edgy melody. To be released on August 25th. The photo is Normal Edition/1,200yen.
Yuto Nakajima
Born in Tokyo on August 10, 1993. He has continued to model regularly for MEN'S NON-NO since their June 2017 issue. He is a current member of Hey! Sɑy! JUMP, who will hit their 15th anniversary in November 2021, and continues to appear in numerous high-profile feature works.
Photos: Arata Suzuki〔go relux E more〕 Hair & Make-up: NOBUKIYO Stylist: Taichi Sumura Model: Yuto Nakajima Translation:Keiko Tsuyama
▲ WPの本文 ▲