▼ WPの本文 ▼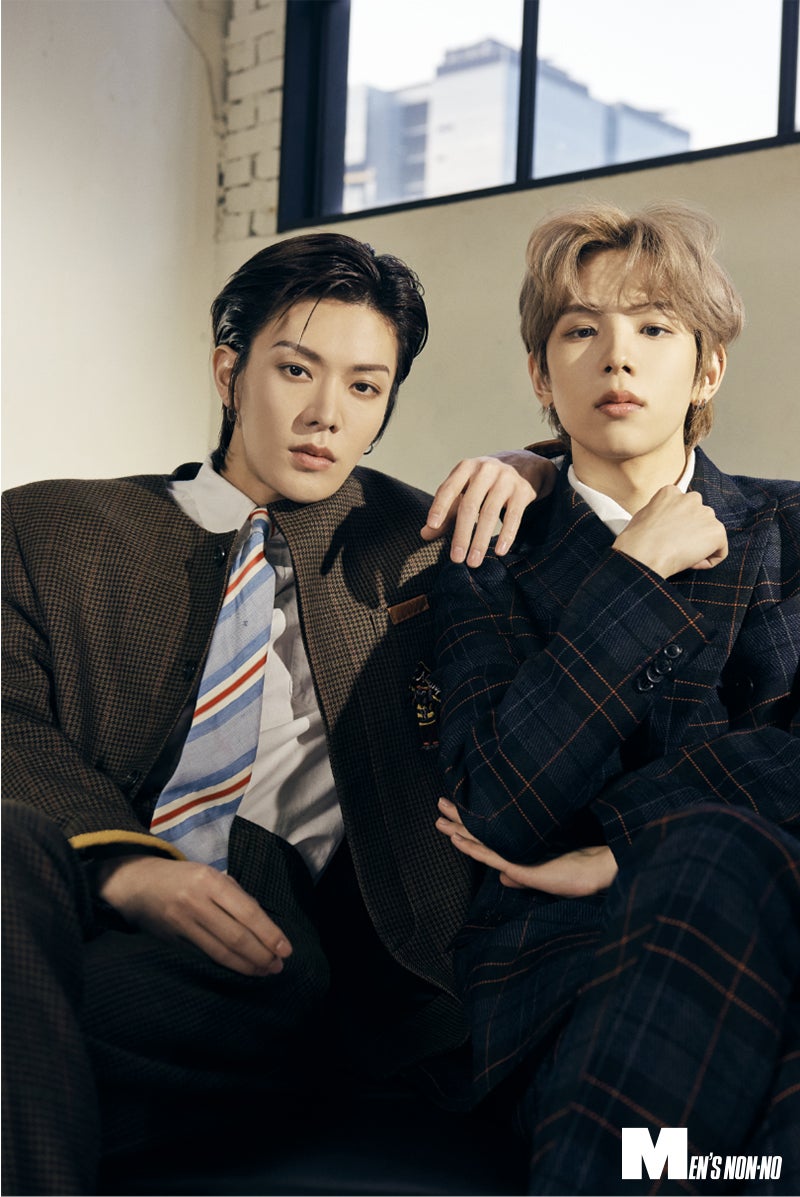 NCT's YUTA and SHOTARO attract worldwide attention not only for their performances, but also for their fashion. Starting with their history with fashion, they spoke to MEN'S NON-NO about everything on their philosophy for personal fashion, their current obsessions, and recent "best buys"! We bring to you a fashion discussion filled with their policies and personalities, reminding us once again that fashion expresses one's way of life and style, despite the different paths they may have taken and the different tastes in what they like to share!
☆Since the interview with Yuta took place right after the Tokyo Dome concert, he talked to us a little about his impressions of the event at the beginning of the interview. Don't miss the other cut, which has not been published in this magazine, which is also very cool, with a tie-up look that is trad all the way!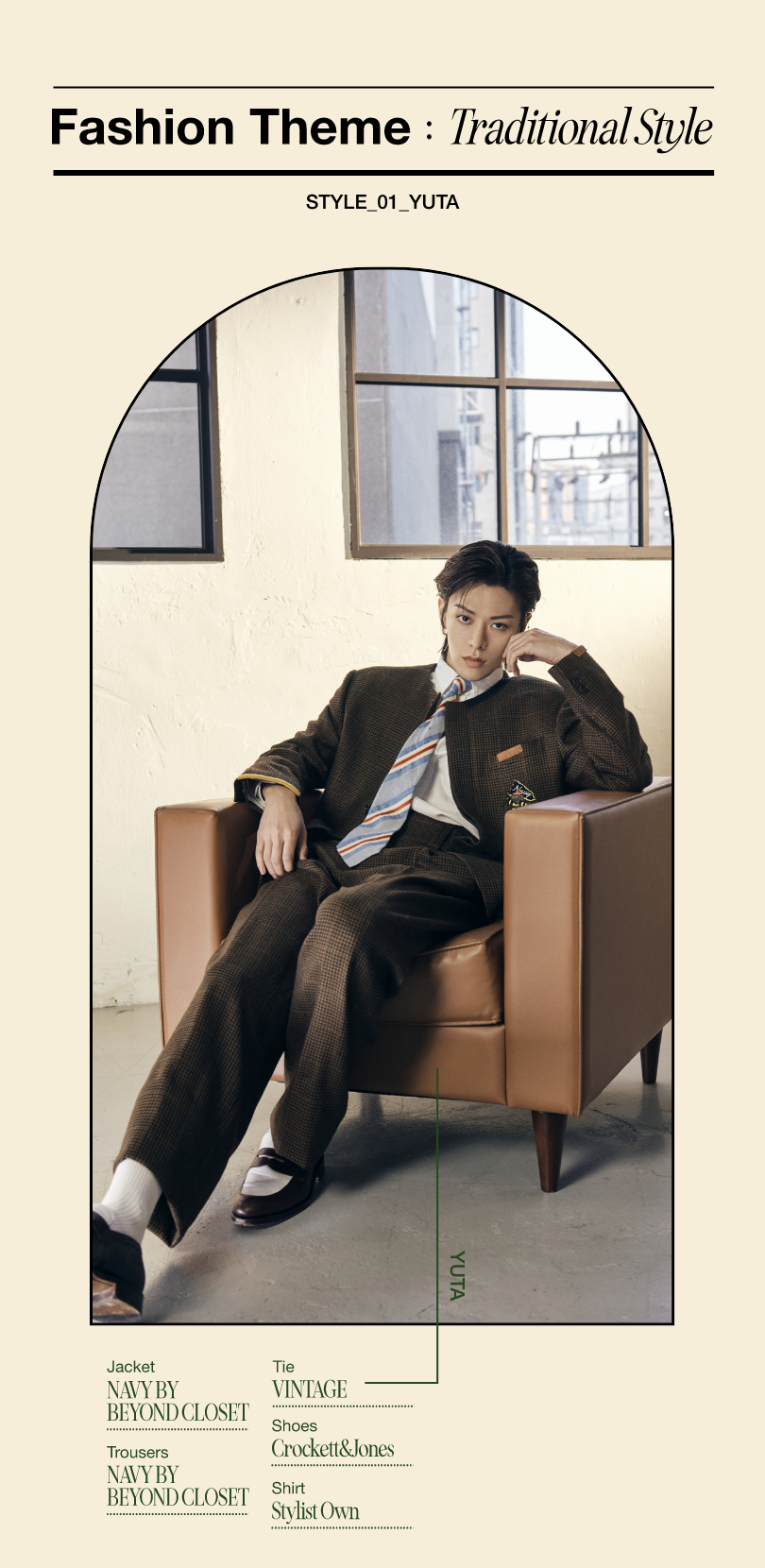 Right now, I'm still going my own way with the desire to be "glamorous," but eventually I want to become a dandy gentleman, like in "Kingsman." I look forward to seeing how I get there as a more mature individual.
These days, I've been hoping to find items that I can use for a long time to come. Whether it's the clothing or accessories, it would be nice to feel the thoughts of those who made them, and to cherish them alongside my own thoughts.
---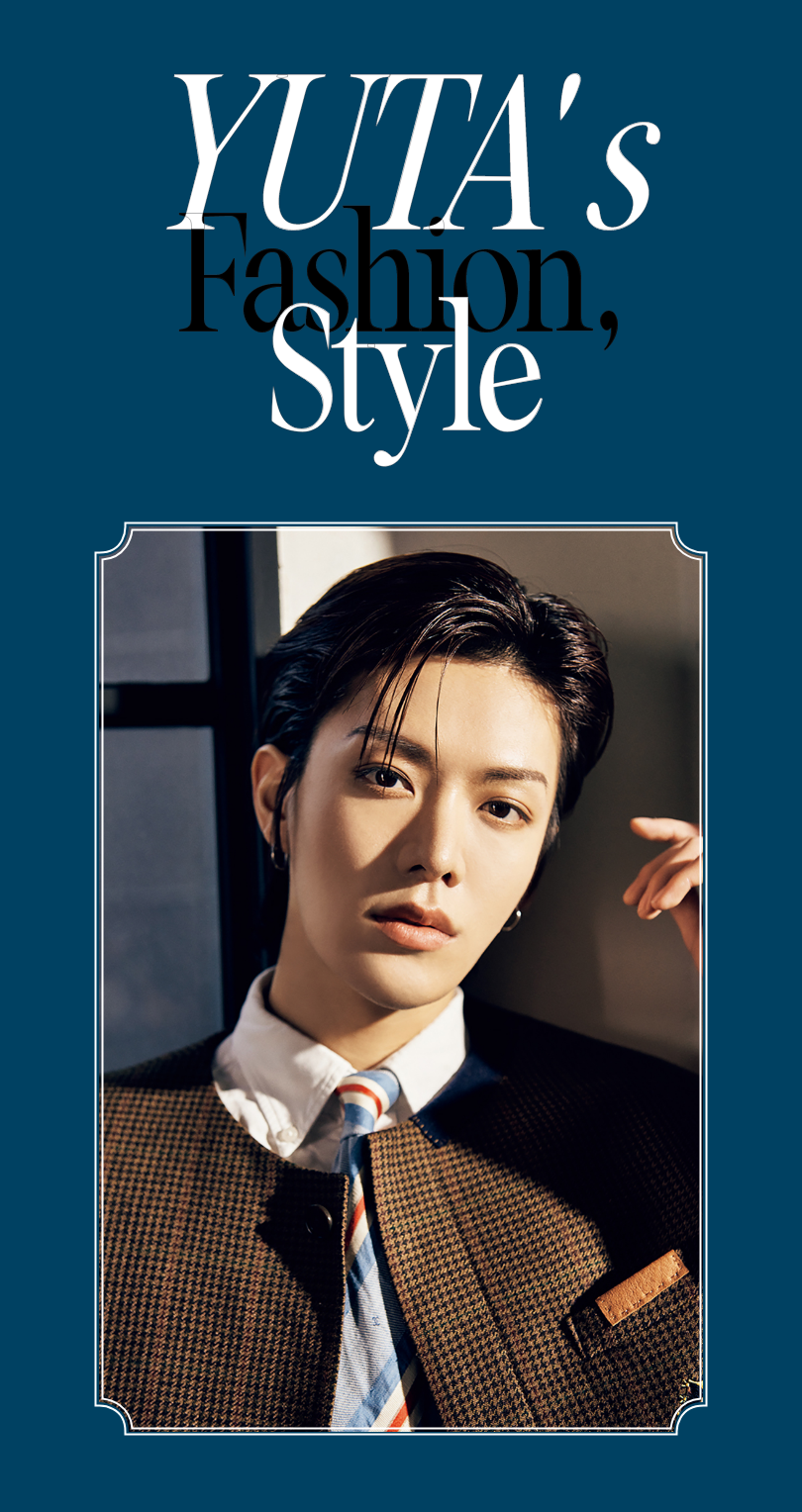 One's Own Style Makes his Personality
YUTA's my Own Way to Fashion!

Let's First Start from Episodes
At the NCT Tokyo Dome Show
——Good day, YUTA-san. Thank you for today.
"Alright now! Thank you as well!"
——Congratulations on a successful NCT 127 Tokyo Dome Show! Kyocera Dome is around the corner and I'm sure you're still full of excitement from the show (at the time of the interview). All of us at the editorial department watched your show.
"Wow! Thank you so much!"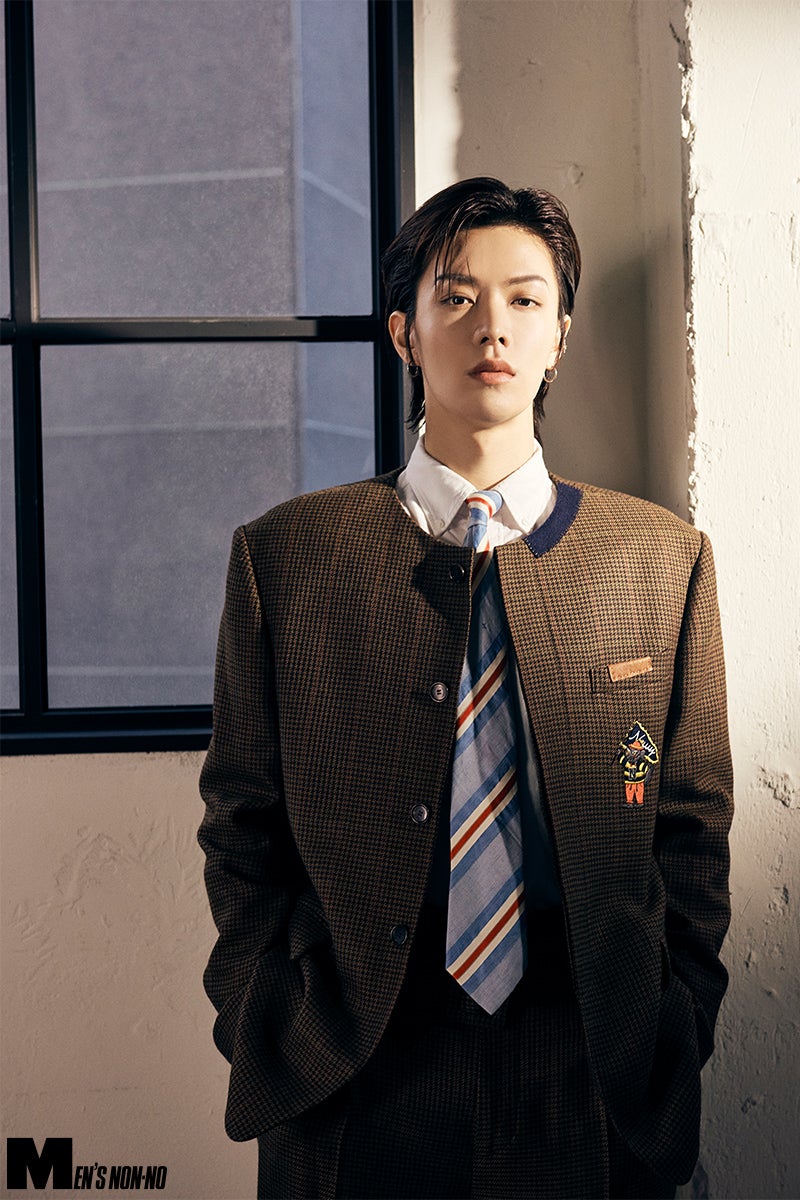 ---
——All of us were touched by your comments on-stage, YUTA-san. We all had tears in our eyes, almost as if we were relatives that have been watching over you for the last 10 years.
"Ahaha! But then, we do have a deep relationship in that way. It means a lot~!"
——In the June interview, we spoke to you about your solo stage "Butterfly -JP Ver." And the true-to-life performance gave us all goose bumps. The entire venue was clapping and it was incredible.
"Thank you very much. It was a lot of fun for me as well! But… even though it was a place I have been striving towards, once over, it felt more like, "Oh, it's only just begun." Prior to the show, I thought I would be burnt out at the end, like I would be in a daze, but it wasn't like that at all. It may be because we still have Osaka, but it's more like I'm excited about the future, like "I need to work even harder now"
▼Click here for MEN's NON-NO's report on Osaka Kyocera Dome performance and press conference by NCT 127
——Last week, L'Arc〜en〜Ciel, who you really like, YUTA-san, performed at Tokyo Dome…
"(Clapping loudly while nodding) I want to hear that interview!!! (LOL)"
——(LOL). In the week after a band which has led the music scene in Japan for 30 years stood on the stage, you who have been an avid fan of theirs was able to perform on the same stage as a solo act for the first time, YUTA-san. It was really touching.
"Actually, I was thinking the same thing. I was thinking how incredible it was that we performed right after L'Arc did and on the same stage at that"
——Was hyde-san's presence still lingering?
"I felt it! (LOL) We did "Butterfly" while feeling "hyde-power!" That kind of thing doesn't happen often. So, it felt even more special. YOSHIKI-san also came to see us at the Tokyo dome"
——We saw the photo of the members of NCT 127 with YOSHIKI-san doing an "X-like pose." Some incredible rock stars united as your guardian, YUTA-san…!
"Oh, man… it was amazing! I felt so much courage"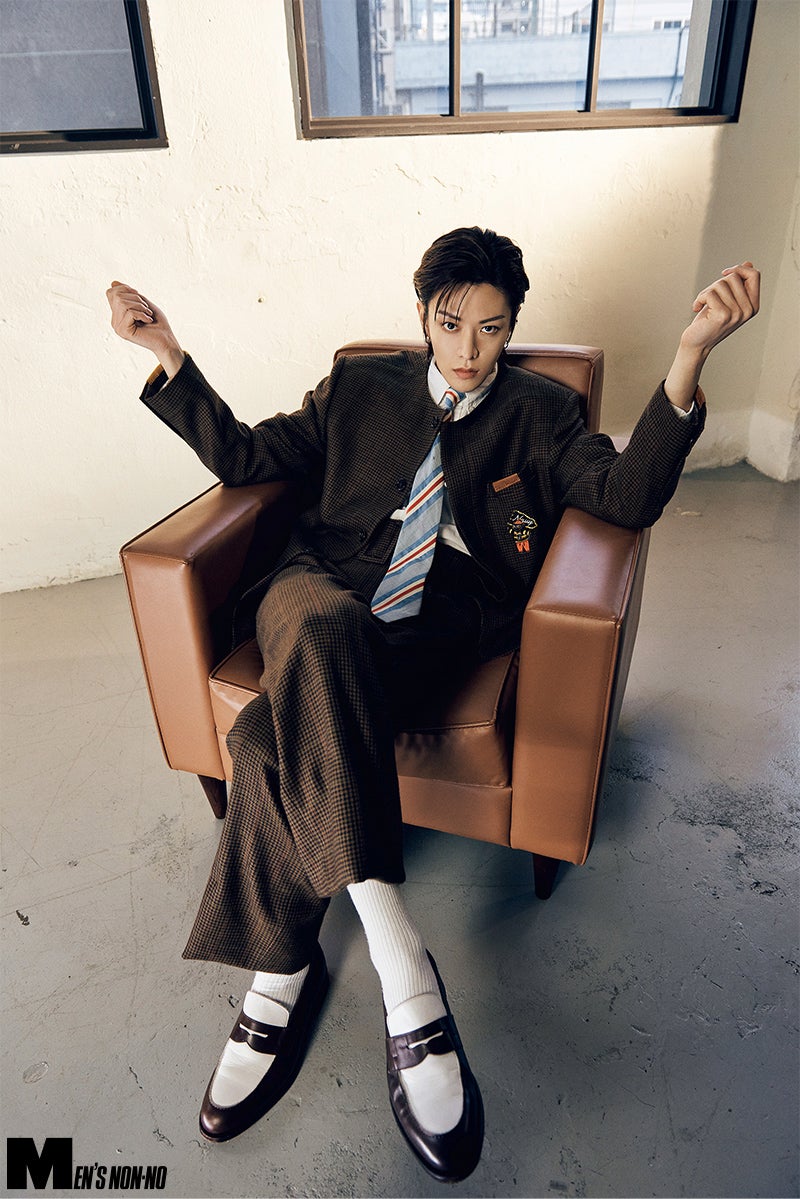 Style is What Makes a Person!
YUTA's My Own Way in Fashion!
——Now then, let's get into our interview. Up to now, we've asked you about what kind of person you are and what you have worked hard towards. And we realized that we haven't really asked you about your "sense of fashion" in detail. So, let's dig in deeper.
"Oh! Fashion! That sounds like fun. And it is for MEN'S NON-NO!"
——When it comes to fashion, YUTA-san, you are very particular about accessories. You mentioned in a pervious interview that "they give you power." You even sent us photographs of your own accessories in the past. Since when have you liked accessories?
"I was pretty mature, so it was probably during elementary school! I even used hair wax for the first time in elementary school (LOL)"
——Woh! A cool kid!
"Yes, I was! I mean I was taken by hyde-san and MIYAVI-san. They had a big impact on me. Today, after this online interview, I don't have any plans to go out, but you can see I am fully adorned with accessories (while showing us his bracelet, rings, necklace on both hands and his neck). I feel put together when I'm fully fashioned. For work, we have a stylist and hair/make-up artist onsite, so if we wanted to, we could head out in 5 minutes just wearing some sweats with messy hair. But I feel like that would make me become more and more disheveled. People and their atmosphere change depending on what they are wearing and I believe it has a lot to do with motivation"
——That sounds like your aesthetics, YUTA-san!
"Yes! You know how they say it is important to dye your hair a week prior to an important gig? For example, even though it may feel odd when you first go blond, after a while, it starts to fit and your fashion nor style team up with it as well. I think it's the same thing. My outfits are this type of rock n' roll style (showing us his "Babylon LA" tie-dye print T-shirt). So, if I do like this type of style, then I need to be able to style it on a daily basis or we wouldn't be able to mesh. And I often show off my "rock star" image on stage, which I love, but that's because I am able to do it on a daily basis that it works on stage. Although I do hope to become a dandy gentleman in the future like "The Kingsmen" or "The Great Gatsby." For now, I'm still going my own way with the desire to be "glamorous!"
——It feels good to hear you say you're still going your own way with the desire to be glamorous! In a straightforward way.
"That's where I'm still in my own way. There aren't that many people who wear fashion in the way I do, so I kind of stick out (LOL), but it also feels good to me. Like, "I'm the only one doing this style of fashion!" That kind of leads to my own unique sense of fashion. I tried out 'clean' fashion once before, but the other YUTA said to "Get out of here! That's not who you are." And so I went right back to where I was (LOL). Oh, but… when I came back to Japan and was walking down Omotesando, I felt so not out of place when I saw there were a bunch of other people who were even more wild than I was. I had some time to do some shopping as well, and I was able to find items that were really me. I bought these "WHO DECIDES WAR (American brand)" damaged jeans that I'm wearing today at that time, which matches my "rock n' roll style of fashion" and I often wear them these days. It's awesome when you find "that item," you know!"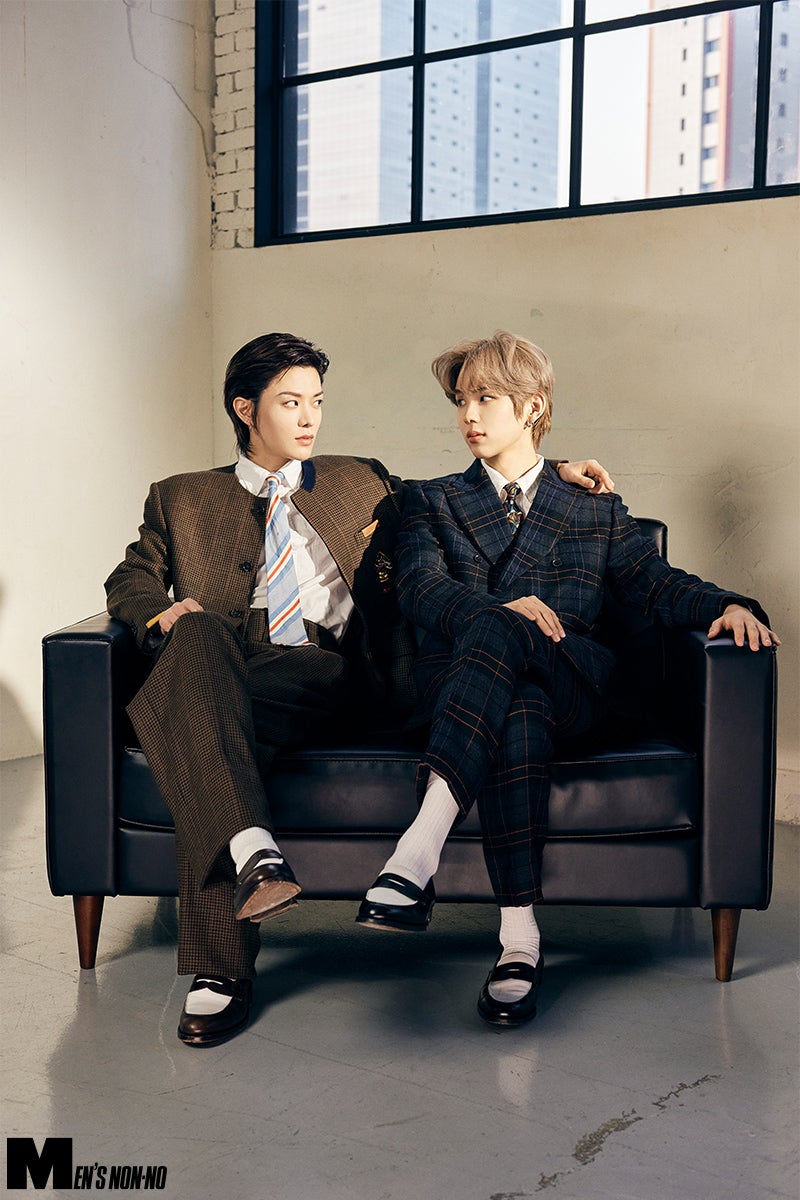 ---
Those Who Have Had an Impact on me
And Respect Towards Their Style
——Your style, YUTA-san, is well-permeated among your fans as having been influenced from your "rock star seniors" as you mentioned earlier.
"Yes, yes. That's the perfect answer! I think my fans really watch me and know me for what I am. I mentioned earlier that they have had an impact on how I act on stage and when I scream out, "Tokyo!! from the stage, my image is of those rock stars roaring it out so that it reaches all the way to the back of the venue"
——Have there been any outfits that especially grabbed your attention that your favorite artists wore on stage or for their works that you've seen?
"Oh! If it's recent, that would be the MV of by HYDE's solo work "AFTER LIGHT"! The neon colors are almost pronounced in an exaggerated world, but it makes me want to try that type of concept of staging at least once in my lifetime. I feel pretty confident that I could do a good job~!"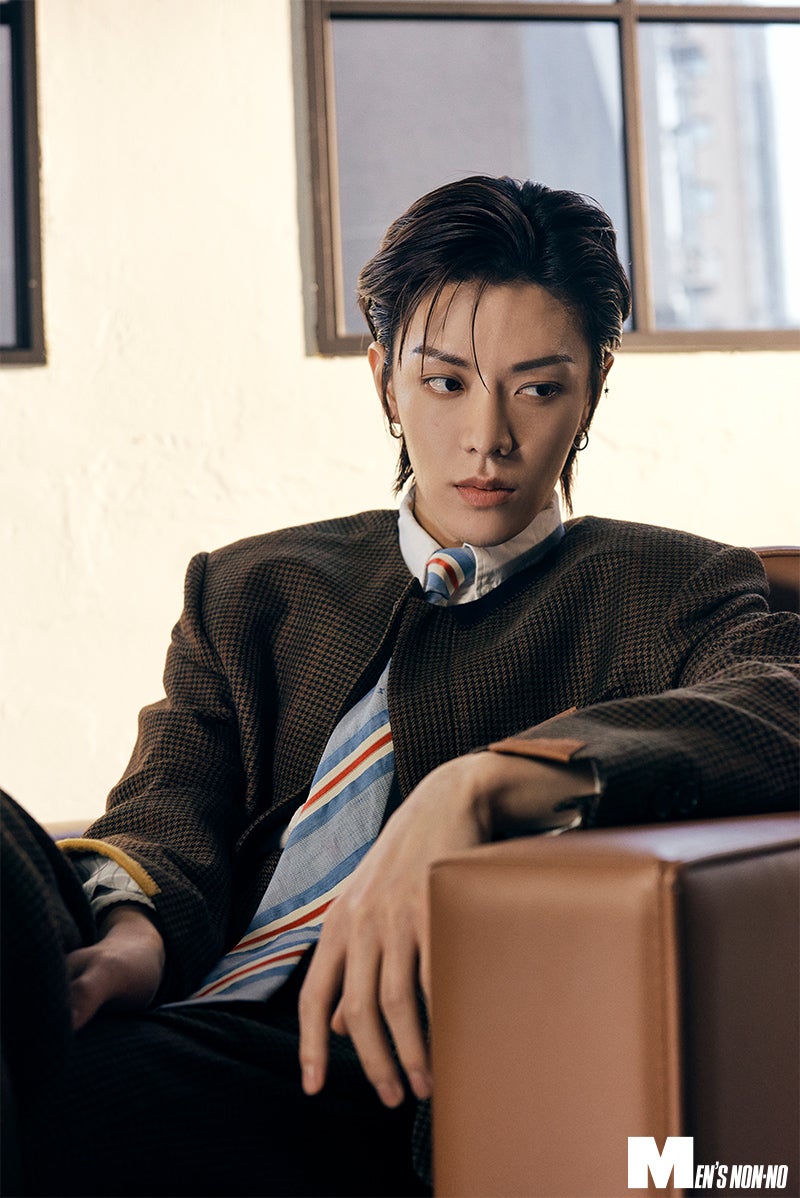 The Importance of "How to Show"
and the Intimacy that Links to Fashion
——For you, YUTA-san, it feels like part of the joy of wearing an outfit is being able to embody the image of how you want to look.
"That is likely true. I make sure to sport my fashion and place importance on showing what type of person I really am. In other words, it could also mean that I like to be seen by others. That's probably why I like being shot by a camera. I actually really love magazine shoots."
——We can always tell from our shoots.
"Really? Thank you so much. I think it is important to know how you will be shot in a photograph. To imagine "how you will be shot" is necessary, you know? Not just acting cool or posing, but rather thinking, "I'm posing like this right now, so my shoulders may look dropped." Those are the kinds of things I often think about. That may also be why I look up to all those cool rock stars that know how to look cool no matter what the circumstances"
——You did say you used to check from way how you look through a mirror.
"Oh, that's super important!"
——Do you still do that?
"Oh, yes. Yes, I do. I have a large mirror at my door. Even today, I stand in front of it and see if I look cool enough or not (LOL)"
My "Best Buy" is that Item
That Includes how the Creator Feels
——You mentioned Omotesando earlier, but it sounds like you did a lot of shopping while you've been back in Japan. What would you say were your "best buys?"
"That would be a pinky ring from Chrome Hearts that I bought with RYOKI(BE:FIRST) from "HIGH & LOW" for his birthday. It was my first time in a movie and RYOKI and I became best buddies and so we wanted something to commemorate it and I'm glad we were able to buy it together in Japan! I believe that the creator's thoughts are embedded in fashion items and that our own thoughts continue to be infused in them as well. That's why I'm especially particular about accessories I want to wear on a daily basis and even more-so for something to commemorate. I hope to buy something after we complete our Dome Tour"
——I guess you want to wear items your like for a long time rather than chasing a trend.
"I've recently began to think like that more than ever. I used to purchase items like, "This seems like something I would wear." But now, I 'm interested in a brand's background or how the items are made. It's more interesting to make a purchase in that way and I become more attached to it. So not something that is a passing thought, but more like something that I will wear for a long time and to be able to pass it on to the next generation"
——You've recently signed a friendship contract with Louis Vuitton. When working with a luxury brand that has history and tradition, you're likely to encounter many items that you will love for a very long time.
"That's true. This has been an opportunity for me to learn about the policy of the brand. It's not like I will completely change everything that is my fashion, but more like incorporating the wonderful parts and sublimating a new style to my own fashion. I'm really looking forward to it. There are a lot of Louis Vuitton items that strike an accent and add a point. It may have a classic image, but in fact, more recently, they have a lot of neon colors and it's really fresh. I feel like I will be able to enhance my style with trends that are lacking just by touching the latest collection"
——For someone like you, YUTA-san, who already has a style that is solid, how you will incorporate the spirit of a long-established luxury brand into it… this is sure to attract the interest of young fashion lovers.
"I really do hope so! The other day, I tried on a pair of Louis Vuitton rainbow colored shoes. It was a type of design I had never tried before, but it added such a strong point to my style and now I wear them all the time!"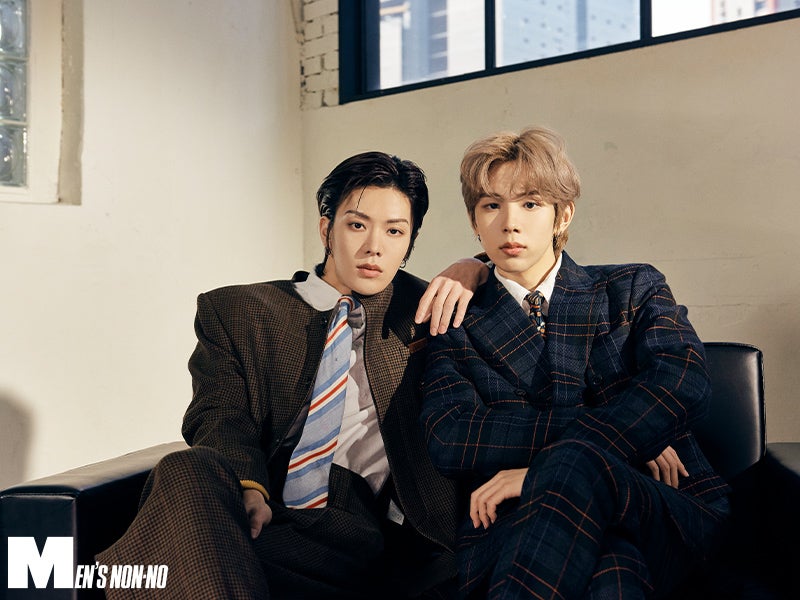 ---
Outfits that Support me, the Performer
——Costumes for an acting job also play a vital role in terms of representing who a person is. Your outfits in the movie "HiGH & LOW THE WORST X" were far from your "real clothes," but they fit each and every character. And if you look closely, the details were also elaborate.
"The outfits were amazing to say the least! It was interesting to see the different colors for all the teams (schools). For my outfit, we had to decide whether to go short or long for the school uniform. But I wound up asking for "the short one please"
——Really?! That was a perfect choice. They looked great on you.
"Right?! I really liked how they felt when I tried them on, too! It's an incredible feeling to be able to be in a piece you wanted to be in, playing the role you wanted to play, and wearing the outfit you wanted to wear. I also love the color red, which made me even happier. All red with black inside. Can't get any better than that!"
——Likely because you played that role so well, but if you look at the "costume" alone, it really is odd, but the more you look at it the more it grows on you while.
"Oh! That's awesome. Not just me, but everybody was really into their roles, so that may be one of the reasons why the outfits fit right in. But costumes… not only for acting, but also on stage as an artist, they always really do support me"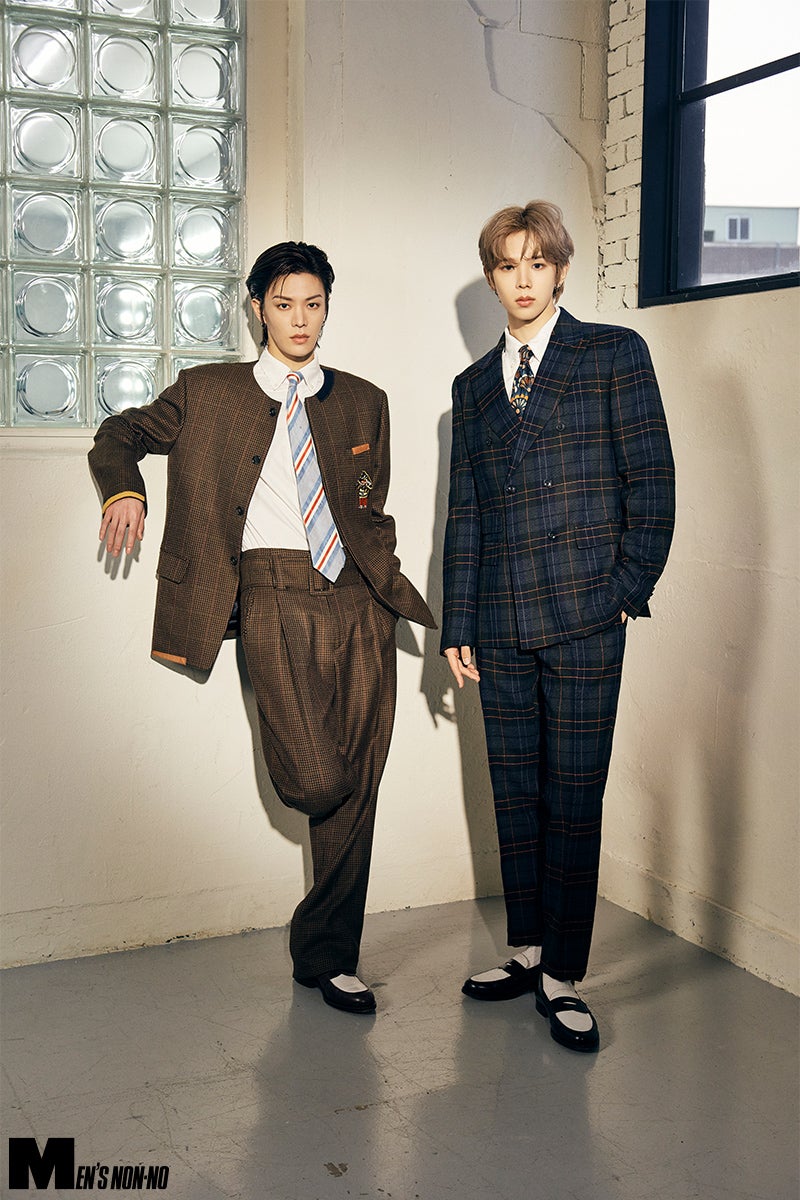 I Would Like to Seek the Best Style
For Myself for Each and Every Moment
——In contrary, if what you wear doesn't feel right…
"It's nearly impossible to focus. I think it has a strong impact on how you stand in front of people as a player. What you wear, that is. Like when you're going to see somebody you like, "I don't like my outfit or hairstyle. What should I do?" Put yourself in my shoes. It would feel off, wouldn't it? (LOL)"
——I know what you mean (LOL). In contrast, what kind of style "is the best for you?"
"Mmm… I may not have found that yet. I have these spurs of satisfaction like when an outfit is coordinated well on a personal level, but I'm not sure if there's that one super cool outfit just yet. I often think about that. And if I start thinking whether or not others think it looks good, well, then… it gets even more difficult. I'm so particular about so many things that it doesn't always get across to others (LOL)"
——Is there something you'd like to try as far as fashion is concerned in the future?

"I'd like to self-produce all my stage outfits! Although I do speak my opinion without hesitation since I am particular (LOL). I think it would be so much fun to think from scratch what would match with each song. I think I'd be good at it~! and to think about hair styles to match that as well. Fashion is something that helps me to maintain motivation as well. I'm sure it will continue to be so. Some parts will likely change as I age, but I'm sure I'll always have these particular niches and that I's something I will continue to live with"
——We look forward to seeing your path as you head towards and reach "The Kingsmen."
"I guess so. Although I may be wearing something entirely different next year (LOL). But I think it's important to be wearing what feels good at each and every moment in our lives. It's ideal to open my closet and be able to think, "Yup. That's all me lined up"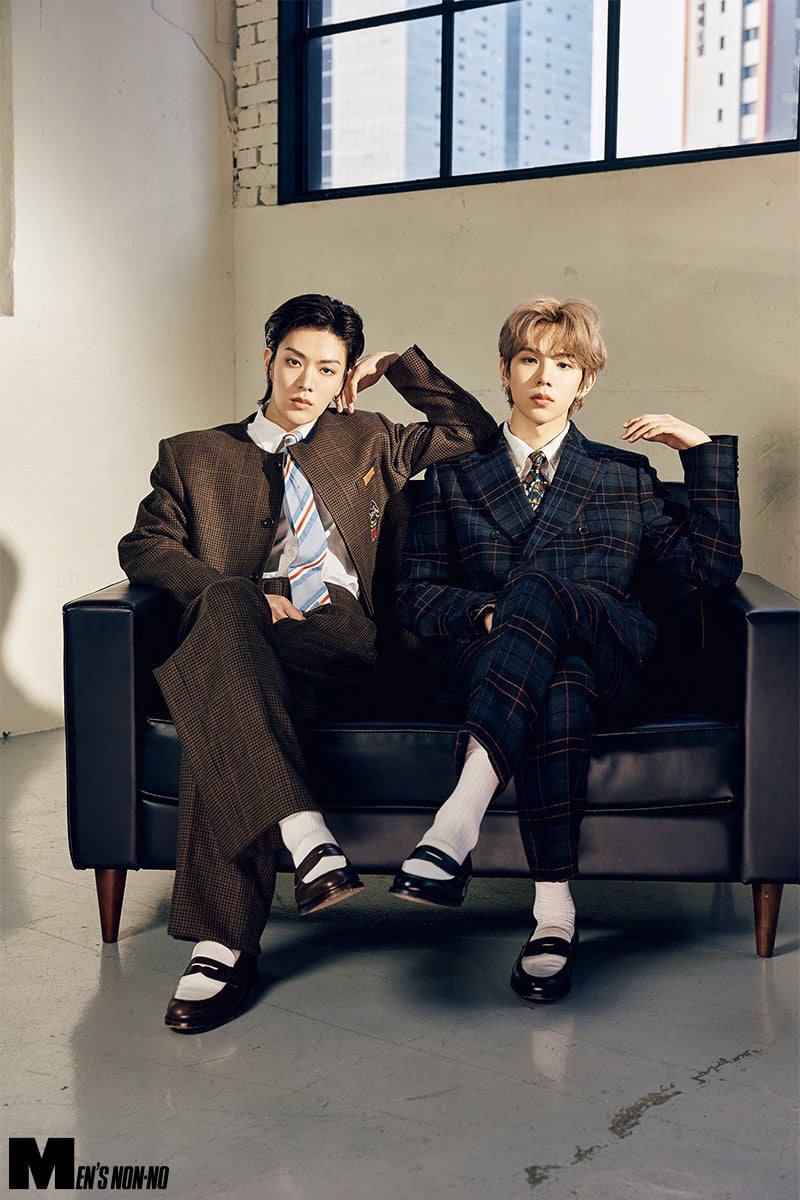 ---

"Being an article series, the editorial department has requested that there be a change every month, and the theme this time is "Trad." I began by looking for a setup that would suit the both of them. SHOTARO-san is still very young, so I chose an adorable tartan check setup with a collegiate feel so that the style would not deviate too much in taste. For YUTA-san, who is slightly older, I chose a refined atmosphere with a collarless jacket. The ties are from my own personal luxury brand collection and the shoes are from Crockett & Jones, which is a more classic design, but can match today's modern setup. Attention to detail can give "Trad" a unique look. To link the two of them together, I thought about how to connect the styling of their feet and ties, which led to an interesting side-by-side look."
「RESONANCE」
NCT
NCT is a special group, where the various units NCT 127, NCT DREAM, WayV, and NCT U gather together. With overwhelming performance skills, cutting-edge fashion, and unique, attractive characters, this boy group has countless fans all over the world. Their skills – singing, dancing, and rap – are all remarkable. Once you have seen them, you can never forget them! 
Models:YUTA SHOTARO[Both are NCT] Photos:Heehyun Oh Hair:Songhee Han Make-up:Seongeun An Stylist:Youngjin Kim Coordination:Shinhae Song Asaki Kan Sachiko Tanno[TANO International] Logos:ZUMA
*All outfits were prepared and put together in Korea. Inquiries from Japan cannot be accepted.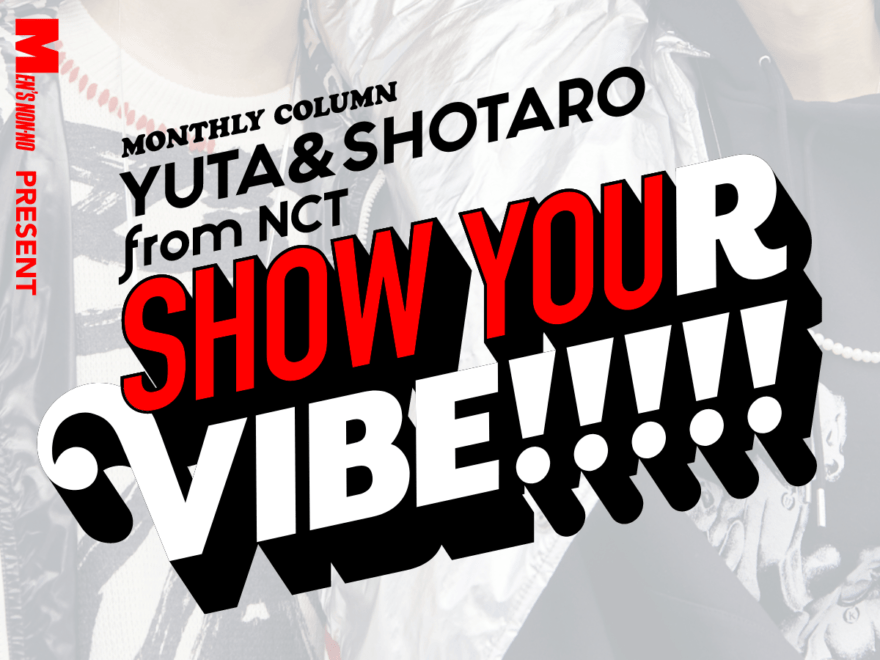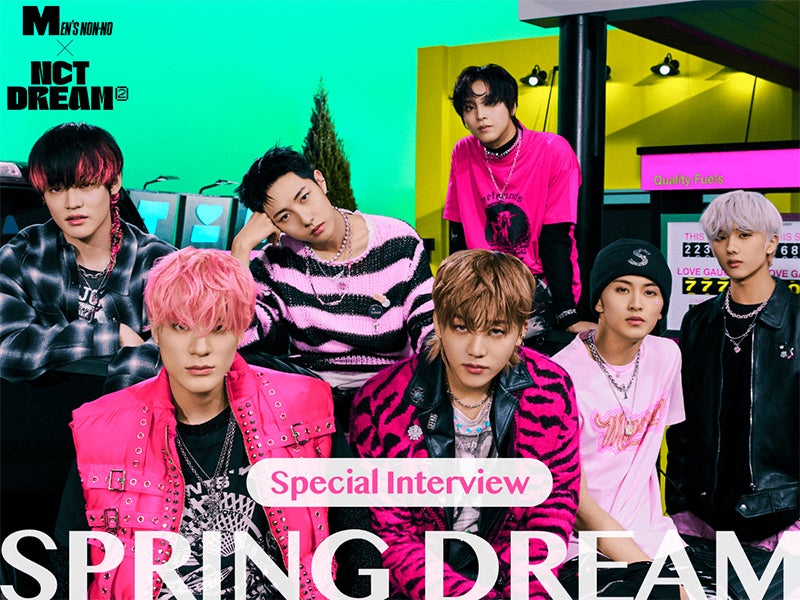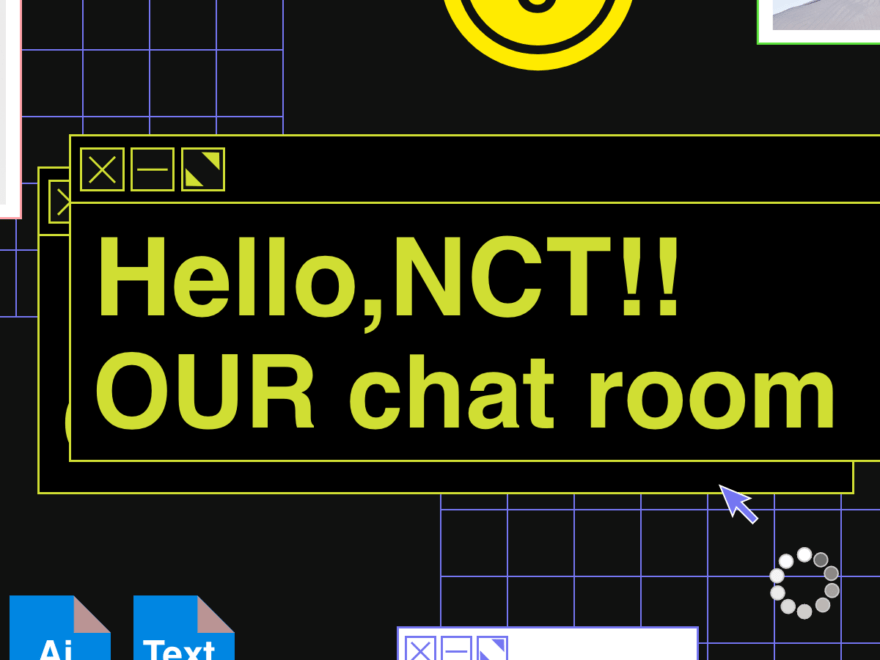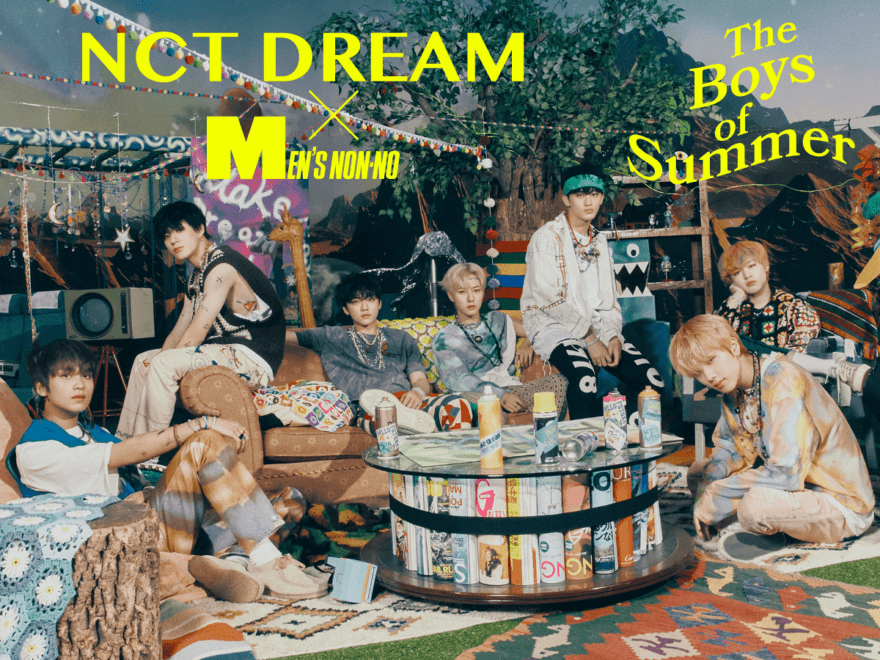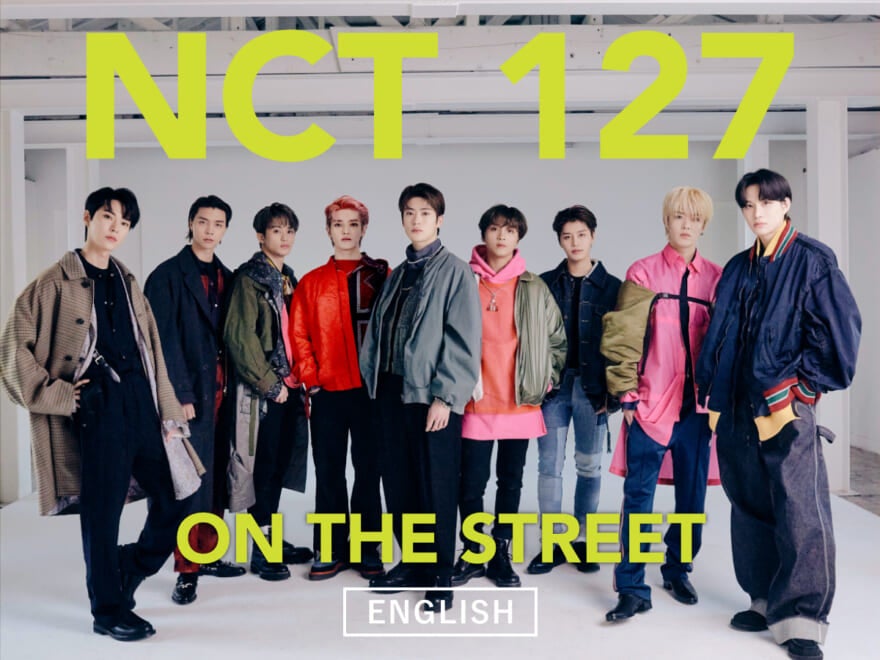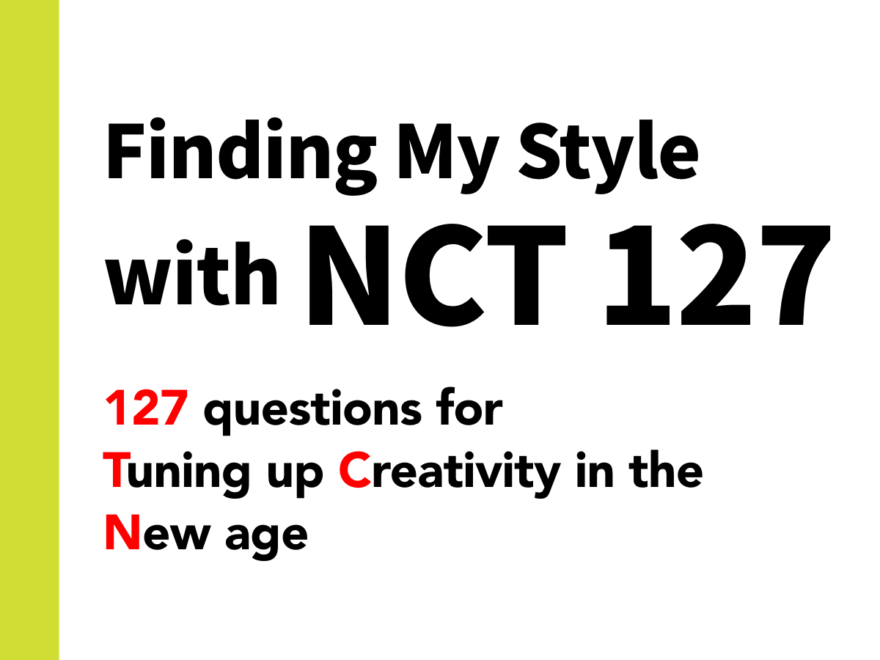 ▲ WPの本文 ▲